2012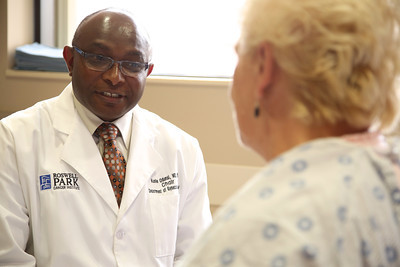 Roswell Park's Division of Translational Immuno-Oncology opens a phase I clinical trial combining a dendritic cell vaccine, NY-ESO-1, with the compound rapamycin, used to prevent rejection in solid-organ transplants. Roswell Park investigators made the novel discovery that rapamycin at low doses may reprogram vaccine-induced immune cells to be long-lasting and durable. The combination of the dendritic cell vaccine and rapamycin is designed to both destroy cancer cells and prevent relapse. The combination vaccine will be produced in Roswell Park's new Therapeutic Cell Production Facility. Kunle Odunsi, MD, PhD, FRCOG, FACOG, former Director of the Division of Translational Immuno-Oncology, is both the developer of the NY-ESO-1 vaccine and principal investigator of the clinical trial. The study is the first to evaluate a dendritic cell vaccine given in combination with rapamycin. The preclinical studies were pioneered by Protul Shrikant, PhD, Department of Immunology.
A report released by the Center for International Blood and Marrow Transplant Research (CIBMTR) finds that one-year survival rates for patients undergoing blood or marrow transplantation at Roswell Park are significantly higher than expected, placing Roswell Park among the top nine percent of U.S. BMT centers.
A team led by Y. Eugene Yu, PhD, Department of Cancer Genetics, having developed the most advanced models of Down syndrome in the world, shares those models with 14 other research groups in North America and Europe. Down syndrome is the leading cause of megakaryoblastic leukemia as well as heart defects, learning deficits, and other conditions. The models will support research in these and other fields.
A multi-institutional research team led by Song Yao, PhD, and Christine Ambrosone, PhD, Chair, both of the Department of Cancer Prevention and Control, concludes that genetic variations in the vitamin D receptor (VDR) and in CYP241A, which deactivates vitamin D, are associated with increased risk of breast cancer, especially the ER-negative type, in African-American women.
Roswell Park unveils its new, 8,000-square-foot Intensive Care Unit (ICU). Forty percent larger than the existing ICU, the new unit will accommodate future growth.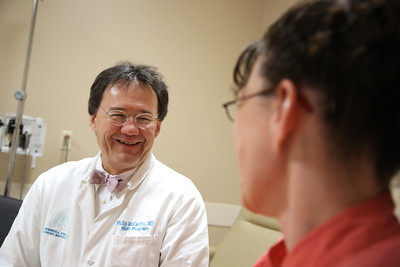 Philip L. McCarthy, MD, Director of Roswell Park's Blood and Marrow Transplant (BMT) Center, was principal investigator of CALGB 10004, the first large U.S. study examining the effects of long-term maintenance therapy with lenalidomide for multiple myeloma patients following induction therapy and hematopoietic stem-cell transplant. Published in The New England Journal of Medicine, the phase III study found that the therapy reduced risk of disease progression to 20%, compared with 44% disease progression in the placebo arm.
Researchers at Roswell Park collaborated with The Center for Human Genome Variation at Duke University Medical Center (DUMC) to create a data-analysis method to help identify the genetic variants that are responsible for specific disorders. The new method is described in a study published in The American Journal of Human Genetics; first author is Qianqian Zhu, PhD, Department of Biostatistics & Bioinformatics, and Director of the Statistical Genetics & Genomics Resource.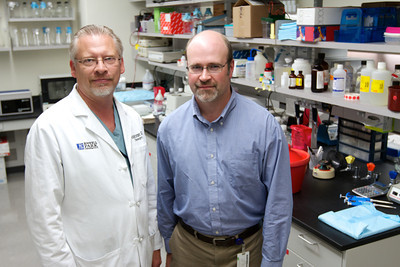 Roswell Park opens a phase I clinical trial of SurVaxM, a cancer vaccine designed to treat two types of brain tumors — globlastoma multiforme and anaplastic glioma — by targeting survivin, a protein expressed by 80% of cancers. The vaccine was developed by Robert Fenstermaker, MD, Chair of the Department of Neurosurgery, and Michael Ciesielski, PhD, Department of Neurosurgery.
2013
April 18, 2013 - Roswell Park breaks ground at the corner of Michigan and Carlton streets for a new Clinical Sciences Center. The 11-story building will house a new Chemo-Infusion Clinic, space for education and survivorship programs, the Breast Center, and work space for clinician-scientists to analyze data from clinical studies.
Roswell Park launches a phase I clinical trial of a cancer treatment vaccine for patients with advanced melanoma. Developed by John M. Kane III, MD, FACS, Chief of the Melanoma/Sarcoma Service, and John Subjeck, PhD, Department of Cell Stress Biology, the HSP vaccine combines "heat-shock" protein (HSP) with a whole-protein antigen, gp100. Dr. Kane says heat-shock proteins appear to be "powerful stimulators of the immune system."
The Accreditation Council for Graduate Medical Education (ACGME) grants accreditation to Roswell Park and the University of Rochester Medical Center to offer a joint two-year fellowship program in complex general surgical oncology. Both institutions will train fellows, who will be eligible for board certification in surgical oncology at the conclusion of the program.
Roswell Park launches its new Center for Personalized Medicine, which uses advanced laboratory technology to identify tumor DNA mutations that can help match patients to treatments that will be most effective against their specific tumors. This will also help patients avoid treatments that are not likely to work.
Roswell Park begins providing gynecologic oncological care at Sisters of Charity Hospital in Buffalo, giving patients access to innovative therapies not usually available outside of a comprehensive cancer center.
Roswell Park opens a satellite clinic in Niagara County, where its surgical specialists will provide consultations and follow-up care for specific types of cancer.
Roswell Park joins The New York Genome Center (NYGC) as an Associate Member. The two institutions will work together to speed the application of genome-sequencing discoveries to advancements in the field of cancer.