2014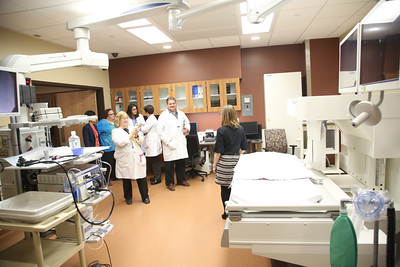 Roswell Park opens a new state-of-the-art Endoscopy Center to serve the growing number of patients who could benefit from minimally invasive endoscopic procedures for the diagnosis, biopsy, and treatment of cancerous and non-cancerous conditions.
The National Cancer Institute (NCI) announces that Roswell Park is chosen as one of 30 institutions to provide scientific leadership as a Lead Academic Participating Site (LAPS) for the NCI's new National Clinical Trials Network (NCTN), which was created to speed the launch of phase III clinical trials for cancer patients.
The Journal of the National Cancer Institute publishes a large collaborative study showing new evidence that African-American women may be able to significantly reduce their risk of developing aggressive types of breast cancer by breastfeeding. Christine Ambrosone, PhD, Chair of Roswell Park's Department of Cancer Prevention and Control, is one of three principal investigators of the study, conducted by Roswell Park, Boston University's Slone Epidemiology Center, and the University of North Carolina Lineberger Cancer Center. The study provided the most conclusive evidence yet connecting the number of times a woman has given birth, elevated risk of estrogen-receptor-negative tumors, and reduction of that risk as a result of breastfeeding.
The National Cancer Institute (NCI) renews Roswell Park's Cancer Center Support Grant, which comes with $19 million over five years. Roswell Park earned an Outstanding rating from the NCI after an in-depth review by cancer experts from across the nation. Renewal of the grant indicates that Roswell Park's research programs meet the NCI's rigorous criteria for world-class multidisciplinary cancer research.
Roswell Park wins approval from the New York State Department of Health (DOH) to begin genomic testing of patients using its OmniSeq Target™ advanced molecular diagnostic laboratory test. OmniSeq Target analyzes 23 different genes associated with cancer and identifies particular abnormalities in those genes, making it possible to identify existing therapies that target those abnormalities.
Roswell Park announces that it will offer screening mammograms to non-patients to help improve rates of breast cancer screening, which increases the likelihood of finding cancer in the earliest and most treatable stages.
Candace S. Johnson, PhD, is named the 15th President and CEO of Roswell Park following the retirement of Donald L. Trump, MD. Her appointment marks the first time a woman is chosen to serve in the role. She holds a PhD in immunology from The Ohio State University and is internationally recognized for her research on the effects of vitamin D on cancer cells.
Roswell Park acquires two local physician practices: Breast Care of Western New York and Soniwala Hematology Oncology Associates. The two practices, which already offered high-quality care, are now able to enroll patients in Roswell Park clinical research studies and offer access to the newest cancer therapies.
2015
Roswell Park leaders travel to Cuba to sign an historic agreement with the Center for Molecular Immunology (CIM) that would pave the way for Roswell Park to be the first U.S. institution to offer clinical trials of a Cuban-developed lung cancer vaccine, CIMAvax-EGF. The vaccine had already been approved for use in several other countries, where it extended the lives of lung cancer patients whose disease did not respond to chemotherapy and radiation. Dr. Johnson expresses hope that FDA approval for the clinical trial could come within a year or sooner.