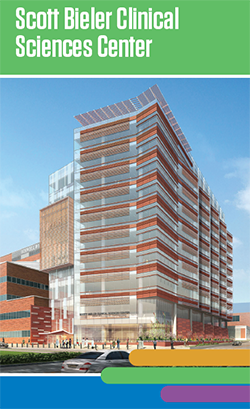 The new Scott Bieler Clinical Sciences Center, which opened in May 2016, allows Roswell Park Comprehensive Cancer Center to provide comprehensive cancer care to meet a growing demand while freeing up space in the main Roswell Park hospital so that existing patient-care programs can be expanded. 
The $50.5 million project has been realized through generous support from the community, including:
$32.7 million in philanthropic donations through the Making Room to Save Lives campaign, co-chaired by Donna Gioia and Scott Bieler. The total includes generous gifts of $1 million or more from 15 donors or foundations. 
$6.3 million from federal New Markets Tax Credit program 
Centers located in the CSC include:
Breast Oncology Center: This center will offer the latest in diagnosing, treating and managing benign and malignant breast tumors in women and men. The center also provides risk assessment and supportive services. 
Breast Imaging Center: This space will allow Roswell Park to perform thousands of additional screening mammograms, annually. 
Survivorship & Supportive Care Center/Adolescent & Young Adult Center: These centers will meet the ongoing needs of cancer survivors. Services will include pain management, palliative care, nutritional services, psychosocial services and screening. 
Chemotherapy & Infusion Center: Increases Roswell Park's current capacity, this center contains treatment rooms and infusion bays, all overlooking scenic views of the city. 
Gynecology Center: Diagnosing, treating and managing all cancers of the female reproductive system, this center offers advanced screening approaches and cutting-edge therapies.