Will COVID-19 impact my appointment?
You will be notified by your Roswell Park if your appointment has been cancelled, rescheduled or moved to a virtual visit. If you do not hear from Roswell Park, please assume your appointment is still scheduled and your doctor prefers to see you in person. If you are required to come to one of our centers for your appointment, please know that we continue to provide a safe environment for our patients and employees.
Directions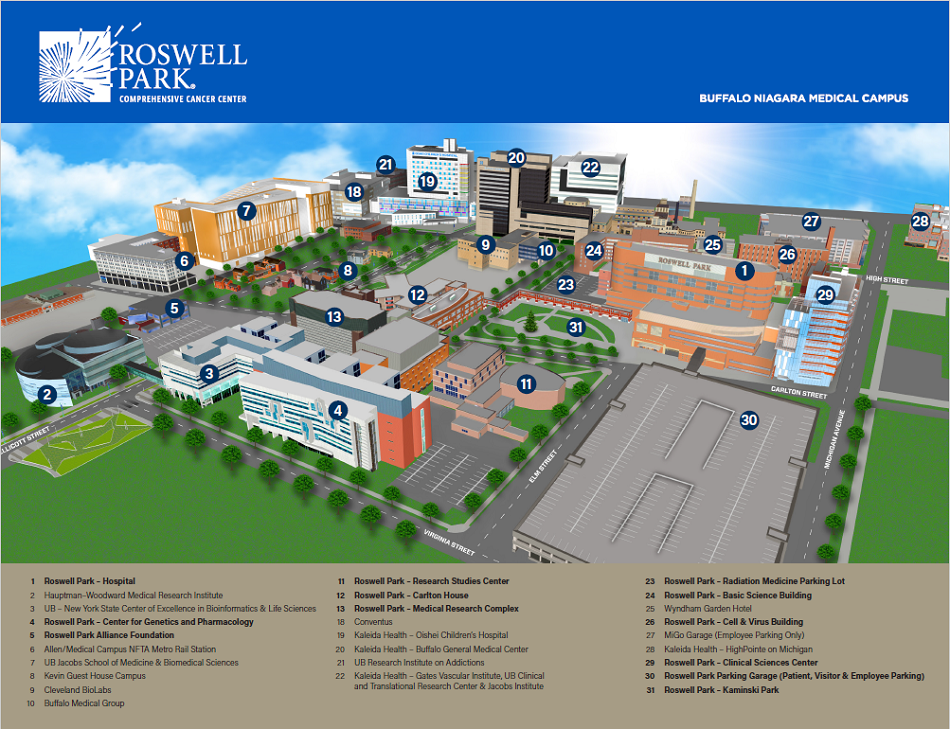 Located on 28 acres in downtown Buffalo, between the shores of Lake Erie and Lake Ontario, Roswell Park Comprehensive Cancer Center is a 10-minute drive from the Canadian border.
It is served by the Buffalo-Niagara International Airport, which offers 110 daily nonstop flights, and the Niagara Falls International Airport, which accommodates international charter and cargo flights.
Roswell Park Comprehensive Cancer Center
Elm & Carlton Sts.
Buffalo, New York 14263

View Larger Map | Get Directions
GPS address:
665 Elm St.
Buffalo, NY 14203
Please note that the above address is not Roswell Park's mailing address.
Driving directions
From within the United States
Take the New York State Thruway (Interstate 90) to Exit 51W;
Exit and merge onto Route 33 West/Kensington Expressway
Exit at Locust St.
Turn right at the first traffic light (Michigan Ave.)
Continue on Michigan Ave. for two blocks to Carlton St.
Turn left at the traffic signal onto Carlton St.
The entrance will be on your right at the end of the block.
From Canada
Take the QEW toward Buffalo, NY
Cross the Peace Bridge into the U.S.
Follow signs for the I-190 South to the Elm St. exit
At the end of Elm St., turn left onto Goodell St.
Merge into the right lane and turn right onto Ellicott St.
Follow Ellicott St. to Carlton St.
Turn right onto Carlton St. and proceed to Elm St.
The entrance will be on your left.
Returning to Canada
From Carlton or High streets, proceed west to Main St.
Turn right onto Main St.
Turn left on to North St.
Continue on North St. (which becomes Porter Ave.) and follow signs to the Peace Bridge
Turn right onto Bridge Plaza
Roswell Park's parking garage is on the southeast corner of Carlton and Elm streets, across from the hospital entrance. Clearance in the parking garage is 6' 5". Valet parking also is available. .
Travel by plane
Buffalo/Niagara International Airport is approximately six miles from Roswell Park. Many area hotels offer shuttle bus transportation from the airport. Taxi service and rental cars also are available.
Travel by bus
Buffalo is served by a number of bus lines at the main bus station, which is about two miles from Roswell Park. Visit Niagara Frontier Transportation Authority (NFTA) to see routes, schedules and fare information, or call 716-855-7211.
Travel by Metro rail
The city's metro rail stop at the Allen/Medical Campus Station is one block from Roswell Park; the station is at Main and Allen streets. For schedules and fare information, visit the NFTA website or call 716-855-7211.
Travel by train
Amtrak provides rail service to Buffalo, and taxi service is available at the train station.
Parking
Roswell Park is conveniently located in downtown Buffalo, NY. The main entrance is on Carlton Street between Michigan Avenue and Elm Street. Valet parking and wheelchairs for patient use are available at the main entrance to the hospital.
When arriving at Roswell Park, you may park in the parking ramp on Carlton St. Handicapped parking spots are available on the ramp's first floor. Use the enclosed walkway on the ramp's third floor to enter the hospital or cross Carlton St. at the crosswalk. The walkway is particularly useful in inclement weather.
Parking ramp rates
Less than 2 hours: $4
Less than 3 hours: $6
Less than 4 hours: $7
Less than 5 hours: $8
From 5 to 24 hours: $9
Valet parking
News that will be welcomed by many of our patients and visitors, our Valet Services have resumed. After weeks of safety planning and training, including consulting with other valet providers and healthcare facilities, our Parking & Transportation Team has developed thorough safety protocols that will allow this important patient service to return.
Hours for Valet Service will be 5:45 a.m. to 7 p.m. Monday through Friday (excluding holidays).
Wheelchair assistance will remain available on the third floor of the parking garage for those who do not wish to use valet.
Valet prices will remain $5 for patients ($1 more than reduced parking garage rate for patients) and $10 for visitors/non-patients.
Drop-off for other vehicles (i.e. taxi cabs and other transportation services) will remain at the front circle for the time being. This will be re-evaluated based on valet volume, which is expected to ramp up slowly.
Discounted patient parking
Inpatients (or their drivers) may obtain a stamp for reduced parking rates on their day of admission or discharge, and outpatients may obtain the stamp on their visit days by presenting their patient card and ramp parking ticket at the Information Desk in the lobby on the hospital's ground floor.
The reduced-rate stamp parking fee is $4 for 24 hours; add $1 if you use the valet service.
Roswell Park also offers a discounted 11-visit pass for $40 (a savings of up to $59) for patients and visitors. Please visit the parking office on the ground floor of the parking ramp to purchase a pass.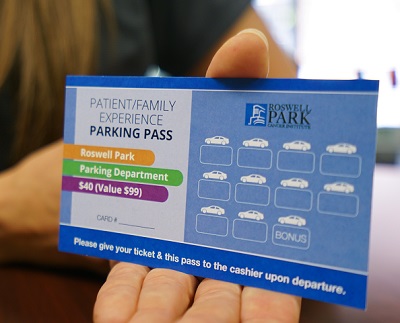 On-street parking
Metered on-street parking is also available. However, please consider the length of your visit and meter expiration times to avoid getting a City of Buffalo parking ticket.
The Buffalo Roam app allows you to pay for metered parking on your phone. You may download the app on your iPhone or Android device at Buffaloroamapp.com. Look for signs for where Buffalo Roam is accepted.
Public transportation
The Metro Rail Allen/Hospital station is at Main and Allen Streets, three blocks from Roswell Park. Bus lines also run nearby. For route, schedule and fare information, call the Niagara Frontier Transportation Authority at 716-855-7211 or visit NFTA.com/metro.
Lodging
Many local hotels and hospitality houses in downtown Buffalo offer special rates to Roswell Park patients, their families and visitors. Patients or family members from outside the area who have Medicaid may qualify for lodging assistance.
The Kevin Guest House
782 Ellicott St., Buffalo, NY 14203
716-882-1818
Kevin Guest House, America's first healthcare hospitality house, provides a comfortable and supportive home-away-from-home for out-of-town patients and their families. In addition to 10 guest rooms in the main house, Kevin Guest House maintains four transplant-recovery apartments for blood and marrow transplant patients and for extended-stay guests. Kevin Guest House is immediately adjacent to the Roswell Park campus.
The suggested donation for lodging at Kevin Guest House is $25 per person per night for the main house rooms and a $50 flat rate per night for the apartments. To make reservations, call 716-882-1818 or e-mail info@kevinguesthouse.org.
Wyndham Garden Hotel
125 High St., Buffalo, NY 14203
716-262-8892
The Wyndham Garden is a 100-room hotel located on the Buffalo Niagara Medical Campus. Guests can safely and quickly travel via an indoor walkway to reach Roswell Park, Buffalo General and Oishei Children's Hospital. The hotel, a smoke-free property, offers the following amenities in each room: microwave, refrigerator, in-room safe, hairdryer, free Wi-Fi and coffee maker. On-site laundry facilities, a business center, fitness center and restaurant are available. The hotel has a complimentary shuttle for travel in the immediate downtown area. Nightly room rates start at $113.00 and are available to all patients, family members, doctors, consultants, direct bill reservations, etc. This rate will always be available (as long as the rooms are available) and will not increase the rate, even on high-demand dates and will never charge a fee for a canceled room. Please click the link above for the discounted rates. For more information, call 716-845-0112 or 1-866-697-3524.
The Ronald McDonald House
780 West Ferry, Buffalo, NY 14222
716-883-1177
The Ronald McDonald House provides safe, comfortable and affordable lodging to families of pediatric patients (under age 21) in Buffalo area hospitals. The 107-year-old mansion, located on a lovely residential street, offers each family a private bedroom, fully stocked kitchen, playroom, free laundry facilities and van service to and from their hospital. The room fee is $15 per night, with check-in available from 8:30 a.m. to 8:30 p.m. Reservations are recommended.
Hyatt Regency Buffalo
2 Fountain Plaza, Buffalo, NY 14202
716-856-1234
The Hyatt Regency offers a discounted rate of $97 per night for friends and family of patients. This 396-room property provides deluxe amenities and a convenient location. For more details, call 716-856-1234.
Best Western
510 Delaware Ave., Buffalo, NY 14202
716-886-8333
Best Western offers discounted rates to Roswell Park patients and their loved ones starting at $75 per night for double occupancy. Amenities include free parking, continental breakfast and shuttle service to the hospital.
For more information about other lodging options near Roswell Park, visit the Buffalo Niagara Visitors Bureau.