2008
In 2008, the Minimally Invasive Surgical Center at Roswell Park has performed its 100th robot-assisted radical cystectomy for advanced bladder cancer using the da Vinci® Surgical Robotic System which distinguishes RPCI as one of the world's premier academic institutions for the procedure.
Roswell Park was one of five centers in New York State, and only 84 nationwide, to be designated a Blue Distinction Center for Complex and Rare Cancers by the BlueCross BlueShield Association (BCBSA).  It was also one of 66 facilities nationwide to be honored with a Commission on Cancer (CoC) Outstanding Achievement Award, placing the Institute among the top 15 percent of all the programs surveyed.
In October, Roswell Park hosted the American Association for Cancer Research Centennial Symposium: The Future of Cancer Research: Science and Patient Impact on October 27 - 28, 2008.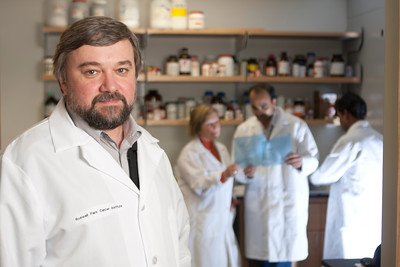 Researchers in RPCI's Department of Cell Stress Biology publish a study in Science demonstrating that CBLB502, a compound developed by Cleveland BioLabs, protected animal models from the damaging effects of lethal doses of radiation without affecting the anticancer activity of the radiation. Andrei Gudkov, PhD, DSci, Senior Vice President of Basic Science, Garman Family Chair in Cell Stress Biology, and Chief Scientific Officer of Cleveland BioLabs, says the compound has the potential to protect healthy cells in patients undergoing radiation therapy or as an emergency treatment for radiation exposure. 
Patients infected with both periodontitis and the human papillomavirus (HPV) are at increased risk for tongue cancer, according to a study presented by RPCI research scientist Mine Tezal, DDS, PhD, at the 2008 meeting of the American Association for Dental Research, held in Dallas. Dr. Tezal says the study results have practical treatment implications, because although there are no treatments for HPV, there are effective treatments for periodontitis, which could help lower the risk.
2009
An article in the August 2009 issue of Annals of Thoracic Surgery describes isolated lung suffusion, a pioneering method of treating lung cancer developed by RPCI's Chair of Thoracic Surgery, Todd Demmy, MD. Rather than circulating chemotherapy throughout the entire lung, this approach restricts the drug to the lung's main artery to protect healthy tissue from the drug's toxic effects.The study by RPCI surgeons concludes that lung suffusion is safe and should be studied further.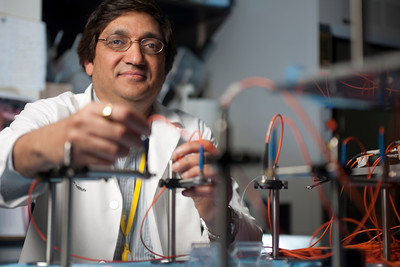 RPCI licenses its photodynamic therapy (PDT) technology to pharmaceutical companies in China and India. The agreements cover technology created at RPCI by Thomas Dougherty, PhD, developer of PDT, and Ravindra Pandey, PhD, Distinguished Member of Clinical Research, Cell Stress Biology. PDT uses laser light to activate photosensitive compounds to treat skin, lung, esophageal, and other types of cancer, as well as other medical conditions. 
CALGB 100104, a cooperative group clinical trial conducted at several institutions and led by principal investigator Philip L. McCarthy, MD, Director of RPCI's Blood and Marrow Transplant (BMT) Center, concludes that multiple myeloma patients who received lenalidomide (Revlimid) maintenance therapy after autologous blood stem cell transplant (using the patient's own blood stem cells) had a 58% lower risk of disease progression during a period of 778 days vs. those who received placebo. Results are subsequently published in 2012.