The Marie, Maria and Michael Bogner, Sr. Patient Terrace (formerly the MMMB Patient Terrace) is a peaceful, open-air space for meditation, contemplation and conversation. Nestled between Roswell Park's Main Hospital and Scott Bieler Clinical Sciences Center (CSC), it is designed to provide a respite for patients, families and staff as a means to escape the stresses of the clinical and hospital environments. The mix of precast concrete pavers, natural wood and steel surrounded by meticulously planned and landscaped planters provide a harmony between the two buildings. Take in the cityscape or a little fresh air on this new rooftop terrace while visiting Roswell Park or waiting for an appointment.
The Terrace is an unexpected oasis right in the middle of a bustling urban medical campus. We've heard an incredible buzz all around the Roswell Park community since it opened, and it quickly became a popular destination. Patients and families are loving the space and staff are telling us how much they appreciate it. It's already being used more broadly and fully than we ever envisioned. Candace Johnson, PhD, Roswell Park President and CEO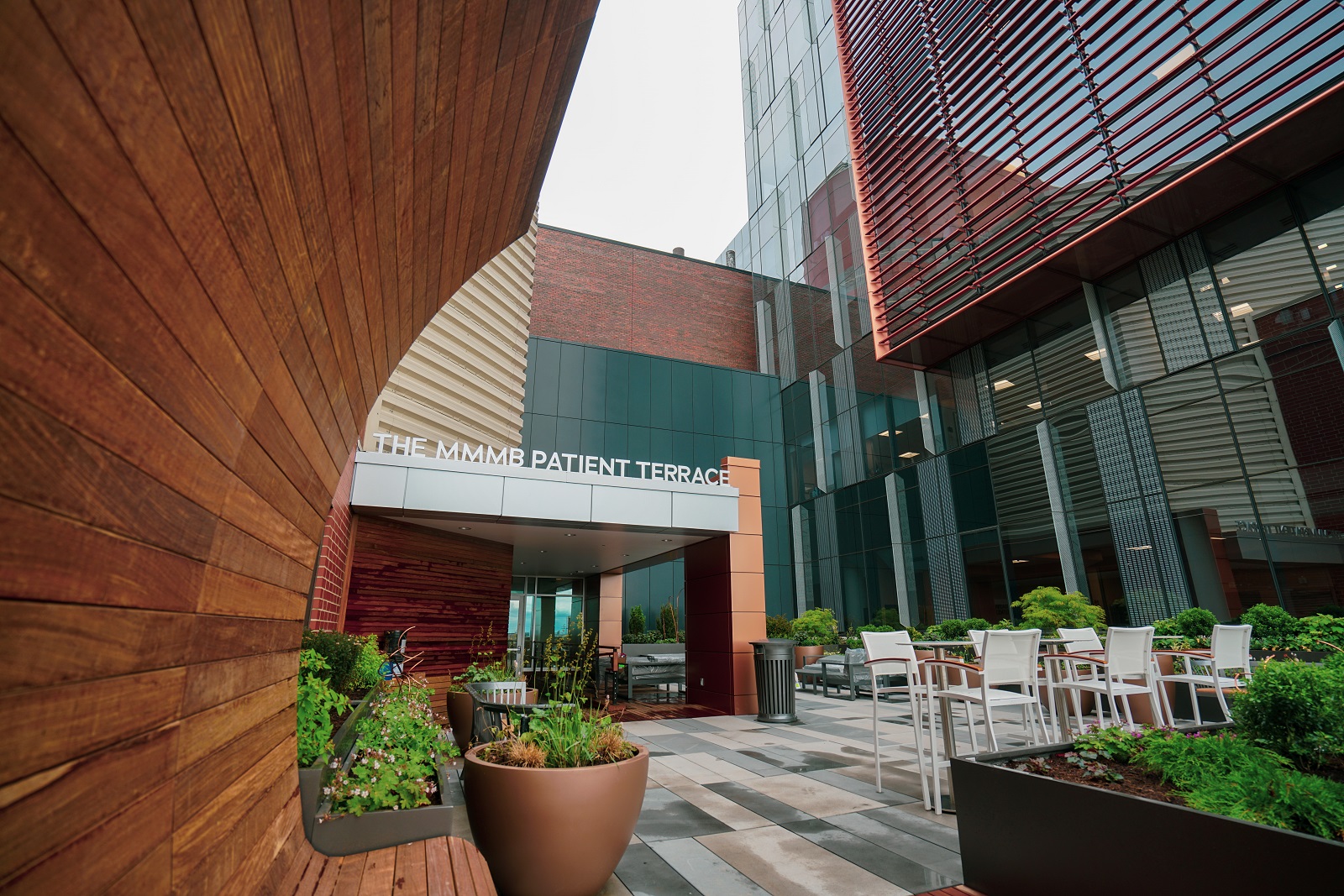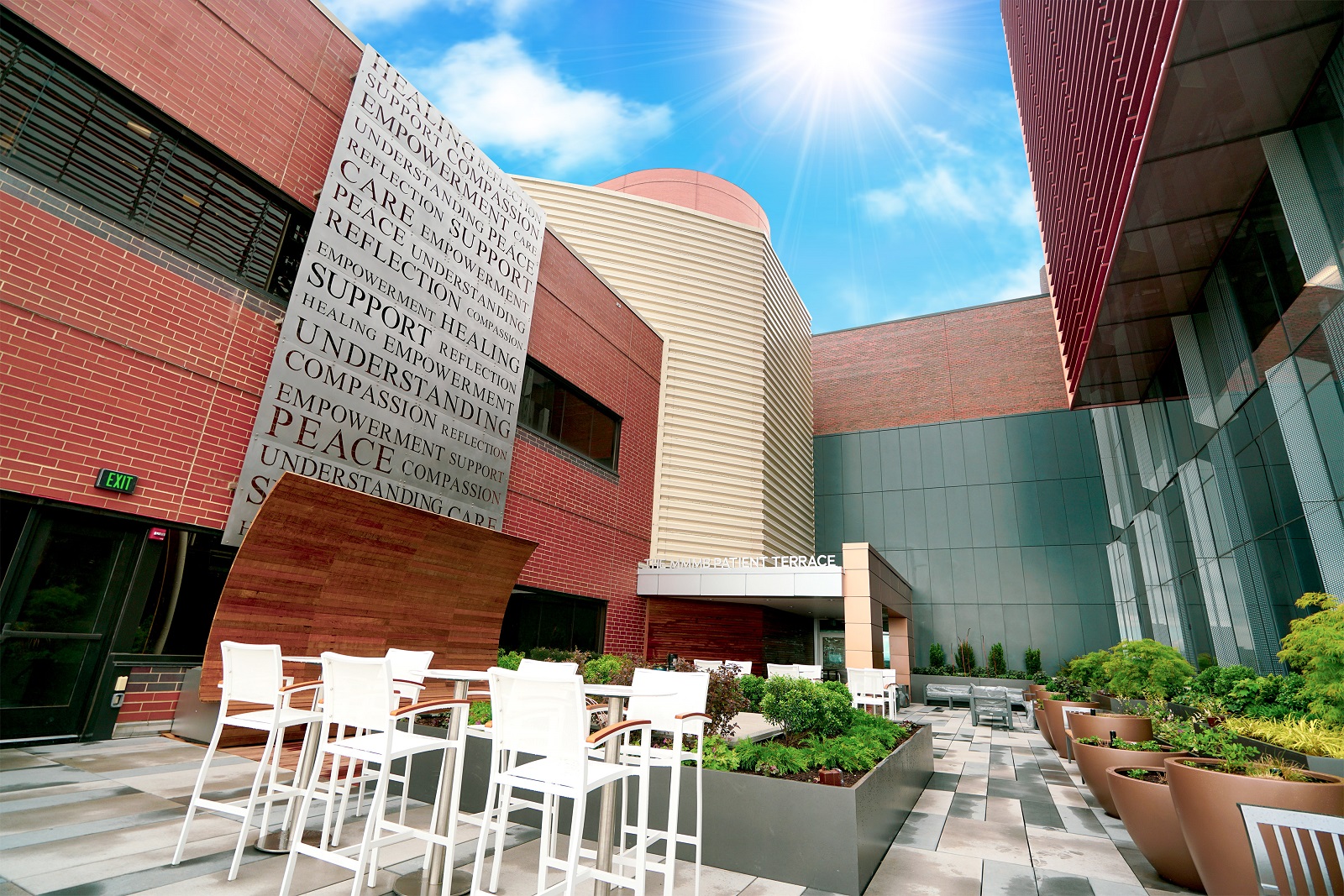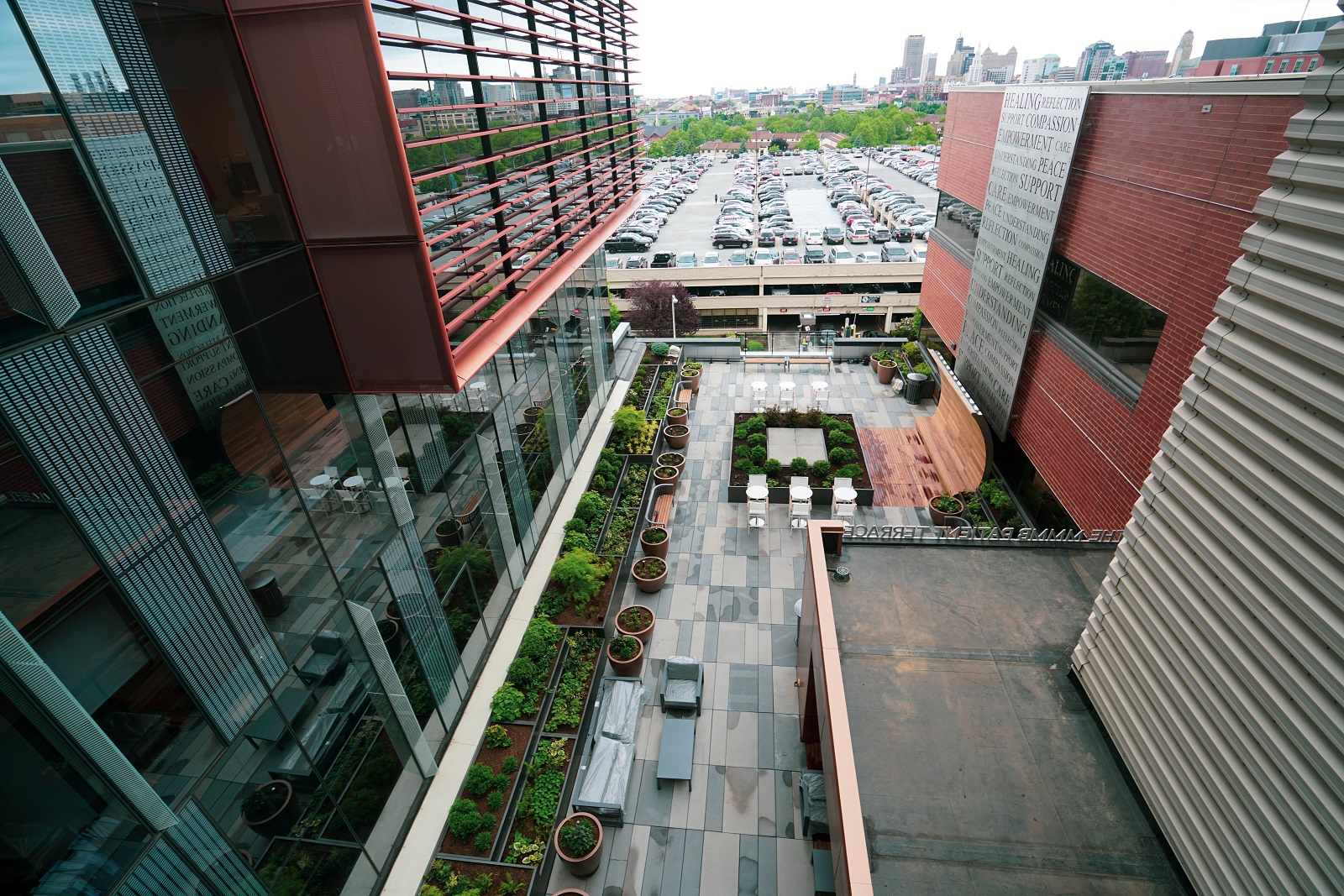 Design features of the new space include sustainable wood products, native plants, architectural handmade glass flowers and a selection of comfortable seating, from sofas and chairs to benches and bistro sets. The focal point of the terrace is the sculptural wood bench that rolls up from the decking and peels away from the building exposing the 30-feet-high stainless steel word wall, its message crafted with care by Roswell Park's senior leadership. The words "healing, reflection, support, compassion, empowerment, and care" stand tall on the hospital backdrop and can be seen from many areas within the CSC and from passersby at street level. The center of the terrace will one day house a sculpture that will add to the beauty of the space.
It's important for a cancer center to provide a variety of spaces for patients and visitors, and the Terrace is an incredible addition to the amenities we are able to provide for our patients and their loved ones during their time at Roswell Park. The feedback we've heard has been incredible. The space is beautiful and welcoming, but I think it most importantly is a place of calm and respite. The natural materials, plantings and inspirational words put visitors at ease immediately and create an environment that encourages reflection. I know that many of our patients and visitors – as well as employees – will find peace during their time on the Terrace, and that access to this space will help to encourage both physical and mental wellbeing for all who visit it. Shirley Johnson, MBA, MS, RN, Chief Clinical Operations Officer, Roswell Park Comprehensive Cancer Center 
Hours: Open 7 a.m. - 7 p.m. daily, weather permitting.
Directions: Take the elevators to the 2nd floor of the Scott Bieler Clinical Sciences Center, turn right and follow signs for the Marie, Maria and Michael Bogner, Sr. Patient Terrace.
Inpatients must have the approval of your doctor and nurse before leaving your room and the floor.
If you are unable to walk to the terrace, please have a friend or family member use a wheelchair to take you to this peaceful garden space, made possible by the generosity of an anonymous donor.