Roswell Park has achieved an increasingly diverse workforce through conscientious and proactive efforts, and we exceed both internal and external goals for workplace diversity.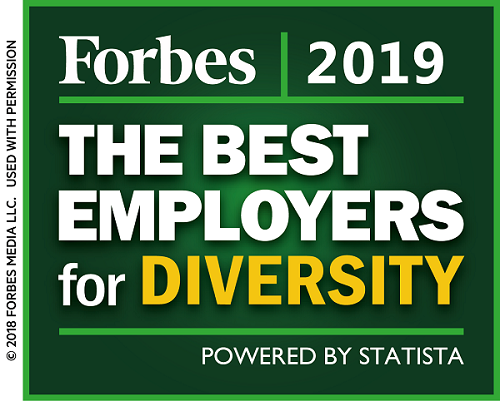 We remain dedicated to building and retaining a diverse workforce and to helping increase job opportunities for all Western New Yorkers.
32.6% of new hires in 2019 were people of color
32% of qualifying expenditures in 2019 were awarded to certified Minority-and-Women-Owned Business Enterprises
69% of our workforce is female, as of May 2019.
Career Development Program
The Office of Diversity and Inclusion assists current employees and members of the community in exploring opportunities at Roswell Park and building the credentials to get the job. In 2018, approximately 35% of minority new hires came to us through outreach programs, including job fairs and job-training events in underserved communities. This is a free service that supports prospective candidates in:
Exploring career options and Roswell Park departments
Helping to match skills to the right job
Knowing the requirements for the job desired
Getting the necessary training
Building the winning resume
Meeting the people in target department
Selling skills
The program is held periodically in the community and on a continual basis every few weeks for current employees.
"The Environmental Services Department is thrilled when we see ES Team members seek out training and advance within Roswell Park. It helps us to expand our partnerships across the campus and helps further our drive for a best in class patient experience. It is a pleasure to support people in finding and using their professional talents to the fullest."Matt Dauria, Director of Environmental Services
Employee Resource Groups
AREN
The mission of AREN is to improve the quality of life for all African-Americans within our communities and to enhance their educational and employment opportunities by promoting Roswell Park as a progressively diversified and inclusive environment in which African-American employees are supported in all aspects of their culture, historical significance and societal relevancy; and by educating, enriching and informing the larger Roswell Park community of the rich cultural contributions of African-Americans to the advancement of research, medicine and overall societal wellness.
Healthy Food ENRG
As we know, there is a lot of research in the area of diet as a means to prevent cancer and other health ailments. As part of Roswell Park's mission to prevent cancer, the Healthy Foods ENRG was formed to bring together Roswell Park employees who enjoy cooking and eating healthy food as part of an overall healthy lifestyle.
The more success stories we have, the more success we have as an organization.David Scott, Director of Diversity and Inclusion
Interfaith ENRG
This group is comprised of employees of different faiths and cultures to promote an understanding and tolerant work environment by creating awareness of various religious beliefs, practices and social structures that our employees embrace.
LGBTQ+ Community ENRG
The Friends of the Roswell Park LGBTQ+ (Lesbian, Gay, Bisexual and Transgendered) Community is open to all individuals, including family and friends of LGBTQ+ persons, who wish to support or simply learn more about LGBTQ+ issues from their colleagues. It promotes Roswell Park as an open and inclusive environment in which LGBTQ+ employees are supported in all aspects of Roswell Park's culture, including advancement opportunities.
The Young Professionals ENRG
It is open to all staff and faculty no matter their ages. Our hope is to connect younger employees with more seasoned professionals so that there is open communication among all generations of employees who work at Roswell Park.
Toastmasters
Roswell Park is proud to have a Toastmasters club on campus, called the Toast of Roswell. At Toastmasters, members learn by speaking to groups and working with others in a supportive environment. Toast of Roswell meets twice a month, the 1st and 3rd Wednesday of the month for about an hour. Each meeting gives everyone an opportunity to practice conducting meetings, giving impromptu speeches, presenting prepared speeches, offering constructive evaluation and leadership skills.
Working Parents ENRG
This is a group of like-minded parents here at Roswell Park driven to balance the responsibilities of being a focused, dependable employee while also being a loving, nurturing parent. We strive to provide a happy, healthy work environment for Roswell Park's Working Parents!"