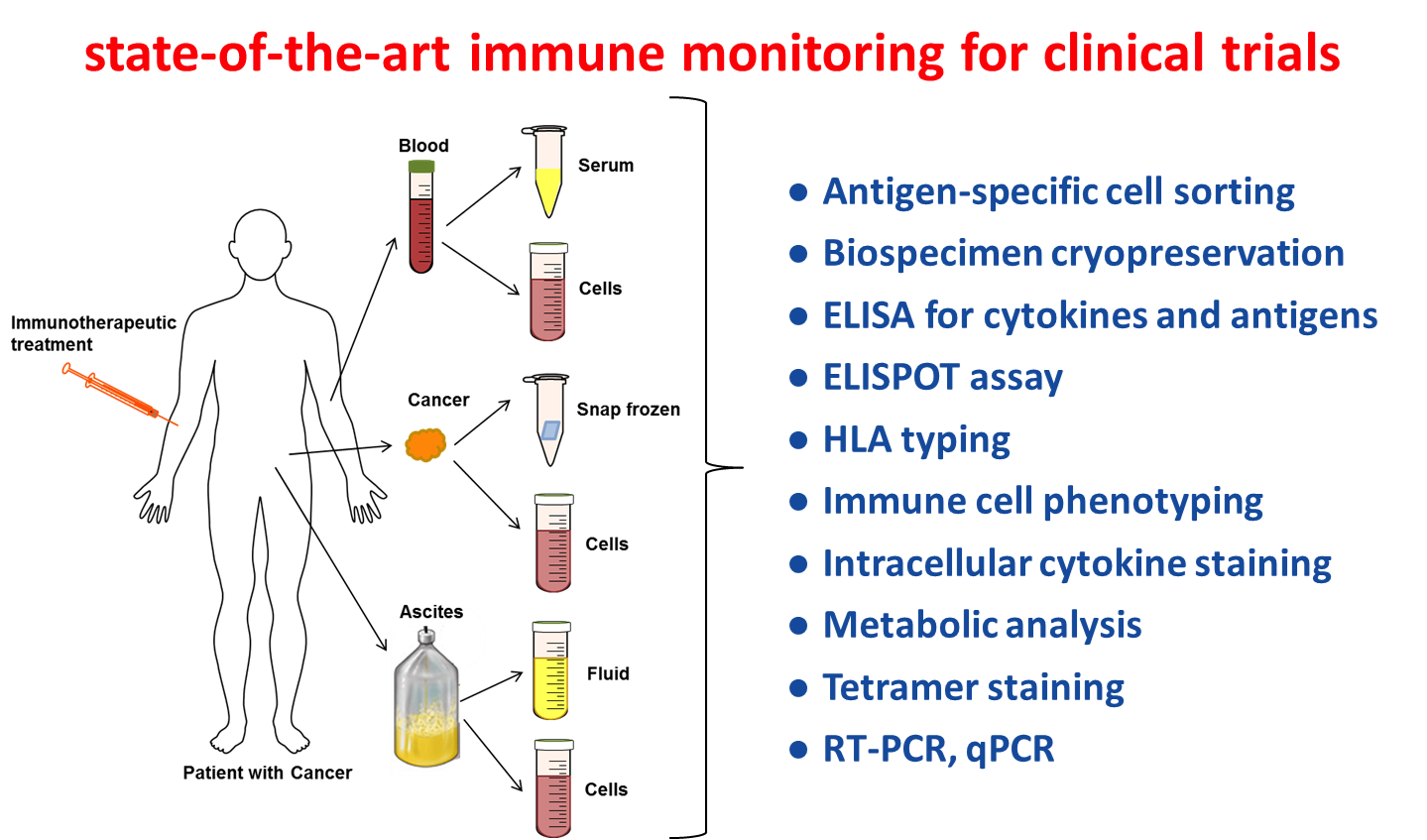 The Immune Analysis Facility (IAF), part of the Translational Immuno-Oncology Shared Resource (TIOSR) at Roswell Park Comprehensive Cancer Center, is responsible for serial monitoring of immunologic functions in patients with cancer, those who are treated with immunotherapeutic and biologic therapies, and those who participate in clinical trials or research protocols at Roswell Park. The development of immune monitoring assays is essential to determine the immune responses in patients receiving novel immune therapies and ultimately transitioning these therapies from the clinical trial phase to standard of care. The IAF makes available to its users a broad range of state-of-the-art immunologic assays, performed under a rigorous quality control program. In addition, as advances in immunobiology occur and new assays are requested by the users, the IAF performs pre-clinical evaluations of the assays and, when they become reliable and standardized, adds them to the available assay list. The ultimate goal of the facility is to continuously develop cutting-edge immune monitoring technology.
The IAF offers consultation regarding optimal immunologic assessment and assay development for innovative approaches to evaluate immune responses. We provide expert advice regarding the types of assays for immune monitoring and data interpretation tailored to fit the endpoints of each specific clinical trial.
The IAF maintains extensive quality control and quality assurance programs to ensure the validity of test results. We are currently participating in a worldwide immune monitoring consortium to standardize and validate immune assays and establish rigorous quality control standards. The IAF has established a fee-for-service schedule that gives priority to Roswell Park members. Interested investigators will be asked to provide a summary of their clinical trial design, which will be reviewed by the facility in order to design the appropriate methodology to successfully measure the endpoints of the study.
Location
Roswell Park Comprehensive Cancer Center
Immune Analysis Facility
Cancer Cell Center, 4th Floor, Room 416
Elm and Carlton Streets
Buffalo, New York 14263
Operating Schedule
Monday – Friday, 8 a.m. – 5 p.m.