When you see Lailani Gates and Jim Bessing sitting at the information desk, giving a friendly "hello!" and a big smile to everyone who enters the Scott Bieler Clinical Sciences Center, you would never guess the magnitude of what they've endured. Their story is filled with ups and downs, highs and lows, but above all else, it's a powerful reminder that love and kindness can truly shine a light during the darkest of times. There may be bad in this world, but when you look for good, you will find it in people like Lailani and Jim.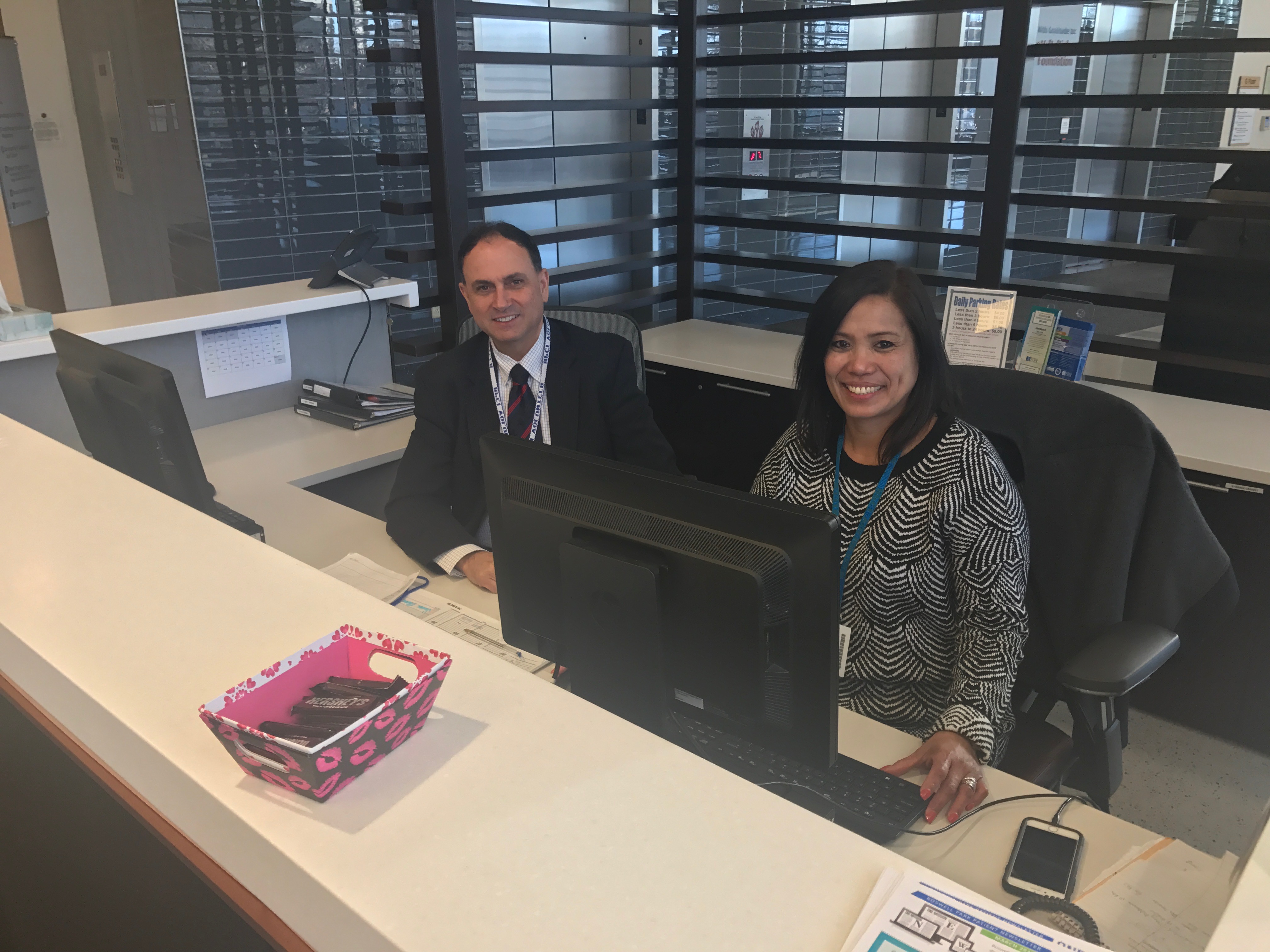 Last year, when Lailani was studying to be a nurse, she found herself putting in long hours doing coursework at a local Wegmans. Little did she know that the man who "accidentally" knocked her books off the table would soon become her rock and her biggest supporter during one of the toughest times imaginable.
"That first meeting was awkward," laughs Jim while gazing into Lailani's eyes with a huge smile on his face. "But, her study group never showed, so we ended up chatting about our love for sushi."
"I guess it was a good thing they never showed up that day," chuckles Lailani as she shows her tendency to look on the brightside. Always.
Lailani's story begins years ago before she ever knew Jim. "Cancer came at my family in a big way. It all began back in 2010. I hugged my 11-year-old daughter on New Year's Eve and she screamed out, crying in pain. For three years I was in and out of doctor's offices trying to get them to figure out what was wrong. I had to keep pushing them; they kept saying it was just a cold. When they finally discovered it was cancer, I prepared myself to fight. I gave up my whole life."
Lailani had been pursuing a business career at the time. She was in the University at Buffalo Executive MBA program and working as a teaching assistant. However, she didn't hesitate to say goodbye to that life the moment her daughter needed her.
"I think it was a calling for me to focus on being a mom. I had spent my whole life focusing on my career. I think God was telling me to slow down."
Lailani, a single mother of six, then began studying to be a nurse when she realized that there was a lot to know in the world of cancer. She had to fight for her daughter and needed the tools to do so.
"I grew up very poor in the Philippines. My mom and dad had nothing to give us, but they really focused on the importance of education. I think that contributed to my approach for helping my daughter beat cancer."
Never miss another Cancer Talk blog!
Sign up to receive our monthly Cancer Talk e-newsletter.
Sign up!
Today, Lailani's daughter is no longer in active treatment. She's doing well and just needs to get a check-up every six months. Unfortunately, Lailani's family's fight with cancer was far from over.
"My daughter has been doing well! But, last May, my older sister was diagnosed with breast cancer. When she called my parents and told them, they moved to the United States to help her. Then, when they got here, my father began having some pain. In June, he was diagnosed with lymphoma. That same month, my other sister went to get checked out and discovered she too had breast cancer."
With all three family members undergoing chemo in various locations across the country, Lailani convinced her dad to move here to Buffalo to receive treatment at Roswell Park. At 83 years old, while undergoing cancer treatment, he insisted on continuing to work at none other than his favorite store – Target! A longtime employee of the chain, he continued to become a frequent Employee of the Month honoree and give his all to the job he loved.
"My dad was so full of energy. You couldn't drive by a Target without him getting excited! He was also a fighter. But, his body eventually couldn't take the treatments anymore. I'll never forget the day they told us they were stopping chemo. My mom doesn't speak English very well, so she thought that was a good thing and started clapping and smiling. I knew what it meant. This was the end. I didn't want my mom to see me break down, so I ran out into the hall to cry. Another patient saw me; I remember that she had a port in her chest. Without saying a word, she hugged me and held me while I let it out. I think of her kindness often."
It's not hard to believe that someone like Lailani would attract the kindness of strangers. No one knows this better than her biggest fan and partner-in-crime, Jim:
"This woman is amazing. I promise you I would not be here volunteering if it weren't for Lailani and her family. What we went through with her dad, her sisters, her daughter – it inspired us both to give back. Lailani is a beautiful person with a heart bigger than anything. When her dad was undergoing treatment, she looked at me and said 'I want to volunteer here.' I said, 'I'm right there with you.'"
Lailani has put her nursing degree on hold but hopes to return to it soon. Her sisters and daughter are doing well and her positive outlook shines brighter than the sun, "I am very blessed. Regardless of what happened, God helped me to get through all of this. And I believe in my heart that God will not give you anything that you cannot handle. He gave me Jim. Jim got me through every single day of this past year."
Although Lailani and Jim's story continues on (do we hear wedding bells??), Lailani shared a beautiful ending to this chapter: "That woman who held me after I heard the news about my father? I saw her just this morning for the first time. She walked into the Clinical Sciences Center and I ran up to her to tell her how much she meant to me."
Editor's Note: Cancer patient outcomes and experiences may vary, even for those with the same type of cancer. An individual patient's story should not be used as a prediction of how another patient will respond to treatment. Roswell Park is transparent about the survival rates of our patients as compared to national standards, and provides this information, when available, within the cancer type sections of this website.