If you've completed your cancer treatment — whether recently or years ago — congratulations!
The opening of Roswell Park's new Survivorship and Supportive Care Center means you'll now enjoy one-stop shopping for the follow-up care and services you need to "live your best life" as a survivor.
Located on the third floor of the Scott Bieler Clinical Sciences Center, which is connected to the main hospital, the center offers:
Coordination of all your follow-up care, including any medical imaging or cancer screenings you might need, based on the care plan provided by your oncologist
Nutrition guidance from a dietitian to strengthen your immune system and manage fatigue, weight changes and other issues
Massage or Healing Touch therapy (and, in the near future, yoga!), to help you relax and de-stress
Physical and occupational therapy, to raise your fitness level and address any physical challenges related to treatment
Pain management
Endocrinology services
Assistance or referrals for sexual health concerns
Referrals for financial counseling, if you need help dealing with the costs of your cancer care
Referrals to Psychosocial Oncology for anxiety, depression or other emotional or spiritual distress that can occur after a cancer diagnosis
Focusing on "Chapter Two"
Until now, survivors received follow-up care in the same clinics where they were seen during treatment. Moving follow-up care from the busy oncology clinic to the Survivorship Center "puts survivors in a quieter environment and concentrates on helping them move forward," notes Mary Reid, MSPH, PhD, Director of Cancer Screening and Survivorship.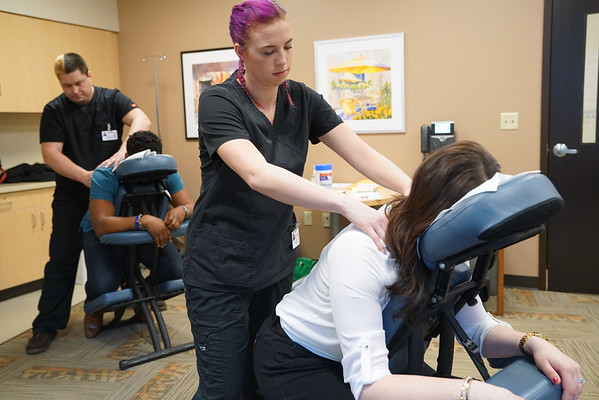 Karen Larkin, MSN, RN, RNFA, Nurse Practitioner in the center, explains that the first appointment focuses on identifying "the supportive services that may be necessary due to late effects from their cancer. The survivorship team promotes open communication by allowing patients to express their concerns so that together we can address them appropriately."
Survivors often need help managing treatment-related side effects, including neuropathy, "chemo brain" and fatigue. "We're a clearinghouse for services to address all those things and more," says Dr. Reid. She adds that the initial assessment helps staff design "a kind of road map for the patient, their family, their primary care doctor and the survivorship clinic."
Continued follow-up care at Roswell Park makes sense, she says. "We're cancer experts. We know about the latest treatments to manage your symptoms. And we're experts in cancer screening, which continues to be very important for survivors."
Chapter One, from diagnosis through treatment, is all about defeating cancer, says Dr. Reid. But when treatment is complete, "you don't have cancer anymore. You survived cancer, and now you're in Chapter Two. Now we want to concentrate on how to make your life better, how to make you feel better. We want to help you live your best life."
Never miss another Cancer Talk blog!
Sign up to receive our monthly Cancer Talk e-newsletter.
Sign up!
Am I Eligible? How Do I Make an Appointment?
Roswell Park's Survivorship and Supportive Care Center is open to you whether you were treated at Roswell Park or another center.
If you were treated at Roswell Park and would like to receive your follow-up care in the Survivorship & Supportive Care Center, ask your primary clinic to complete a Survivorship Care Plan (SCP) and make an appointment for you with the center. If you want to continue your follow-up care in your primary clinic but would like to make a one-time appointment to find out what services the center can provide, your primary clinic will need to request a consult with the center.
If you were treated elsewhere, you will need to be seen in the appropriate primary cancer service at Roswell Park (depending on your diagnosis) before you can make an appointment with the Survivorship and Supportive Care Center. Call the center (716-845-4800); choose option 3 in the phone tree) and we can help you schedule the appointment with the primary cancer service. After the evaluation, they can refer you to the center for your continued follow-up care.
If the thought of juggling appointments makes you anxious, don't worry. A member of the Survivorship and Supportive Care team who specializes in scheduling will arrange everything for you. You can even choose to have all your appointments grouped together or spaced out — whichever you prefer.