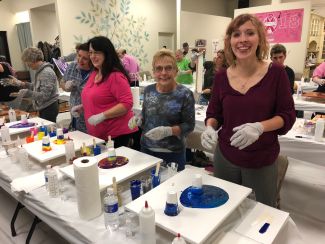 Roswell Park offers the Integrative Medicine program to our pediatric, adolescent and young adult patients in the inpatient, outpatient and survivorship centers. Learn more about the services we offer to help you during your treatment.
Our Roswellness program aims to improve the well-being and overall quality of life of everyone at Roswell Park. We have specific programs for patients, survivors, caregivers and volunteers. Our Roswellness Program is funded by the generosity of the Alliance Foundation Quality of Life Program and the 11 Day Power Play.
Paint Night for Patients
Patients, survivors, and caregivers are encouraged to participate and create abstract paintings and enjoy an evening of fun. For information on our next paint night, view our calendar or call 716-845-1664. Get a patient's perspective on paint night by reading more on our blog.
Wellness Wednesdays
Each month, Wellness Wednesdays feature different experts who provide information about their area of expertise. Upcoming Wellness Wednesdays include Kristine Koch from Nickel City Skincare and Buffalo Gal Organics and Rachel Simson from the Roswell Nutrition Team. Please check our online patient calendar for upcoming events.
Artists-in-Residence
Studies have shown that music and visual arts provide positive effects on cancer patients. Five artists employed by Roswell Park offer these creative outlets to our patients and families.
The Artists-in-Residence also provide musical enjoyment to our patients and families. Our musicians positively transform the environment for everyone at Roswell Park. To refer a patient or speak with one of the artists, please call 716-845-1550.