For one day every June, more than 10,000 Western New Yorkers make their way to the University at Buffalo and Roswell Park Comprehensive Cancer Center for the area's largest fundraising event to support the fight against cancer: The Ride For Roswell.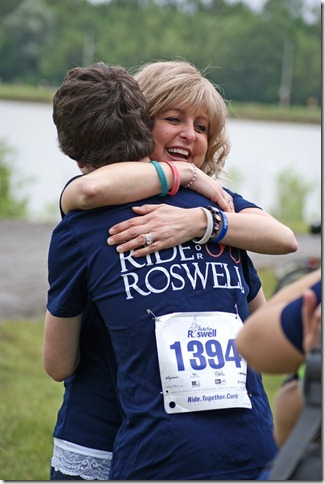 Families, teams and individuals of all ages and levels of cycling experience ride different routes, from three to 102 miles long, to show support for loved ones fighting cancer. Survivors also ride. And some ride in memory of a wife, brother, friend, child or other loved one who has lost their battle.
Tom Cunningham and his family, friends and co-workers started riding in 2011 after Tom's wife, Cheryl, was diagnosed with brain cancer, forming the first team through his law firm, Rupp Baase Pfalzgraf Cunningham. Tom says so many people wanted to help that it was the perfect way for friends, colleagues and family to get involved. "They couldn't really help with her treatment; there was only so much they could do for us. And everybody wanted to find a way to support her, support the family."
Still in chemotherapy, Cheryl finished her first round of radiation the day before The Ride, but she was determined to be there to cheer the team on and greet her family — Tom; their 14-year-old son, Brendan; and their 16-year-old daughter, Sara — as they crossed the finish line.
More Determined than Ever
Sadly, about a year after her diagnosis, Cheryl passed away. Tom, Sara and Brendan rode that June deep in grief but with more determination than ever. That year, the Rupp Baase team grew to 221 and raised $82,728, thanks to all the people Cheryl had touched during her illness. Through his friends and school, Brendan raised an additional $3,935 for the fight against cancer.
Now 20, Brendan is a college sophomore. Sara, 22, is pursuing a doctorate in counseling psychology, focusing her studies on how children and teens can be affected by a parent's cancer diagnosis.
The Cunninghams continue to ride as a family with the Rupp Baase team every year. While the pain of losing a beloved wife and mother never goes away, they find comfort in being with others who have experienced similar losses. "It's nice to feel support from all the people who've been through it," says Tom. "It's part of the healing process for us. Everybody has their moments, but they're still celebrating life."
The family also rides to support the research underway at Roswell Park to prevent cancer and develop cures. "The work at Roswell is so significant," Tom says. "The funding supports new research and programs that wouldn't otherwise be funded, and we've seen the results — the breakthroughs, the new buildings, the patient care."
In different ways, all of us will be touched by cancer during our lives. What we do about it, personally or as a family, will vary. The Ride for Roswell brought Tom, Sara and Brendan into a community of shared experiences and shared comfort, showing them from the start that they could be happy again.
Never miss another Cancer Talk blog!
Sign up to receive our monthly Cancer Talk e-newsletter.
Sign up!
This year's Ride For Roswell takes place on June 23. To register or learn more, go to RideForRoswell.org.
Editor's Note: Cancer patient outcomes and experiences may vary, even for those with the same type of cancer. An individual patient's story should not be used as a prediction of how another patient will respond to treatment. Roswell Park is transparent about the survival rates of our patients as compared to national standards, and provides this information, when available, within the cancer type sections of this website.