Seven-year-old Lucas Leitzan is hanging out in his Roswell Park hospital room with his parents, Melissa and Mark, when an unexpected visitor arrives.
It's Greg Barresi, the hospital's new Musician-in-Residence, carrying a guitar and an assortment of handheld instruments: egg-shaped maracas, a tambourine, a stick with jingle bells attached. Greg invites the family to join in a spur-of-the-moment songfest, and they perk up at the suggestion.
"Do you play an instrument?" Greg asks Lucas.
"He's a natural-born drummer," Mark offers, so Greg hands Lucas the tambourine and a couple of egg shakers and shows him how to use the tambourine like a drum.
"What kind of song should we do?" asks Greg. "Something fast? Something slow?"
Lucas grins. "Something slow," he decides, adding, "I like every song."
So they start off with Bob Marley's "Three Little Birds." Don't worry 'bout a thing, 'cause every little thing gonna be all right…
It's a good intro. The tempo picks up with Hank Williams' "Jambalaya," and by the time they launch into Percy Mayfield's "Hit the Road Jack," Lucas is rocking the hospital bed, his head bobbing back and forth, one hand thumping the tambourine, the other keeping time with an egg shaker. Nurses peek through the observation window, all smiles at the raucous activity. Another pauses in the doorway, her foot tapping and hands clapping.
That's typical of what happens when Greg visits clinics and inpatient rooms bearing the gift of music. He's a member of the Creative Arts Team, using the visual and performing arts to promote physical and emotional well-being among patients, visitors, and staff. It works: the arts have been shown to "reduce anxiety, depression, pain, and fatigue and increase quality of life in patients with cancer," according to a study published in JAMA Internal Medicine.
Every time he visits, Greg sees firsthand how music transforms the hospital environment. "Often it changes the mood — maybe in just one room or maybe in the whole hallway. People hear someone having a good time in the room next door and it makes them want to join in the fun.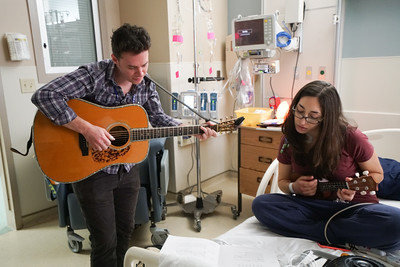 "That's always my goal, to get people involved and engage them beyond just listening." He does that partly by offering the handheld instruments — "things people aren't generally intimidated to play."
Greg has a broad repertoire and takes requests, but usually he skips songs "that might be too nostalgic or that carry a lot of emotional weight," to avoid triggering sad thoughts or fears. So when older patients ask for tunes by Johnny Cash, he obliges with the snappy, upbeat "Get Rhythm." He gets a lot of requests for Beatles hits, too.
"With the really young kids, all the classics are still in high demand — your 'Old McDonalds' and your 'Itsy-Bitsy Spiders'," he says. But no baby songs for Lucas! When Greg teasingly suggests "Twinkle, Twinkle, Little Star," the reaction is strong and swift: "No, no!" He'd rather hear something from the '40s.
Lucas requests another 200 songs, but there's time for only one more, so he puts his heart and soul into "It Don't Mean a Thing If It Ain't Got That Swing." He forgets the mediport in his chest and the IV pole next to the bed. He sings out the refrain — "Doo-wop! Doo-wop!" — and adds a theatrical flourish with his arms. He grins, swept up in the joy of the music. He pounds the tambourine till it dances.
The Roswell Park Creative Arts Team is funded by donations to the Roswell Park Alliance Foundation's Quality of Life program.