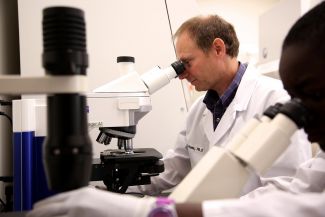 Donations to Roswell Park, 11 Day Power Play Launch New Cancer Research Studies
Internal competitive review process selects most promising projects
Highlights
Five projects received grants totaling $468,848.
Projects underwent competitive review process.
Scientific Advisory Committee grants are made possible through donations.
Generous donations have set in motion five groundbreaking new research projects at Roswell Park Comprehensive Cancer Center this spring. The promising preliminary studies received a total of $468,848 from the Roswell Park Alliance Foundation (RPAF), the 501(c)(3) not-for-profit organization that raises funds and manages all donations made to Roswell Park.
Twice a year, the RPAF's Scientific Advisory Committee (SAC) announces a call for grant applications from Roswell Park's research community. Researchers submit their project proposals to the committee, which is made up of objective Roswell Park scientists. The committee members then score the applications and select the projects that will receive funding based on potential to impact how we prevent, diagnose and treat cancer.
This process was developed to help our researchers explore innovative ideas at the ground level and produce data that will make them eligible for national grants. Every $1 of donations supporting SAC projects generates an average of $13 in additional new research grant funding.
In addition to grants supported by donations to Roswell Park, funding for this spring's review also came from contributions to The 11 Day Power Play's 2018 Community Shift, where more than 1,500 hockey players took to the ice in a 250-hour fundraising hockey marathon. 11 Day Co-Founder, Executive Director and cancer survivor Amy Lesakowski sat in on the committee's peer review process.
"Attending the Roswell Park Alliance Foundation's Scientific Advisory Committee peer review was an exciting and reassuring opportunity," says Lesakowski. "To see world-class cancer research projects and these highly credible experts closely evaluate each and every proposal reassures us that The 11 Day Power Play's fundraising efforts contribute to real advances in research and science right in our backyard."
The spring 2019 request for applications solicited and received 40 applications. These five were selected by the SAC to receive grant awards:
Four of the projects have been made possible through individual gifts to Roswell Park and donations to events and programs like The Ride For Roswell, Goin' Bald for Bucks, Empire State Ride and Team Roswell. Funds from The 11 Day Power Play are supporting the immunotherapy project led by Dr. Abrams in addition to other research efforts, clinical trials and wellness programs taking place at the cancer center.
To learn more about the Roswell Park Alliance Foundation and the research and quality-life-programs it supports at Roswell Park, visit www.roswellpark.org/giving.