In April 2016, a "spot" was discovered on Bonnie Hewett's liver during a pelvic examination. "It was really found by fluke," says Bonnie. Her internist advised her to have the spot checked out and Bonnie turned to Roswell Park.
Throughout their 50 years of marriage, Bonnie and her husband Peter have traveled past Roswell Park Comprehensive Cancer Center. "Many times we have driven by Roswell, and I often thought how blessed we were not to be there. I viewed it as a place where people with cancer go to hopefully avoid death," says Peter.
A CT scan revealed the spot on her liver was a cancerous tumor. "To say that news was scary is an understatement," says Peter. "Thus began our relationship with Roswell Park. This turned out to be one of the best decisions we have ever made."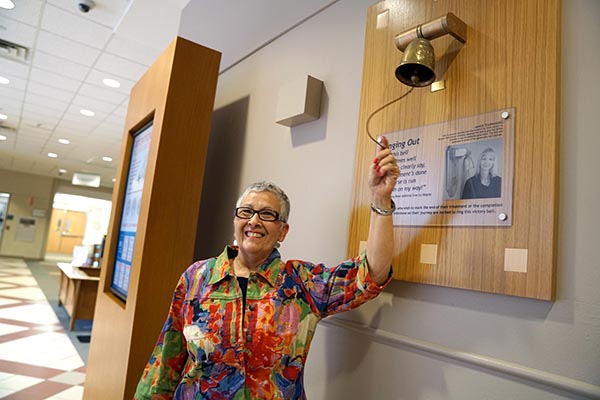 The Hewetts met with physicians to go over Bonnie's treatment plans. This particular tumor was in a precarious position on Bonnie's liver; to remove it would require removing a large section of the organ. The liver can regenerate itself, but only if a sufficient amount remains after the removal of the tumor. Bonnie began chemotherapy to reduce the size of the tumor. She received treatment directed by Dr. Adam Kotowski at Roswell Park's community practice Roswell Park Hematology Oncology Northtowns in Williamsville, NY. "We can't say enough about the people and nurses who assisted my wife through this process," says Peter. "They were professional and caring, making the chemo treatment as comforting as possible."
After a few months of chemo treatments, combined with procedures performed by Dr. Boris Kuvshinoff, Chief Medical Officer and Surgical Oncologist at Roswell Park, the tumor started to shrink. The healthy side of the liver had regenerated just enough for Dr. Kuvshinoff to proceed with a high-risk surgery to remove the tumor. Even with assistance from Dr. Srinevas Reddy, co-director of the Roswell Park Liver and Pancreas Tumor Center, this was not going to be an easy procedure, a reality that Dr. Kuvshinoff did not hide from the Hewetts.
Never miss another Cancer Talk blog!
Sign up to receive our monthly Cancer Talk e-newsletter.
Sign up!
"They're up front with you. We knew that this surgery was touch and go because of her circumstance, and that's what Dr. Kuvshinoff told us," says Peter. "I appreciate that because you know what you're going through. I felt like there was no room for error, and he was the guy to do it."
After a seven-hour surgery and eight days spent in the hospital under close watch, Bonnie was able to go home. Her cancer surgery was a success. After a couple months of recovery, Bonnie is getting back to a normal life. In April 2017, she rang the Victory Bell announcing she was cancer-free.
"I just felt that this couldn't go untold. I was just so thankful. I realized they were saving my soul mate," says Peter. "I wrote that on the chalkboard in our kitchen at home: 'Thank God for saving my soul mate.' There's nothing else you can say."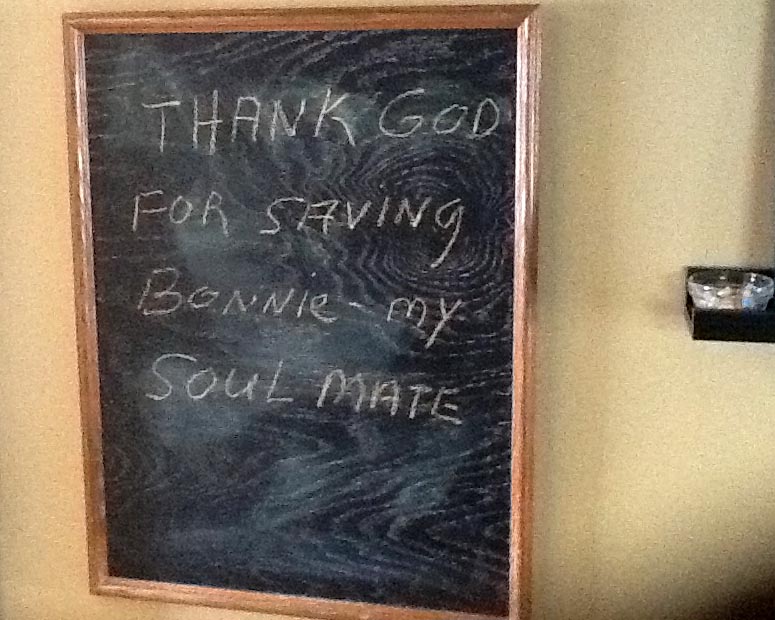 Bonnie is back to her active lifestyle. She's excited to be participating in her first Ride for Roswell in June. "I've got a new bike. I've never participated in the Ride before, but I really want to do it this year," says Bonnie.
Bonnie's experience has changed Peter's view of Roswell Park Comprehensive Cancer Center. "We will never look at Roswell when passing by without counting our blessings. Never again will I think that I'm looking at a place where people go to face death. I now see it as a place where people go to find hope."
Editor's Note: Cancer patient outcomes and experiences may vary, even for those with the same type of cancer. An individual patient's story should not be used as a prediction of how another patient will respond to treatment. Roswell Park is transparent about the survival rates of our patients as compared to national standards, and provides this information, when available, within the cancer type sections of this website.