Roswell Park to Bring Colorectal Cancer Expo to Walden Galleria March 22
Informational event to feature Meet the Doctors opportunities, interactive Giant Inflatable Colon exhibit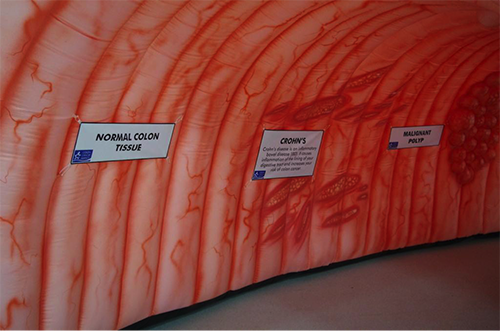 BUFFALO, N.Y. — Are you doing everything you can to protect yourself from colorectal cancer? Roswell Park Comprehensive Cancer Center (Roswell Park) doctors have information that could save your life. The comprehensive cancer center will hold an informational Colorectal Cancer Expo at the Walden Galleria Saturday, March 22. The event will be held from 10 a.m. to 2 p.m. near the Lord & Taylor store inside the mall, which is located at 1 Walden Galleria, Cheektowaga, N.Y.
Shoppers can stop by to gather information on colorectal cancer screening and prevention, talk directly with Roswell Park experts and learn about the latest in colorectal cancer detection, treatment, research and survivorship.
The Expo will also feature an interactive Giant Inflatable Colon exhibit showing a three-dimensional representation of what healthy colon tissue and diseased colon tissue look like. From precancerous polyps to cancer at various stages, attendees will get an idea of what doctors look for during screening colonoscopies and an understanding for the reasons these important procedures can be life-saving. 
Roswell Park's colorectal cancer experts will be on hand throughout the event to answer questions. The Meet the Doctors schedule:
Those who pre-register for the Expo will have a chance to win an autographed Stevie Johnson Buffalo Bills jersey, and attendees can also be entered for a chance to win tickets to one of three summer concerts at Darien Lake Performing Arts Center: Journey on June 24; One Republic on August 9; and Rascal Flatts on September 4.
To pre-register, go to roswellpark.org/expo. Registration is not required in order to attend the event.
###
The mission of Roswell Park Comprehensive Cancer Center is to understand, prevent and cure cancer. Founded in 1898, Roswell Park is one of the first cancer centers in the country to be named a National Cancer Institute-designated comprehensive cancer center and remains the only facility with this designation in Upstate New York. The Institute is a member of the prestigious National Comprehensive Cancer Network, an alliance of the nation's leading cancer centers; maintains affiliate sites; and is a partner in national and international collaborative programs. For more information, visit www.roswellpark.org, call 1-800-ROSWELL (1-800-767-9355) or email AskRoswell@Roswellpark.org. Follow Roswell Park on Facebook and Twitter.