A Celebration of Survivorship
The Bridge of Hope represents the spirit and celebration of cancer survivorship in an iconic Buffalo location.
Life after cancer treatment can be challenging. We want to recognize every cancer survivor's journey with bells hung on a symbolic Bridge of Hope at Canalside.
Let the sound of the bells unite us in Roswell Park's vision to free our world from the fear, pain and loss due to cancer.
"I want you to know how meaningful this event was. I applaud this project and hope that other survivors take part and enjoy the feeling as much as I did."
Bell-Hanging Ceremonies
In honor of our survivors, Roswell Park Comprehensive Cancer Center is holding bell-hanging ceremonies every other week. Roswell Park provides transportation to the Bridge of Hope for patients participating in the bi-weekly event. Shuttle service to Canalside departs from the hospital main entrance.
---
Upcoming Celebration Schedule
Tuesday, September 24, 3 p.m.
Friday, October 11, 1 p.m.
Wednesday, October 23, 11 a.m.
For Patients
FREE bells will be given out at the ceremonies. We offer private ceremonies in addition to those listed below. A shuttle will be available for those who would like transportation to the Bridge of Hope from Roswell Park*. If you would like to attend a ceremony, please call Connie Brucato at 716-845-8182 to confirm the details.
*The shuttle is only available on weekdays from 9 a.m. - 5 p.m.
Please only hang one bell per space. We also ask that you be considerate of the environment and do not hang anything else with your bell that may come detached. Events are open to all.
The Roswell Park Bridge of Hope at Canalside is a place where all cancer patients can hang a bell in recognition of their cancer fight and survivorship.
---
CANALSIDE BUFFALO
44 Prime St. | Buffalo, NY 14202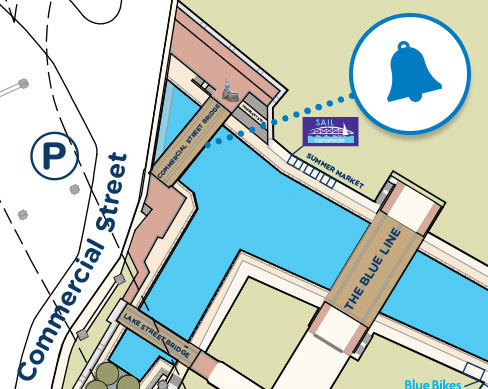 Near the intersection of Marine Drive and Commercial Street