Roswell Park - UPCI Ovarian Cancer SPORE Overview
The Roswell Park Comprehensive Cancer Center and University of Pittsburgh Cancer Institute (UPCI) Ovarian Cancer SPORE includes four individual research projects, four supportive cores, and developmental research and career development programs. It brings together basic and applied investigators to conduct innovative and diverse translational investigations aimed at risk stratification, treatment of primary and recurrent ovarian cancer, and prevention of relapse in patients in remission.
The four projects have been carefully designed to have significant potential to change clinical practice paradigms in ovarian cancer within five years. The theme of the program uniquely reflects immune-based approaches in the etiology, prognosis and treatment of patients with ovarian cancer.
The Roswell Park - UPCI Ovarian Cancer SPORE will recruit new investigators to ovarian cancer research; and will become a comprehensive, integrated program of translational inquiry that explores the most promising avenues for improving ovarian cancer outcomes.
Research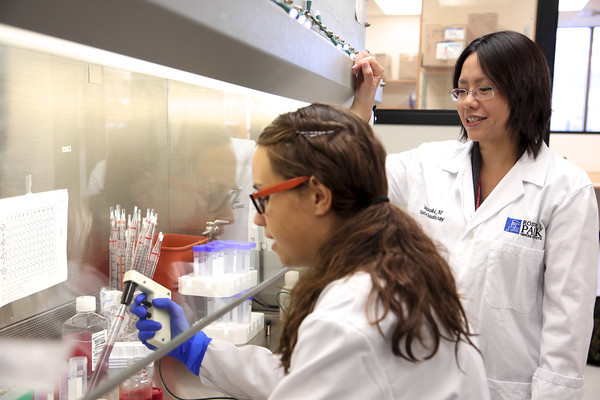 The results of the research proposed by the Roswell Park - UPCI Ovarian Cancer SPORE as a whole will have a long-lasting impact on the outcome of ovarian cancer patients in a variety of clinical presentations.
We expect that the varied immunologic approaches in our four "first-in-human" studies proposed will lead to:
Improved response rates and outcomes in patients newly diagnosed with ovarian cancer and those with relapsed chemo-resistant disease
The development of novel strategies to lengthen remission rates in ovarian cancer patients with recurrent disease
Risk classification for ovarian cancer development and prognosis
Identification of factors that may interfere with the efficacy of immunotherapeutic treatment approaches
Project Goals
The Roswell Park - UPCI Ovarian Cancer SPORE is relevant to the public health because each of the projects will have a direct impact on risk assessment, prognostic classification or targeted therapy for prevention and treatment of primary or recurrent ovarian cancer.
The overall program goals of the Roswell Park - UPCI Ovarian Cancer SPORE are to:
Promote translational ovarian cancer research within Roswell Park - UPCI and with other Ovarian Cancer SPOREs
Foster collaborations in translational ovarian cancer research
Patient Advocates
The Advocacy Committee will assist the Roswell Park - UPCI Ovarian Cancer SPORE in collaborating with established advocate networks in Western New York, Pittsburgh and nationally to enhance minority participation in all aspects of the Roswell Park - UPCI Ovarian Cancer SPORE, and to ensure that the concerns of ovarian cancer patients, survivors and their families are addressed.
Patient Advocacy Committee
Deborah Erwin, PhD, Roswell Park Comprehensive Cancer Center
Shelley Dodt, Cancer Survivor at University of Pennsylvania
Ruth A. Modzelewski, PhD, Pittsburgh Affiliate of Susan G. Komen for the Cure®
Kathleen Maxian, Co-Founder, President, WNY Ovarian Cancer Project
Internal Scientific Advisory Board
Jennifer Grandis, MD
Jill Siegfried, PhD
External Scientific Advisory Board
James Allison, PhD
Tyler Curiel, MD
Ellen Goode, MD
Kenneth Nephew, PhD
Anil Sood, MD
Antoni Ribas, MD