Improvements not seen for all races/ethnicities; continued disparities are a pressing priority
Highlights
New resource is based on newly reported state data through 2019
Regionwide, nearly 100 fewer people each year diagnosed with cancer
Report can be downloaded from Roswell Park website
BUFFALO, N.Y. — One of the core focuses of Roswell Park Comprehensive Cancer Center's Department of Cancer Prevention & Control is to assess the impact of cancer across Western New York (WNY). This team has compiled a new resource to report to the community those cancers that are most prevalent, documenting noteworthy changes in cancer incidence, deaths from cancer and variations in these trends among people of different races or ethnicities.
In "WNY Cancer Snapshot: 2022," Roswell Park reports that while cancer incidence generally remains higher in this region than in the state and nationwide, both diagnoses of late-stage cancer and deaths from cancer are decreasing in this community as a whole, largely as a result of effective outreach and education from Roswell Park and other organizations over the past decade to help people reduce cancer risk and improve access to cancer screening and treatment.
"Education and outreach aimed at reducing cancer's impact on our community is a hugely important part of what Roswell Park offers as a comprehensive cancer center," says Roswell Park President, CEO and M&T Bank Presidential Chair in Leadership Candace S. Johnson, PhD. "We closely track statistics on how cancer impacts our community — and how it impacts distinct communities differently — because that intelligence guides our strategies for advancing health equity and improving public health. And today we are proud to share this information with our community."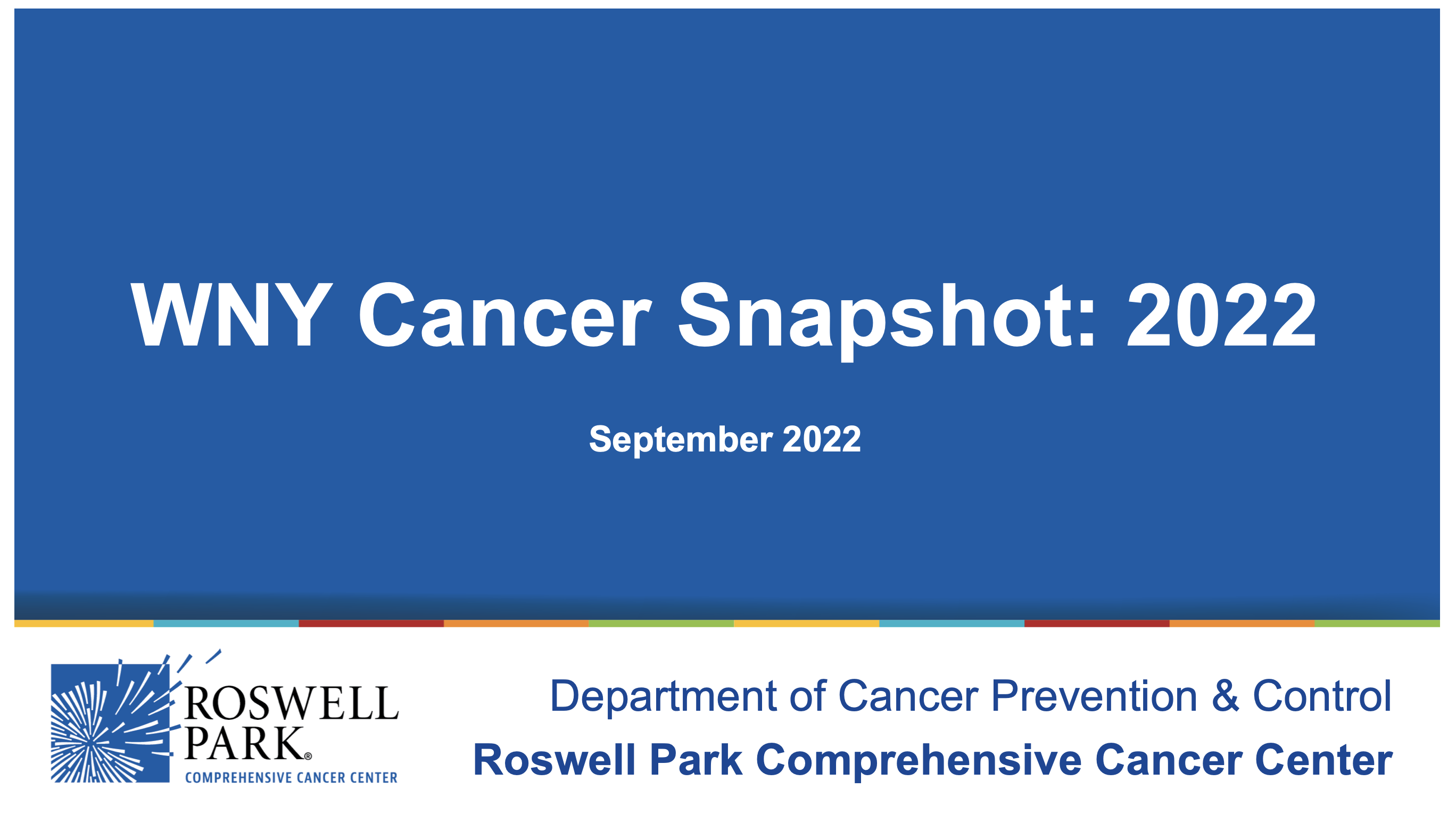 Dr. Johnson revealed the new resource at a press conference today at Roswell Park with three public-health experts who helped compile and analyze the data.
"We're encouraged by the overall picture we see from the data," says Elizabeth Bouchard, PhD, Senior Vice President and Associate Director for Community Outreach and Engagement at Roswell Park and also a Professor of Oncology in its Department of Cancer Prevention & Control. "Data like these help us understand where we are seeing improvement, and highlight high-priority opportunities to save lives and improve the health of communities across Western New York."
"WNY Cancer Snapshot" is based on publicly reported data, primarily newly available information through 2019 from the New York State Cancer Registry, a resource maintained by the New York State Department of Health. Roswell Park's analysis of the data shows that:
Overall cancer incidence in WNY decreased by 1.1% between 2014 and 2019, meaning that about 92 fewer people were diagnosed with cancer each year.
Overall cancer deaths in WNY decreased by 8.8% between 2014 and 2019, meaning that about 246 fewer people in WNY died from cancer each year. 
Death rates from three of the four most common cancers in this region declined from 2010 to 2019: lung cancer declined by nearly 18%, from 52.4% to 42.9%; breast cancer from 22.9% to 20.6%; and colorectal cancer from 14.1% to 12.7%.
Black Western New Yorkers are more likely to die from lung, breast, prostate, and colorectal cancer — persistent disparities that remain despite the region's overall improvement in cancer.
From 2015-2019, across all races/ethnicities, incidence of the 10 most common cancers and deaths from 9 out of the 10 most deadly cancers were higher in Western New York than in the state and/or nationwide. 
At the announcement Thursday, Nikia Clark, Senior Community Outreach and Engagement Manager at Roswell Park, highlighted the persistent differences in how cancer is impacting Black, Indigenous and people of color (BIPOC) communities.
"We focus our outreach efforts in the urban and rural ZIP codes where we see the highest risk for cancer incidence and cancer deaths, and on the specific populations we know are most affected. We know we are successfully reaching these communities and navigating more people to cancer screening and proactive care, but the inequities remain in how cancer is affecting Black, Hispanic, Latinx, Indigenous and underserved communities," says Clark.
Rodney Haring, PhD, MSW, a public-health expert who is a citizen of the Seneca Nation, highlighted research and outreach he led that provide new insights on cancer's impact on Indigenous peoples from the Haudenosaunee communities in our region.
Roswell Park-led research on Indigenous communities in Western New York and other parts of New York State shows that:
Haudenosaunee Indigenous women in New York State were 1.4 times more likely to develop breast cancer than those from other Eastern tribes.
Breast cancer incidence rates for Haudenosaunee women in NYS increased significantly — by 2.7 percent annually between 1998 and 2018, while rates in Non-Hispanic American Indian/Alaska Native women in the East region overall were stable.
Cancer was the second leading cause of death among the Haudenosaunee.
Liver cancers among the Haudenosaunee were also greater than all other East Coast Native Nations and other Natives located in New York State.
"It's always been difficult to get accurate data on the health and access of our Native and Indigenous communities, but our efforts are showing new disparities that were not clear from previously available data," says Dr. Haring, who heads Roswell Park's Center for Indigenous Cancer Research (CICR) and related service initiatives. "The data we've published are now informing our partnerships with tribes, not-for-profits, and grassroots organizations to enhance service both in tribal communities and in the hospital context."
Roswell Park has dedicated additional resources to cancer outreach and education over the past five years, and now has a staff of 33 specifically dedicated to improving access to cancer information, screening and proactive care across our region.
Over the last 5 years, Roswell Park's outreach teams reached over 49,000 community members through evidence-based efforts — purposeful outreach that is crucial for increasing access to prevention and early detection resources.
Roswell Park screens more than 10,000 people for cancer every year. Through its programs targeted to the most at-risk communities, including the Witness Project, Esperanza y Vida and the CICR, Roswell Park also navigates even more area residents to recommended screenings — with 4,400 people navigated to services provided by whatever their provider of choice is since 2018.
"The Cancer Moonshot has challenged the cancer community to reduce the cancer death rate by half within 25 years. We are encouraged to see cancer death rates declining in Western New York, but there is much more to do to address persistent disparities, which represent a pressing priority for our center and our region. We are excited to work with partners across the area to increase access to cancer prevention and early-detection strategies to continue to drive down the cancer burden in Western New York," says Dr. Bouchard.
###


Roswell Park Comprehensive Cancer Center is a community united by the drive to eliminate cancer's grip on humanity by unlocking its secrets through personalized approaches and unleashing the healing power of hope. Founded by Dr. Roswell Park in 1898, it is the only National Cancer Institute-designated comprehensive cancer center in Upstate New York. Learn more at www.roswellpark.org, or contact us at 1-800-ROSWELL (1-800-767-9355) or ASKRoswell@RoswellPark.org.