Developmental Therapeutics
Program Leaders
The current CCSG Developmental Therapeutics (DT) Program is co-led by Drs. Dean Tang (Ph.D) and Igor Puzanov (M.D), both of who were strategically recruited to Roswell Park in 2016 to develop and elevate the previous Experimental Therapeutics (ET) program. To better align our Program goals with the new institutional mission and with the rapid changes in the landscape of anti-cancer therapy development, we have changed the Program name from ET to DT. In the Program, Dr. Tang mainly focuses on basic science-driven therapy development efforts while Dr. Puzanov facilitates clinical translation and clinical trials. Together, the Program leaders interact closely to develop and implement the strategic plan, and execute Program activities including seminars, retreats, and pilot project funding.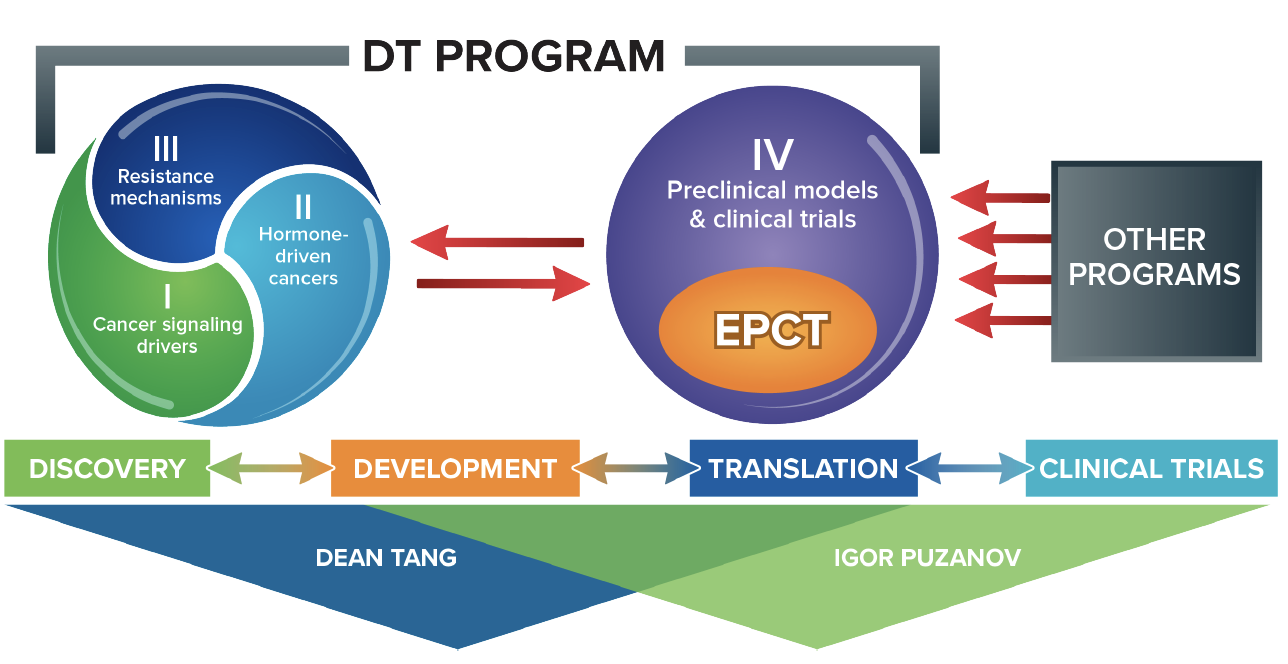 The overarching goal of the DT Program is to develop and translate novel mechanism-driven anti-cancer therapeutics and therapeutic regimens. To accomplish this goal, the 33 DT Program members are engaged in highly collaborative anti-cancer therapeutics development efforts that fall under the following broad Specific Aims (themes):
Identify and develop novel therapeutics to target critical cancer cell signaling drivers
Develop novel therapeutics and therapeutic regimens to treat hormone-driven cancers
Target and overcome therapeutic resistance
Develop novel preclinical models, facilitate rapid clinical translation, and conduct innovative clinical trials
The DT Program research portfolio encompasses the development of trials targeting hormone refractory breast and prostate cancer – cancers that are of particular importance for our WNY catchment area. The DT Program also has two important missions. First, the DT Program is committed to training the next generation of basic and clinician scientists to develop expertise in all phases of drug development. Second, the DT Program, via the Early Phase Clinical Trials (EPCT) unit led by Dr. Puzanov, functions as the conduit for bringing scientific findings from DT and other CCSG programs (in particular, CSBT, TII) to the clinic. EPCT provides an institution-wide resource for laboratory-based drug discoveries, preclinical efficacy studies, PK/PD modeling and pharmacometric studies, IND-enabling toxicology, IND submission support, and clinical trial conduct and management. Overall, the EPCT functions as the central coordinating and implementation body for complex phase I/II trials from other CCSG Programs that have one or more of the following characteristics:
Disease site agnostic
"Basket trials" involving multiple different tumor types
Trials involving adoptive immune cell therapy (excluding hematopoietic stem cell transplantation) due to the complexity of multidisciplinary planning and management
Trials with unusual complexity in implementation, administration or regulation (e.g., the trials with Cuban vaccines and immunomodulatory agents).
In the past 3 years, EPCT has translated recent preclinical findings into 18 ongoing clinical trials by DT Program members (7 of them Phase I) and 11 trials in collaboration with other CCSG programs (4 in Phase I).
Program Members
Contact Person
Sue Bechtel
Program or Scientific Administrator
Tel: 716-845-5853
Susan.Bechtel@RoswellPark.org