Study highlights potential therapeutic value of targeting glucose metabolic pathway in cancer cells
Highlights
Most advanced breast tumors rely on glucose metabolism to fuel their growth
Researchers discovered 2 proteins that are key to the sugar metabolic pathway
Findings, published in Nature, suggest ways to halt tumor growth or recurrence
BUFFALO, N.Y. — Looking to identify new strategies to prevent breast cancer recurrence, a research team led by Subhamoy Dasgupta, PhD, Assistant Professor of Oncology in the Department of Cell Stress Biology at Roswell Park Comprehensive Cancer Center, has identified two key proteins involved in glucose metabolism that could be targeted to prevent breast cancer metastasis and recurrence. The team's findings were published today in the journal Nature.
Rapid growth and proliferation are hallmarks of cancer cells, which require a large amount of glucose to meet their energy needs. Because the majority of advanced breast tumors are notably dependent on glucose metabolism, strategies that alter the metabolic pathways of cancer cells can be used to improve outcomes and prevent metastasis or recurrence in patients with breast cancer.
Working with Bert O'Malley, MD, and other researchers from Baylor College of Medicine in Houston, where this work originated, Dr. Dasgupta screened over 600 proteins and identified PFKFB4, an enzymatic protein involved in the glucose metabolic pathway, as the strongest activator of SRC-3, a protein known to drive cancer progression and metastasis. Breast cancer patients whose tumors express SRC-3 generally have a poor prognosis, suggesting that therapies targeting these two proteins or blocking their interaction could have a broad and significant impact on breast cancer treatment.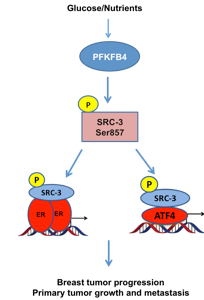 "The enzyme PFKFB4 acts as a molecular fulcrum stimulating the activation of SRC-3, which promotes growth of very aggressive metastatic tumors," explains Dr. Dasgupta, first author on the study. "Remarkably, we also found that the expression of PFKFB4 is significantly enhanced across all types of breast cancer. This research suggests that the development of strategies targeting the PFKFB4-SRC-3 pathway could be used to prevent the growth, recurrence and spread of many, if not all, types of breast cancer tumors."
The study, "Metabolic enzyme PFKFB4 activates transcriptional coactivator SRC-3 to drive breast cancer," is available at nature.com. This research was supported by grants from Susan G. Komen, the National Institutes of Health (project nos. R01HD007857, R01HD008818, P01DK059820, K22CA207578, R01CA220297 and P30CA016056, the National Cancer Institute's core grant to Roswell Park), the Department of Defense (award nos. W81XWH-13-1-0285 and W81XWH-16-1-0297), and the American Cancer Society.
###
Roswell Park Comprehensive Cancer Center is a community united by the drive to eliminate cancer's grip on humanity by unlocking its secrets through personalized approaches and unleashing the healing power of hope. Founded by Dr. Roswell Park in 1898, it is the only National Cancer Institute-designated comprehensive cancer center in Upstate New York. Learn more at www.roswellpark.org, or contact us at 1-800-ROSWELL (1-800-767-9355) or ASKRoswell@roswellpark.org.