Research Supports Use of Enhanced Recovery Approaches in More Abdominal Surgeries
Roswell Park team's analysis shows clear benefit from ERAS through improved clinical outcomes, cost control
Highlights
ERAS widely used to speed recovery for patients undergoing colorectal surgery
Interventions range from patient counseling to careful monitoring during surge
Roswell Park analysis shows that ERAS improves care for variety of patients
BUFFALO, N.Y. — In a new study, Roswell Park Comprehensive Cancer Center researchers have demonstrated that an approach shown to improve outcomes for patients receiving colorectal surgery is just as effective in patients requiring many other abdominal and pelvic operations. Their findings, published online ahead of print in the journal Annals of Surgery, support the conclusion that Enhanced Recovery After Surgery (ERAS) programs are safe and beneficial for a broad range of patients with surgically treatable diseases while also decreasing both length of stay and cost of care.
The ERAS approach was developed in the late 1990s as a way to maximize clinical outcomes for patients undergoing surgery. These pathways, or systems of reproducible best practices and clinical interventions, were first applied and studied in patients receiving surgery to remove cancerous colorectal tumors, and involve steps taken before, during and after surgery. ERAS elements employed at many medical centers worldwide include patient counseling, carbohydrate loading, antimicrobial prophylaxis, use of short-acting anesthetics, minimal use of drains and nasogastric tubes, control of body temperature, early catheter removal, minimizing use of opioid analgesics and stimulation of the gut to encourage return of normal bowel function.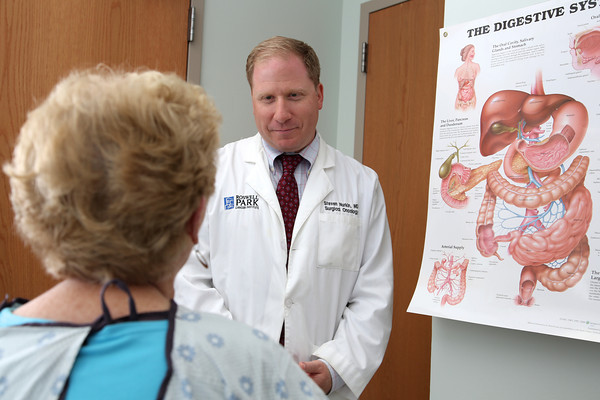 Working with colleagues from the Roswell Park departments of Surgical Oncology and Biostatistics and Bioinformatics, Steven Nurkin, MD, MS, FACS, and Anthony Visioni, MD, performed a meta-analysis of 39 studies involving more than 6,500 patients. They reviewed the impact of "enhanced recovery after surgery" or "fast track" approaches in major abdominal and pelvic surgeries, including procedures to remove, in part or in whole, the liver, pancreas, stomach, esophagus, genitourinary and reproductive organs.
The team found that ERAS protocols decreased patients' length of stay by 2.5 days, on average, and significantly reduced costs of care by decreasing incidence of surgical complications and postsurgical readmissions.
"ERAS showcases the benefits of a comprehensive and multidisciplinary approach to both planning and evaluating major surgical procedures," says Dr. Nurkin, Assistant Professor of Oncology in the Department of Surgical Oncology at Roswell Park and senior author on this research. "ERAS pathways require buy-in from multiple specialties and from facility administration, but the upfront time and costs of implementing these pathways are quickly repaid with reduced costs and improved surgical outcomes."
"One of the more surprising findings is that ERAS pathways are applicable to all studied abdominal procedures. There was not a single procedure we looked at where we weren't able to find a benefit to ERAS," adds first author Dr. Visioni, a Clinical Fellow in the Department of Surgical Oncology at Roswell Park. "And it's important to note one of the most critical parts of any ERAS program — getting patients engaged in their recovery, even before their surgery."
The team expects to pursue further research in this area as ERAS pathways are implemented and tracked across various surgical specialties at Roswell Park and other centers.
The study, "Enhanced Recovery After Surgery for Noncolorectal Surgery?: A Systematic Review and Meta-Analysis of Major Abdominal Surgery," is available online at journals.lww.com/annalsofsurgery.
###
The mission of Roswell Park Comprehensive Cancer Center is to understand, prevent and cure cancer. Founded in 1898, Roswell Park is one of the first cancer centers in the country to be named a National Cancer Institute-designated comprehensive cancer center and remains the only facility with this designation in Upstate New York. The Institute is a member of the prestigious National Comprehensive Cancer Network, an alliance of the nation's leading cancer centers; maintains affiliate sites; and is a partner in national and international collaborative programs. For more information, visit www.roswellpark.org, call 1-877-ASK-Roswell Park (1-866-559-4838) or email AskRoswell@Roswellpark.org. Follow Roswell Park on Facebook and Twitter.