Most Adult Survivors of Childhood Cancer Discontinue Needed Long-Term Follow-Up Care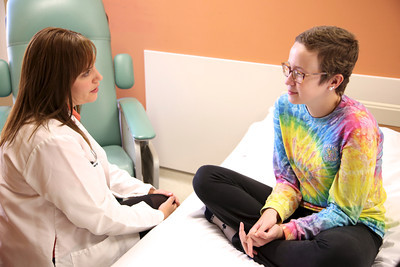 BUFFALO, N.Y. — The first comprehensive study analyzing follow-up care among childhood cancer survivors concludes that fewer than half of the adult survivors of childhood cancers — who remain at greater risk for chronic illnesses — receive adequate long-term follow-up care. The findings of this National Cancer Institute-supported research have been reported by scientists from Roswell Park Comprehensive Cancer Center in the Journal of Adolescent and Young Adult Oncology.
"The vast majority of childhood cancer survivors experience at least one chronic health condition in the years following their cancer diagnosis. Surveillance for long-term complications allows us to better diagnose and manage chronic health conditions in childhood cancer survivors, and may improve their quality of life. Specialized follow-up care is essential to survivor's health," says study first author Denise Rokitka, MD, MPH, Assistant Professor in the Department of Pediatric Oncology at Roswell Park.
The study examined follow-up records from 370 adults who are childhood cancer survivors. Just over 91% of patients continued to receive follow-up care 1 to 5 years after treatment, but that number dropped to 68.5% during years 6 to 10, then declined further to 47.7% during years 11 to 15, and continued to steadily decrease over time. Previous studies have found that only 17.8% of those diagnosed with cancer as a child report receiving "survivor-focused care" that includes discussions about risks related to cancer therapy, screening examinations and strategies for reducing risks. In addition, only 14.6% of patients indicated that they received care at a cancer center despite evidence that many primary care physicians lack the knowledge to appropriately address complications among childhood survivors.
"These findings are concerning, because the incidence of chronic disease related to cancer therapy increases as survivors age. Interventions focused on educating both patients and their primary care physicians may help to increase long-term follow-up care for this at-risk population," says Martin Mahoney, MD, PhD, senior author of the study and Professor of Oncology in the Department of Medicine at Roswell Park.
This research was supported, in part, by a grant from the Roswell Park Alliance Foundation.