The Roswell Park Center for Immunotherapy (CFI) conducts early entry Phase I and Phase II cancer immunotherapy clinical trials focusing on high-priority agents and combinations of immunotherapy modalities. The CFI's primary goal is to address the challenge of developing effective immunologic therapies for human cancers.
Established in 2009, the Center consists of eight individual translational research laboratories and three core facilities that provide material and services to conduct immunotherapy clinical trials.
Research at the Center for Immunotherapy focuses on the following areas:
Cancer vaccines
Adoptive cell therapy
Oncolytic virotherapy
Immunomodulation
Microenvironment
Cancer stem cells
TCR discovery
Genetic signatures
Because of the recognition that several variables need to be brought together and tested individually in the construction of successful immunotherapies, the CFI seeks to test the variables in parallel, rather than sequential, clinical trials.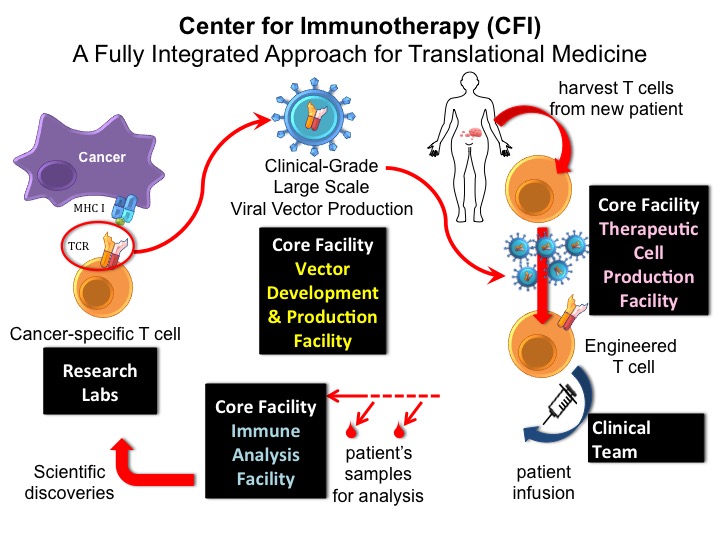 Research Laboratories 
Core Facilities
The cGMP Therapeutic Cell Production Facility manufactures therapeutic cell products in support of Phase I and II clinical cell-therapy trials.
The Vector Development and Production Facility generates clinical-grade vectors/reagents that allow the genetic engineering of a patient's cells, boosting their ability to efficiently fight cancer.
The Immune Analysis Facility is responsible for serial monitoring of immunologic functions in patients with cancer, those who are treated with biologic therapies, and those who participate in clinical trials or research protocols at RPCI. The development of immune-monitoring assays is essential to determine the immune responses in patients receiving novel immune therapies and ultimately transitioning these therapies from the clinical trial phase to standard of care.