Eggs are a powerhouse of nutrition in a handy little round package. These little guys are packed with many nutrients – they're an excellent source of choline and selenium, and a good source of high-quality protein, vitamin D, vitamin B12, phosphorous and riboflavin. In addition, eggs are rich in the essential amino acid, leucine.
Egg Q&A
Should I only eat egg whites?
Most of the vitamins and minerals in an egg are found in the yolk. The white of an egg contains about 60% of the egg's total protein, with the remaining 40% found in the yolk. Additionally, fat and cholesterol in the egg yolk have fat-soluble nutrients like vitamin D, E, A, choline, and the carotenoids lutein/zeaxanthin. Many people avoid egg yolks due to the bad rap they've gotten through the years for their cholesterol content, but the latest studies have found that an egg yolk a day has no effect on cholesterol levels, even for people with elevated numbers.
Do eggs have carbohydrates or sugar?
Eggs contain zero carbs and no sugar. That means you can eat a well-rounded breakfast during the week without feeling round yourself.
Do eggs contain gluten?
They are naturally gluten free! Always have been, always will be.
Does the color of the egg matter?
The nutrient content of eggs is similar regardless of color (white or brown), grade (AA, A, or B), or how they are raised (organic, free-range or conventional).
What do the nutrients in eggs do for my body?
One large egg contains varying amounts of many essential vitamins and minerals. Here is a list of nutrients found in eggs and the benefits provided by each nutrient:
Vitamin A: maintains the skin, immune system and normal vision.
Vitamin B2 (riboflavin): aids energy metabolism, red blood cells, vision and the nervous system.
Vitamin B12: aids energy metabolism, red blood cells, the immune system and the nervous system.
Vitamin B5 (pantothenic acid): aids energy metabolism and mental functioning.
Vitamin D: keeps bones and teeth healthy and aids in the absorption of calcium. Eggs are one of the few foods that are a naturally good source of vitamin D; one egg provides 10% of the Daily Value (41 IU).
Vitamin E: keeps the reproductive system, nervous system and muscles healthy.
Biotin: aids energy metabolism, maintains skin, hair and the immune system.
Choline: aids fat metabolism and liver function.
Folic Acid: aids blood formation and tissue growth during pregnancy.
Iodine: aids thyroid gland function, maintains the skin and nervous system.
Lutein and zeaxanthin: maintain normal vision and protect from age-related eye disease. Lutein and zeaxanthin are commonly found in the yolk.
Phosphorus: maintains bones and teeth, and aids energy metabolism.
Protein: needed for building and maintaining muscle, organs, skin and tissue, and producing antibodies, enzymes and hormones. Eggs provide all nine essential amino acids and 6g of protein per large egg.
Selenium: protects cells from oxidative damage, maintains the immune system and aids thyroid gland function.
I'm not one to call any food a "superfood," but I must say eggs come pretty close to deserving that title! Check out these delicious egg-heavy recipes.
Protein & Veggie Breakfast Muffins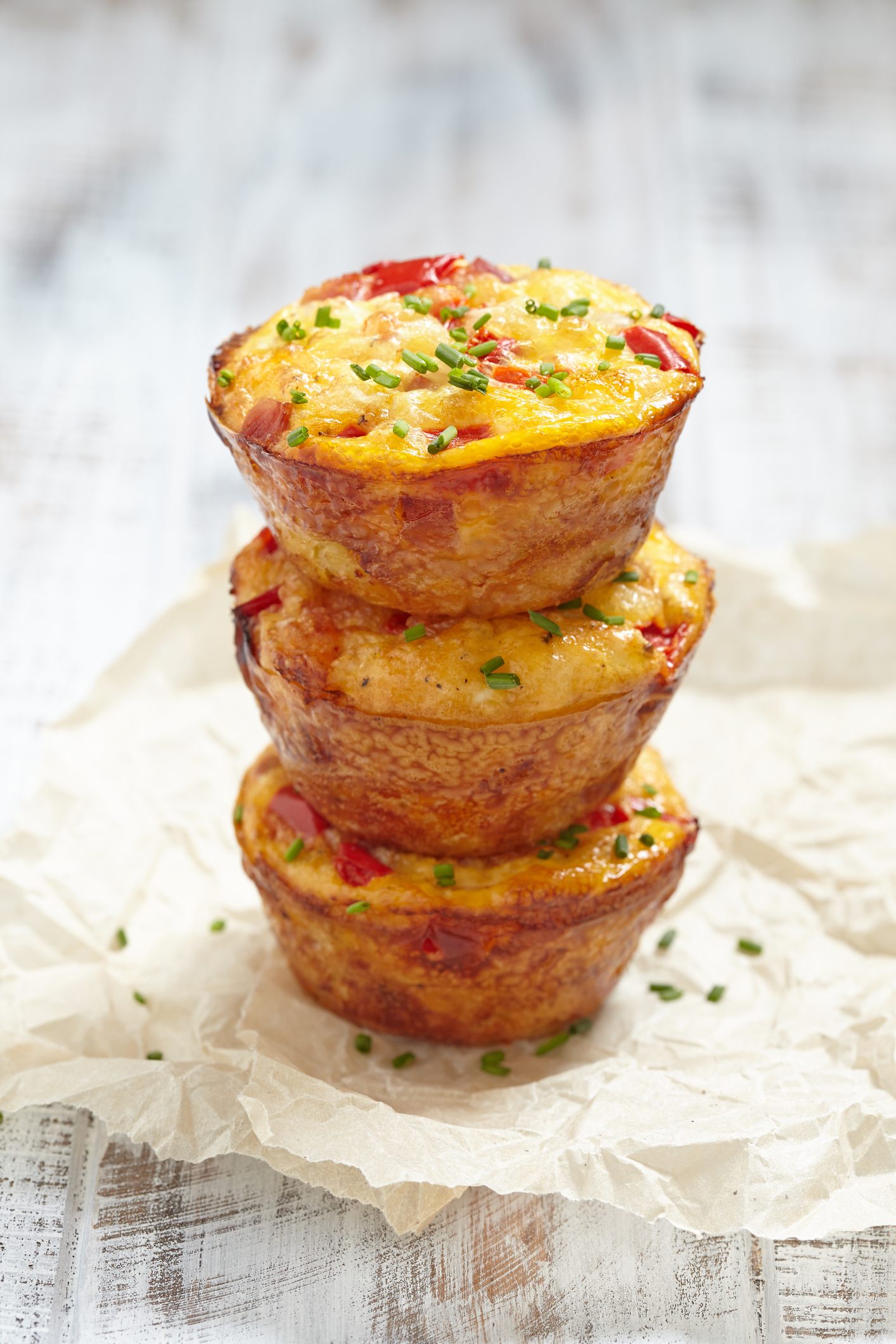 Ingredients:
1 tbsp Olive Oil
1 clove Garlic, Minced or Pressed
1/4 cup Mushrooms, Sliced
1/4 cup Cherry Tomatoes, Sliced
1 cup Spinach
3 Eggs, Beaten
Pre-cooked Chicken Sausage, Sliced into Thin Coins
Parchment Paper or Olive Oil Spray
Directions:
Add spinach and cook until wilted. Let cool and set aside.
Slice pre-cooked chicken sausage and brown on each side over medium heat.
Preheat oven to 350°F. Line a muffin tin with parchment paper circles or muffin holders.
In a medium bowl, beat 3 eggs. Once the sausage and veggies have cooled, add to egg mixture and combine.
Divide evenly between the 4 muffin cups. Bake for 20-22 minutes.
Servings per recipe: 4
Nutrition Information: 130 calories and 9g protein
Never miss another Cancer Talk blog!
Sign up to receive our monthly Cancer Talk e-newsletter.
Sign up!
Spicy Black Bean Breakfast Burrito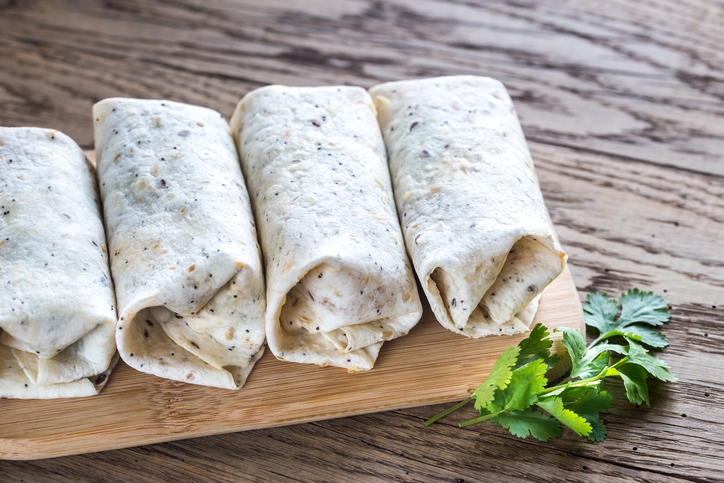 Ingredients:
2 tbsp Canola oil
1 small White onion, chopped
1 each Red pepper, seeded and diced
1/4 cup Jalapeno, seeded and minced
2 cups Black beans, cooked
1/4 tsp Red pepper flakes
Salt and pepper
As needed Ground black pepper
1 cup Brown rice, cooked
1/2 cup Cilantro
As desired Hot Sauce
4 each Eggs
4 each Egg whites
4 each Whole wheat tortillas, 10-inch
1/2 cup Salsa verde
1 each Tomato, diced
2 each Avocado, cubed
As desired Light Sour cream
As desired Pepper jack cheese, reduced fat, shredded
Directions:
For the beans: Heat the canola oil in a large nonstick skillet over medium-high heat. Cook the onions, red peppers, and jalapeno until onions are softened and peppers are slightly charred and caramelized, about 8 minutes. Add black beans and red pepper flakes and cook until warmed through, another 3 minutes. Season with salt and pepper and transfer to a dish.
For the brown rice: In a small bowl, mix the rice with cilantro and hot sauce, as desired. Set aside.
For the eggs: Whisk together the eggs and egg whites in a small bowl. Spray a nonstick skillet with cooking spray and reheat the skillet over medium heat. Reduce heat to low and add eggs, scrambling until cooked through, about 3 minutes.
Assembly: Spread each tortilla with salsa then layer with some brown rice, one-fourth of the black bean mixture, one-fourth of the scrambled eggs, some diced tomato, and one-fourth of the avocado. Top with sour cream and cheese, as desired. Roll up burrito-style.
Before serving, wrap in foil and warm in a 350°F oven for 12 to 15 minutes until warmed.
Tip: For a make-ahead version, after assembling, wrap the burrito in foil and store in the refrigerator overnight. The next morning, set oven to 350°F and heat burritos for 12 to 15 minutes until warmed.
Nutrition Information: 300 calories and 15g protein