Making healthier food choices can be overwhelming, but it does not have to be complicated.
Small shifts in food choices over the course of a week, a day or even a meal can make a big difference. Simply start with a few of the following small changes to make healthier choices you can enjoy.
Eat Right With MyPlate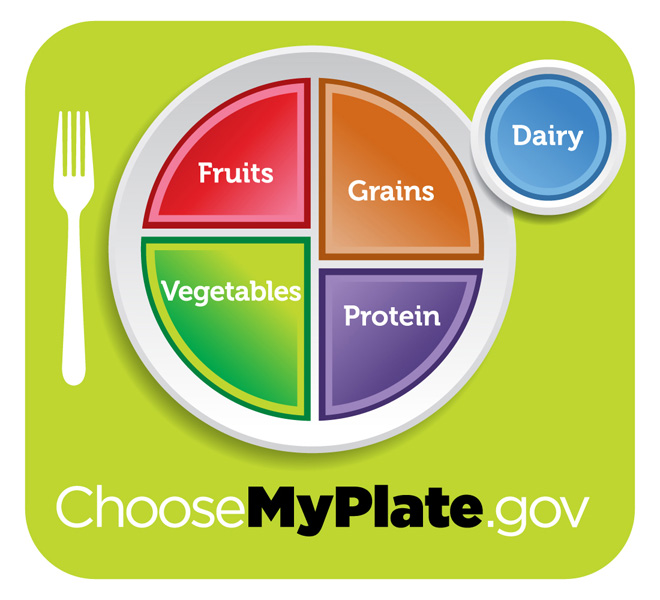 MyPlate illustrates the five food groups that are the building blocks for a healthy diet by displaying them as portions on a plate. Before you eat, think about what goes on your plate, in your cup or in your bowl. Aim for the following:
Fill half your plate with fruits and vegetables.

Focus on whole fruits.
Vary your veggies.

Of all the grains you eat, half should be whole grains.
Vary your protein routine.
Drink and eat less sodium, saturated fat and added sugars.
Move to low-fat or fat-free milk or yogurt.
Consider Healthy Swaps During Every Meal
Breakfast
Start your morning with a healthy breakfast that includes lean protein, whole grains, fruits and vegetables. Here are some specific ideas to try:
Make yourself a breakfast burrito with scrambled eggs, low-fat cheese, salsa and a whole wheat tortilla, or dig into a parfait with low-fat plain Greek yogurt, fruit and whole grain cereal.
Have you ever felt hungry about an hour after breakfast? Lack of protein may be to blame! Most breakfast meals are carbohydrate-heavy, with foods like oatmeal or cereal, but protein is lacking. You can still keep these healthy carbs, but make sure you get some protein as well. Eggs, cottage cheese, Greek yogurt, nuts and seeds are a few examples of what to include. You need the protein to help stabilize blood sugar and energy levels throughout the morning.
Add veggies to breakfast. Add spinach or kale to smoothies, or sauté your favorite veggies into scrambled eggs. You can even shred carrots and zucchini and add them to oatmeal.
Eat this, not that: Instead of low-fat vanilla yogurt, use low-fat plain Greek yogurt; instead of fruit juice, use whole fruits.
Lunch/Dinner
There are many ways to build a healthy plate for lunch and dinner. These tips are a good place to start:
Try a main dish salad for lunch. Go light on the salad dressing.
Add fresh, frozen or canned vegetables to salads, sides and main dishes.
Choose a variety of colorful veggies prepared in healthy ways, such as steamed, sautéed, roasted or raw.
Eat this, not that: Instead of French fries as a side, choose a side salad.
Trim away all the visible fat from meats and poultry before cooking.
Mix up your protein foods to include seafood, beans and peas, unsalted nuts and seeds, soy products, eggs, and lean meats and poultry.
Don't fry! Broil, grill, roast or poach poultry or fish. Skip or limit the breading.
Add salsa or low-fat plain Greek yogurt on a baked potato in place of butter or sour cream.
Never miss another Cancer Talk blog!
Sign up to receive our monthly Cancer Talk e-newsletter.
Sign up!
Snacks
Snacking can keep you full, balance your blood sugar levels, provide energy between meals and even boost overall nutrient intake. However, what you select for your daily snacks can make all the difference in your overall health. But let's face it – it can be difficult to find snacks that taste good, are satisfying and also healthy at the same time. Healthy, tasty snacks are a great way to incorporate additional fruits and vegetables into your diet, and adding protein and fiber to snacks is the perfect combo to keep you fuller longer. Grab these for your next midday slump:
Carrots with hummus
Fruit with nut butter
Celery with nut butter
Greek yogurt with nuts
Cheese and whole wheat crackers
Hard-boiled egg with a piece of fruit
Beverages
Regularly consuming sugary drinks — such as sodas, sweetened iced teas, energy drinks and juice drinks — can contribute to weight gain. Replace those sugary drinks with healthier alternatives. Water is always the best choice, but if you're getting bored with water, here are some additional options:
Add fruit or vegetables to add some flavor, such as cucumbers, raspberries, lemons, limes or oranges.
Try a naturally flavored water.
Order unsweetened iced tea and add your own amount of sweetener to it.
Replace soda with carbonated or sparkling water.
Change can be hard, but aiming for one or two small good swaps is a great way to start your path to health. Happy eating!