Roswell Park's new logo was inspired and designed by cancer survivor Shasti O'Leary Soudant. Shasti sought to create something that reflects the hopeful, wishful, welcoming feeling that she experienced here. It's more than a logo. It's a promise. A promise to unleash the healing power of hope for every single patient and family who enters our buildings.
Read Shasti's story and learn more about the design that inspired our new logo.
When Shasti O'Leary Soudant first stepped into the Scott Bieler Clinical Sciences Center at Roswell Park, it looked "pretty raw," the artist remembers. The walls had been framed, the sheetrock hung, but the floors and lighting had yet to be installed. This was her first glimpse of the massive, unfinished area that would later become the lobby. This was her blank canvas.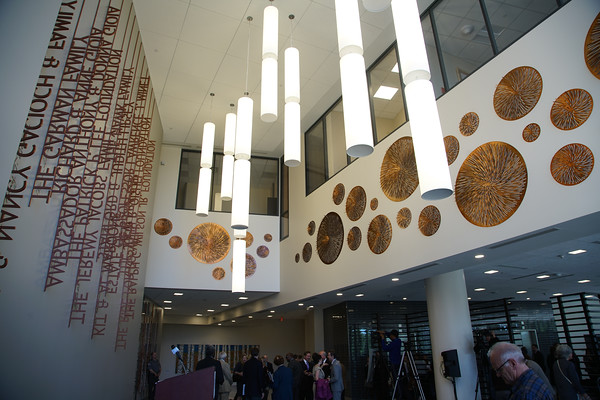 The Roswell Park Alliance Foundation Art Committee had invited O'Leary Soudant to create a piece of art for the imposing space. First she wanted to become familiar with the building. She considered how the light fell through the windows, the warmth of the copper-colored accents, the need for something "curved, round, and soft" to balance the angular design.
And she thought about the emotions of the people who would enter the lobby in the future. For that she did not need her imagination; she had her own memory of "cancer and chemotherapy and being in the shoes of the people who are walking into that building," she says. "It became really personal."
O'Leary Soudant learned that she had Hodgkin lymphoma in 1999, while living in Colorado with her husband, Jethro Soudant. She endured six months of "pretty brutal" chemotherapy and came to know "the feeling of being overwhelmed, the intense fear in the face of what you're about to deal with. You're looking for hope, something reassuring.
"I felt it was important that I contribute something that would lend itself to the hopeful, wishful, welcoming aspect of the building."
So she turned to a different memory, from the carefree days of her childhood, when her family lived at various times in France, Germany, Belgium and Sweden. "We spent time in Sweden every summer. It's beautiful."
A photo from those days shows her standing next to her mother; both wear crowns of dandelions in their hair. "I've loved dandelions since I was a child. They're one of my favorite flowers. You've got this three-week period where it's pure yellow — the whole back yard turns into a dandelion garden. I'm so delighted every time that happens." Like other children in other fields of dandelions, she made wishes and blew on the fuzzy seed heads, scattering the wispy plumes to the wind.
Dandelions. Wishes. You're looking for hope. From that memory she created Wish Field, now the centerpiece of the Scott Bieler Clinical Sciences Center. Look up: high overhead, shining metal spheres with feathery projections recall dandelion seeds wafting on the breeze. I wish.
Shasti O'Leary Soudant's talents extend far beyond sculpture. She has designed book covers for major publishing houses, for works by Danielle Steel and other authors. Her website also showcases a sampling of her photographs and essays.
Currently she's at work on Gut Flora, a cluster of colorful, twisty metal tubes representing the beneficial microorganisms that inhabit the intestinal tract. The sculpture will provide a fitting welcome at the Allen Street Metro Rail station inside the University at Buffalo School of Medicine at Allen and Main streets in Buffalo.
Listen as O'Leary Soudant and her husband, photographer Jethro Soudant, recall for Story Corps how love and humor transformed a wrenching moment during her chemotherapy treatment for Hodgkin lymphoma.
Never miss another Cancer Talk blog!
Sign up to receive our monthly Cancer Talk e-newsletter.
Sign up!