Rodney Taylor remembers traveling to Maryland every year for family reunions in his father's hometown, and the view from the back seat of the car as trees flashed by. The Buffalo artist shares that sense of journey in Song for My Father, an expansive oil painting of birch trees that welcomes visitors to the lobby of Roswell Park's new Scott Bieler Clinical Sciences Center.
Before he picked up his brush, Taylor considered carefully how visitors would view the painting, realizing that many of them would be rushing by on their way to a clinic appointment. "A lot of times patients are coming and going, and there's not a lot of time to sit and study. I was thinking of the movement when they walk by this painting, that it would capture something for them."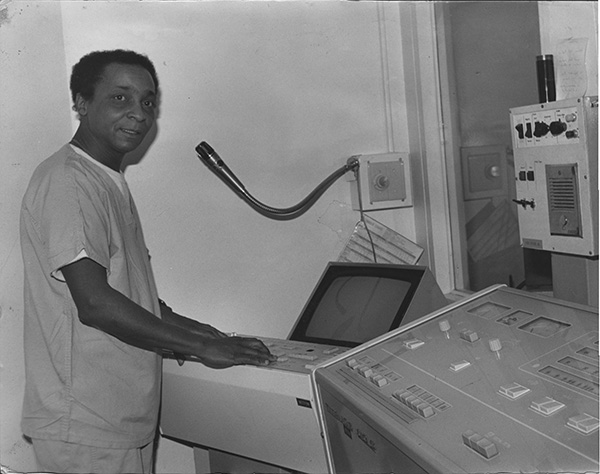 Even glimpsed in passing, the scene pulls viewers into the outdoors. The papery white bark of the trees stands out against a green-and-gold autumn background and the suggestion of water in the distance. The natural setting serves as a tribute to Taylor's late father, Phillip O. Taylor, who worked as an x-ray technician at Roswell Park from 1957 until his retirement in 1989. Outside his professional life, Phillip Taylor was an outdoorsman who loved fishing and horses and horseback riding. "My father was well liked," says the artist, "so it's really nice that people [who knew him] can see this and reference him, bringing their own feelings, like when they would go on fishing trips together."
When Rodney Taylor was a boy, he sometimes met his father at Roswell Park so they could have lunch together. Along the way he walked past patients who were waiting for x-rays, their eyes keen with worry. More than three decades later, that still-vivid memory reminds him that for patients, survivors, and caregivers alike, a cancer diagnosis is "very stressful." Taylor has experienced that stress firsthand: "I was a patient in a hospital for a very long time. I had kidney failure. I spent ten years in dialysis, and I had two kidney transplants.
"To have something to take your mind off it for a little while is very beneficial to your health," he adds. Trees, he says, are part of the natural world that everyone finds comforting, and so he hopes that the birches in his painting will be a source of comfort and tranquility for everyone who walks past — even those who are in a hurry.