At age seven, I was diagnosed with Non-Hodgkin Lymphoma. After my main surgery to remove the cancer, I had to go through weeks of chemotherapy and never stopped asking questions during the process. My parents knew how serious my diagnosis was, and yet at my age, I was totally unaware of how much it would change my life.
As a kid, I was resilient and didn't know the magnitude of what I was going through. Each day was a new experience even though I was often sick and/or ran a high fever. The doctors, nurses and staff at Roswell Park always made me feel special and answered every single question I asked. They would let me take my little stuffed angel bear into every surgery and spinal tap; he even had his own Band-Aid.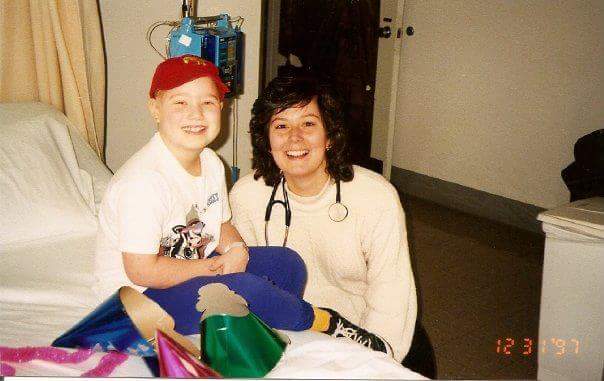 Prior to my diagnosis, I loved playing soccer whenever I could. My parents were advised that, due to my treatment, certain sports might be very hard on my heart. However, I loved sports and told my parents I couldn't stop playing soccer. They knew how important it was to me and allowed me to continue with careful monitoring. After successful treatments and follow-up exams, I was placed in remission and was playing soccer before my hair started to grow back. That sport became my life.
I continued to play soccer throughout high school and now, at 24, still play in summer and winter leagues.  A little over four years ago, Canada was named host country of the 2015 Women's World Cup and I immediately announced to my parents that I would be there. Last fall, I purchased tickets to games in Ottawa, Montreal, Winnipeg and the ever-important World Cup Final in Vancouver.
The realization that I was going to this tournament was a major moment of accomplishment and gave me a strong feeling of gratitude for the doctors and nurses that saved my life. This was a dream come true for me and would not be possible if it weren't for the advances in medicine and care I received at Roswell Park.
The tournament kicked off this past summer, however I was only guaranteed to see the U.S. play once. For me to see them play down the road, the Americans would have to win their group and keep advancing. As fate would have it, the team did just that. I saw the U.S. defeat China 1-0 in the quarter-final match in Ottawa, and then followed them to Montreal for the semi-final against Germany. 
When these monumental moments happen in life, I often think about how lucky and grateful I am to be here. So many people do not have this chance.
After planning my trip, I created and brought a sign thanking my parents and the staff at Roswell Park. I am able to follow my passions and live life to the fullest because of the people at Roswell Park.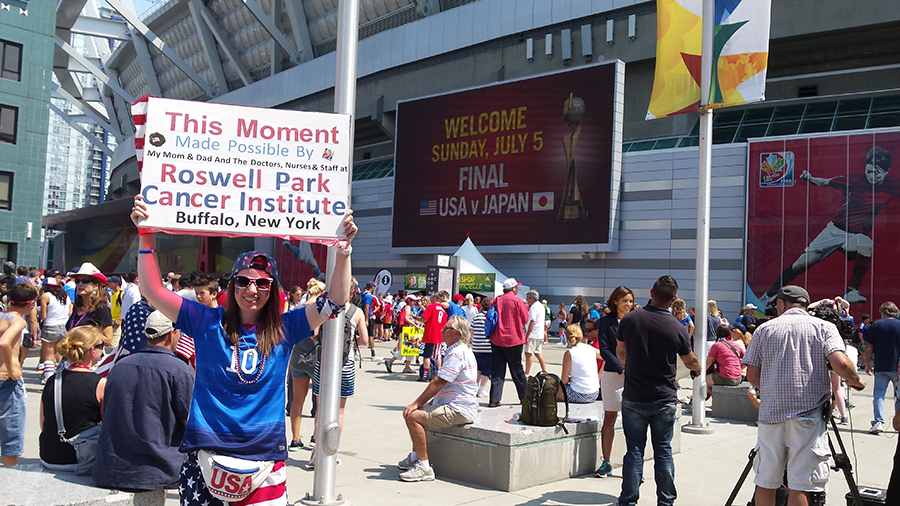 I took pictures with my sign in and around Montreal's Olympic Stadium. Little did I know, the sign would lead me to meet amazing people and hear their touching stories.
After a 2-0 victory over Germany in the semis, we headed to Vancouver for the World Cup Final against Japan. I was thrilled to be a part of what would soon be a historic day, all while proudly displaying my sign. During the game, a woman approached me and expressed that she was a fellow cancer survivor. We talked for a while and took a photo together.
The U.S. defeated Japan 5-2 in the Final, capturing the 2015 Women's World Cup crown. It was truly an amazing moment. The following day, at the Fox Sports desk, I witnessed the U.S. team receive their new three-star jerseys, honoring each of their three World Cup titles. Once again, my sign inspired conversation with several people, while others took photos (I believe Abby Wambach's aunt may have captured a picture).
Cancer truly affects so many. My story is just one of millions, but I am fortunate enough to be here sharing mine.

Katie & Dr. Bambach in 2015, her last Roswell Park appointment with a pediatric doctor