Why Roswell Park for Lung Cancer Treatment?
Nationally Recognized for Lung Cancer Surgery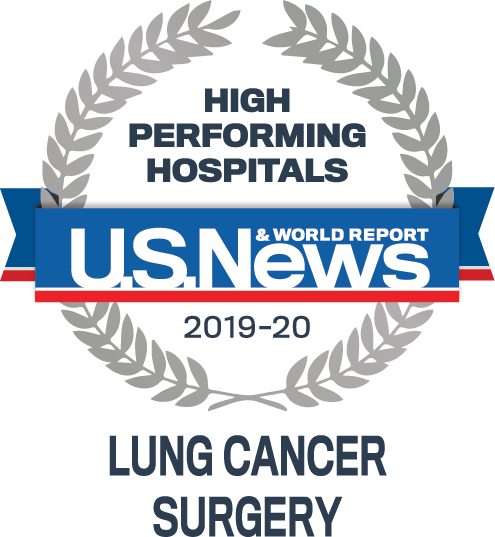 Nationally recognized as a High Performing Hospital for Lung Cancer Surgery, by U.S. News & World Report, Roswell Park is a leader in minimally invasive thoracic surgery. Our thoracic surgeons have high-volume experience in video-assisted thoracoscopic surgery and robot-assisted thoracoscopic surgery, two minimally invasive procedures that result in a shorter hospital stay, less pain and blood loss, faster return to normal activities and improved tolerance to additional therapy.
Personalized Therapies
Roswell Park offers personalized therapies specific to your tumor's genetic profile. We use advanced molecular testing developed at Roswell Park, OmniSeq Comprehensive, which decodes a tumor's DNA to look at 144 genes and identify genetic mutations for which we can offer a targeted therapy or a clinical trial drug that attacks your tumor by targeting your cancer cells' unique genetic makeup.
OmniSeq Immune Analysis, developed at Roswell Park, examines multiple biomarkers to learn of unique abnormalities of a patient's immune system and predict which immunotherapies would provoke the best response.
Clinical Trials
Clinical trials offering the very latest options for lung cancer patients. By the time a new cancer therapy becomes commercially available, it may already be ten years old or more. The only way to access the very latest drugs and approaches, many of which are unavailable to other providers, is through a clinical trial. As a National Cancer Institute-designated Comprehensive Cancer Center, Roswell Park's clinical trials program offers a number of new options for patients with lung cancer.
CIMAvax-EGF Lung Cancer Vaccine is lung cancer immunotherapy developed in Cuba and now available in the United States only through a clinical trial at Roswell Park. Our trial uses the CIMAvax-EGF vaccine in combination with the anti-PD1 checkpoint inhibitor nivolumab (Opdivo®) in patients previously treated for advanced non-small cell lung cancer (NSCLC).
Center for Immunotherapy
Immunotherapy approaches are providing some of the latest, most promising new treatments for lung cancer, and Roswell Park and our Center for Immunotherapy are at the forefront of this work. Roswell Park patients have access to these newest options, oftentimes years before they become available to other providers.
Innovative Treatments
Photodynamic therapy (PDT) is a technique that uses non-thermal visible red light from a laser to destroy cancer cells that have been treated with light-sensitizing drugs. Because the laser light must reach the tumor directly, Roswell Park surgeons have developed a way to perform Intra-operative photodynamic therapy to allow more patients to benefit from PDT and improve their outcome.
Stereotactic Body Radiotherapy (SBRT) provides radiation to lung tumors with unprecedented precision, sparing surrounding healthy tissue. Compared to traditional radiotherapy, SBRT delivers higher and more effective radiation doses, with reduced side effects and in fewer radiation treatments, replacing up to 35 treatments with just one session.
Lung Cancer Screening Program
Roswell Park offers a Lung Cancer Screening Program to detect lung cancer early — when it is most curable — by screening and monitoring the people most likely to develop the disease, especially smokers. As a result, 70% of lung cancers detected through our screening program are found at an early stage, when treatment is most effective. Across the U.S., most lung cancers – 70% – are diagnosed at later stages, significantly impacting survival.
The Stacey Scott Lung Cancer Registry
The Stacey Scott Lung Cancer Registry, the first of its kind in the world, collects and stores biological samples, scans, and medical and lifestyle information from thousands of lung cancer survivors and others at high risk for lung cancer. Researchers track participants for five years, aiming to learn why the disease progresses in some people, but not in others. The information collected by the Registry has the potential to reveal how lung cancer begins and how it can be detected earlier so treatment can be more effective.