The DAISY Award is an international program that rewards and celebrates the extraordinary clinical skill and compassionate care given by nurses every day. Roswell Park Cancer Institute is proud to be a DAISY Award Partner, recognizing one inpatient and one ambulatory nurse with this special honor every quarter.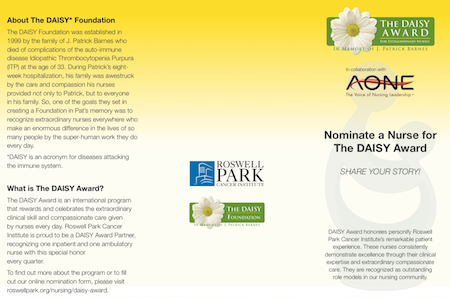 DAISY Award honorees personify Roswell Park Cancer Institute's remarkable patient experience. These nurses are recognized as outstanding role models in our nursing community. He/she consistently meets all of the following criteria:
Shows a connection with patients and families
Does an excellent job educating patients and families
Has a positive attitude and demonstrates professionalism in the work environment
Works well with all members of the health care team
Shows empathy
Exemplifies integrity
Each DAISY Award honoree will be recognized at a public ceremony in his/her unit and will receive: a certificate, a DAISY Award pin, and a hand-carved stone sculpture entitled "A Healer's Touch."
Patients, visitors, nurses, physicians and employees may nominate a deserving nurse by submitting the following form.
* Denotes mandatory information