Expertise of early-detection team, multidisciplinary approach earn recognition of national advocacy group
BUFFALO, N.Y. — The Lung Cancer Screening Program at Roswell Park Comprehensive Cancer Center (Roswell Park), already a unique asset regionally, has earned the commendation of a major national advocacy group. Lung Cancer Alliance (LCA) has named Roswell Park a Screening Center of Excellence in recognition of the comprehensive cancer center's ongoing commitment to responsible lung cancer screening within an experienced and multidisciplinary clinical setting.
LCA awards this prestigious designation to centers that provide clear, evidence-based and up-to-date guidance on who is a candidate for lung cancer screening. Centers must also comply with comprehensive standards for screening quality, radiation dose and diagnostic procedures developed by professional bodies such as the American College of Radiology, National Comprehensive Cancer Network and International Early Lung Cancer Action Program.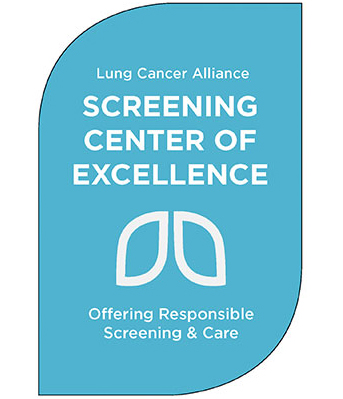 Lung cancer screening is an approach for detecting tumors and precancerous lesions at the earliest, most treatable stages. The U.S. Preventive Services Task Force recommends annual screening for lung cancer with low-dose computed tomography (LDCT) in adults aged 55 to 80 years who have a 30 pack-year smoking history and currently smoke or have quit within the past 15 years.
"Screening for lung cancer, carried out safely, efficiently and equitably, saves tens of thousands of lives a year," says LCA President and CEO Laurie Fenton Ambrose. "We are proud and honored to be working with Roswell Park Comprehensive Cancer Center. Their commitment to practice responsible lung cancer screening will lead to advancements in research and many lives saved. They are an example to follow."
A community resource for more than 15 years, Roswell Park's Lung Cancer Screening Program is one of the most established and experienced early-detection initiatives of its kind in the nation. More than 500 patients have been screened over the years through the program, and as a result several lives have been saved through early detection of lung cancer.
"Early detection gives people hope and opens up better, less invasive treatment options," says Samjot Singh Dhillon, MD, Chief of Pulmonary Medicine and Co-Chief of Endoscopy at Roswell Park. "What sets our program apart is not only the expertise and training of our team members but our comprehensive program for detecting cancers and lung lesions, treating them with innovative approaches and making sure our patients are supported with a full complement of ancillary services, from smoking-cessation coaching to psychosocial support and nutritional counseling. These services aren't available in one location anywhere else in the region."
The Roswell Park Lung Cancer Screening Program provides:
State-of-the-art screening technology to help detect lung cancer at the earliest, most treatable stages;
Multidisciplinary care provided by pulmonologists, imaging specialists, pathologists, medical, surgical and radiation oncologists, nurses and other specialists working together to provide care tailored to each individual patient;
The experience and compassion of professionals who focus day in and day out on caring for patients with cancer, and who help craft the national guidelines for lung cancer screening and treatment;
Precision-medicine tools such as OmniSeq Target, an advanced molecular diagnostic system developed by the Roswell Park Center for Personalized Medicine and available only at Roswell Park;
The latest treatment options, supporting optimal survival and quality of life for patients with lung cancer;
Follow-up care to prevent cancer and close surveillance to detect any recurrences; and
Smoking cessation services to all patients and their family members.
The program also has a dedicated, full-time patient liaison to help people navigate the screening process and address any questions they have.
For more information about eligibility and insurance coverage for lung cancer screening and how to access these services, please call 1-800-ROSWELL (1-800-767-9355), email AskRoswell@Roswellpark.org or go to roswellpark.org/HighRiskLung.
###
The mission of Roswell Park Comprehensive Cancer Center is to understand, prevent and cure cancer. Founded in 1898, Roswell Park is one of the first cancer centers in the country to be named a National Cancer Institute-designated comprehensive cancer center and remains the only facility with this designation in Upstate New York. The Institute is a member of the prestigious National Comprehensive Cancer Network, an alliance of the nation's leading cancer centers; maintains affiliate sites; and is a partner in national and international collaborative programs. For more information, visit www.roswellpark.org, call 1-800-ROSWELL (1-800-767-9355) or email AskRoswell@Roswellpark.org. Follow Roswell Park on Facebook and Twitter.