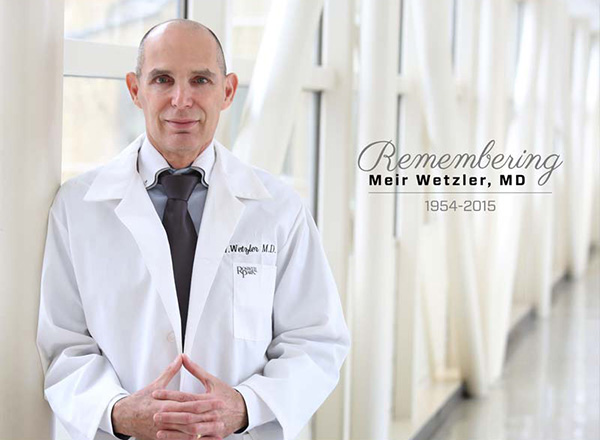 Remembering Meir Wetzler, MD
1954-2015
Meir Wetzler, MD, wanted what was best for everyone — his patients, his family, and his colleagues. That's what Linda Lutgen-Dunckley and Brandon Martens, both pathology resource technicians at Roswell Park, will remember most about him.
"He was really easygoing, easy to work for," recalls Linda. "He always had a positive outlook. I think he'd say, 'Why are you upset? Don't cry for me.' But it's hard."
Dr. Wetzler, 60, died Monday, Feb. 23, in a Denver, Colorado hospital a little more than two weeks after a devastating skiing accident. Chief of the Leukemia Section at Roswell Park, he was nationally prominent in his field and served on the Chronic Myelogenous Leukemia (CML) Treatment Committee of the National Comprehensive Cancer Network (NCCN), helping set the standard of care for CML patients.
Among those patients was Suzanne Carrow, who, at the time of her original diagnosis in 1999, was told she had five years to live. After she came to Roswell Park for a second opinion, Dr. Wetzler helped her enroll in a clinical trial of a promising new therapy, guiding her to successive trials whenever she relapsed. Today, 15 years since he took her under his wing, she has crossed off every goal on her 1999 bucket list, watching her daughter graduate from college, attending her son's and daughter's weddings, and welcoming her grandchildren into the world. "He has given me quality of life," she said in a 2010 interview.
Dr. Wetzler worked tirelessly with cooperative groups and pharmaceutical companies to attract new trials to Roswell Park for the benefit of his patients. He also motivated Ms. Carrow to become a national advocate for other patients participating in clinical trials — a mission that led her to lobby at the state and federal levels for funding for lifesaving research.
Ms. Carrow's experience reflects Dr. Wetzler's "patient- and family-centered care," says Kara Eaton-Weaver, Roswell Park's Executive Director of the Patient and Family Experience. "He gave a piece of himself in everything he did, from his research to his care for patients to his interactions with his team of colleagues. Meir was a transformational leader who built a culture of empathy, compassion, integrity and innovation."
He also had a sense of play and good humor evident at least once a year during the Gelatin Splash sponsored by the Leukemia and Lymphoma Society of Western New York. Over the years, Dr. Wetzler and his team created and dressed in fanciful themed outfits before sliding into a pool of gelatin, raising thousands of dollars in the process. Often the team paraded through the inpatient rooms in costume, "because it was good for the patients' morale to do something fun," says Linda. She says the team plans to continue the Gelatin Splash tradition in his memory.
Dr. Wetzler was also a dedicated and accomplished athlete, passionate about snowboarding, skiing, and running. He participated in many triathlons, including several Ironman triathlons, which combine a 2.4-mile swim, a 112-mile bicycle course, and a 26.2-mile run (marathon) — with no breaks in between.
He exercised religiously every day and motivated others to do the same. "I can't tell you how many people he got involved in exercise because he felt it was important," says Linda.
"That's what's so hard for us," says Brandon. "We thought he was invincible. He was 60 and doing all these crazy events, and he was in better shape than I am at 26."
Above all, Dr. Wetzler motivated others "to live up to their potential," recalls Linda. "When I had my son, he was very accommodating; for a while I worked half days on Fridays. His family was extremely important to him, and he encouraged everyone else to take care of their families as well. He encouraged me to go back to school, and flexed our schedules so Brandon could go back to school, too."
Brandon earned a B.S. in biology in May of 2014; Linda will complete a B.S. in biology in May of 2016.
"He was like a father," says Linda. "Everybody was part of a team, and nobody was less important than he was. He felt everybody played their part on the team."
In Judaism, loved ones of the deceased are traditionally comforted with the words, "May his memory be for a blessing." Dr. Wetzler lives now in the memory of patients who found hope and healing in his work as a scientist and physician; in the family he loved and to whom he was devoted; and in the colleagues he encouraged and inspired to reach for what once seemed impossible.
Originally from Israel, Dr. Wetzler earned his medical degree from Hebrew University's Hadassah Medical School in Jerusalem and did his residency in internal medicine at Kaplan Hospital in Rehovot before coming to the U.S.
From 1988-1992 he served two fellowships — in clinical immunology / biologic therapy and medical oncology — at M.D. Anderson Cancer Center in Houston. He joined the Leukemia Division of Roswell Park in 1994. He was named numerous times to the Castle Connolly Medical Ltd. list of America's Top Doctors.
Dr. Wetzler is survived by his wife, Chana, and their four children: daughters Mor and Shira, and sons Adam and Modi.