Hon. Salvatore R. Martoche Named to Roswell Park Comprehensive Cancer Center Board of Directors
Longtime New York Supreme Court justice appointed to cancer center's governing board by Sen. Dean Skelos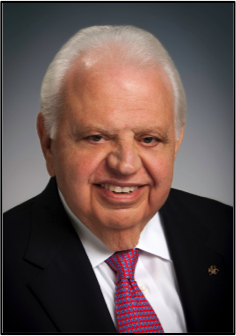 BUFFALO, N.Y. — Noted Buffalo jurist Hon. Salvatore R. Martoche has joined the Roswell Park Comprehensive Cancer Center (Roswell Park) Board of Directors. A longtime New York State Supreme Court justice, the Buffalo native was appointed to a three-year term on the board by Sen. Dean Skelos, Co-Majority Leader of the New York State Senate.
Judge Martoche retired from New York State Supreme Court last year after 13 years, nine of them on the court's Appellate Division. He is currently senior counsel and leader of the Alternative Dispute Resolution Practice Group at Hodgson Russ LLP.
"I have known Judge Martoche for many years. His hard work and dedication has made our community a better place, and I know he will bring that same passion and commitment to the Board of Directors of Roswell Park Comprehensive Cancer Center," said State Sen. Patrick Gallivan.
"As a longtime public servant, Judge Martoche has been a devoted leader in the community. His commitment and dedication will further the mission of Roswell Park Comprehensive Cancer Center as a member of its Board of Directors," said State Sen. Michael H. Ranzenhofer.
Judge Martoche spent several years in public service, much of it at the federal level. Over the years, he served as a U.S. Attorney for the Western District of New York and as one of the six commissioners of the New York State Commission of Investigation, a statewide panel that investigated allegations of organized crime and public corruption. From 1988-1990, he oversaw U.S. Treasury Department law-enforcement efforts as an assistant secretary. He also served as an assistant secretary of the U.S. Labor Department under President Reagan. During this period of federal service, Judge Martoche played a key role in addressing the savings and loan scandals of the 1980s as acting director of the Office of Thrift Supervision. He is also credited with spurring several significant reforms within the Federal Witness Protection Program.
Earlier in his career, Judge Martoche, a graduate of Canisius College and the University of North Dakota School of Law, served as a Buffalo public defender. He also spent more than 20 years in private law practice.
Judge Martoche has received numerous awards, including the Ellis Island Medal of Honor; the Alexander Hamilton Award, the highest distinction given by the Secretary of the Treasury; the Buffalo News' Outstanding Citizens of the Year distinction; and Canisius College's LaSalle Medal and Distinguished Alumni Award.
###
The mission of Roswell Park Comprehensive Cancer Center is to understand, prevent and cure cancer. Founded in 1898, Roswell Park is one of the first cancer centers in the country to be named a National Cancer Institute-designated comprehensive cancer center and remains the only facility with this designation in Upstate New York. The Institute is a member of the prestigious National Comprehensive Cancer Network, an alliance of the nation's leading cancer centers; maintains affiliate sites; and is a partner in national and international collaborative programs. For more information, visit www.roswellpark.org, call 1-800-ROSWELL (1-800-767-9355) or email AskRoswell@Roswellpark.org. Follow Roswell Park on Facebook and Twitter.