Research from Roswell Park Center for Immunotherapy Highlighted at International Gynecologic Cancer Conference
Tuesday, November 1, 2016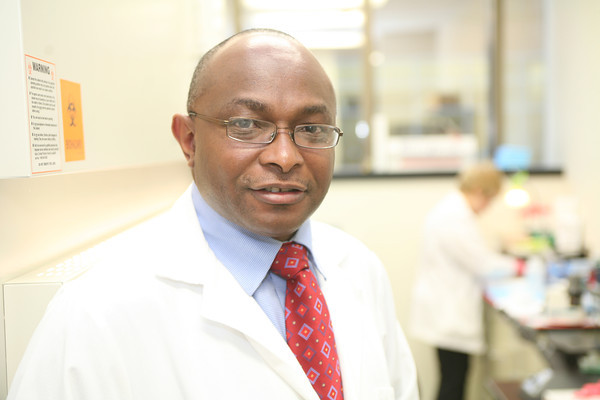 BUFFALO, N.Y. — How to harness the immune system to improve the outcome of ovarian cancer patients was the focus of a presentation by Kunle Odunsi, MD, PhD, Deputy Director of Roswell Park Comprehensive Cancer Center, at the 16th Biennial Meeting of the International Gynecologic Cancer Society in Lisbon, Portugal. Dr. Odunsi highlighted some of the latest advances in immunotherapy research during the prestigious gathering of clinicians, scientists and patient advocates.
"Roswell Park was honored to present its pioneering research at this prominent conference. The Institute has been at the forefront of clinical development of immunotherapeutic options for patients diagnosed with ovarian cancer," says Dr. Odunsi, who is also Chair of Gynecologic Oncology and Executive Director of the Center for Immunotherapy.
The Center for Immunotherapy is conducting clinical trials focused on increasing the number of immune cells that have the capacity to destroy ovarian cancer, either by vaccination or by adoptive T cell therapy. In addition, CFI investigators are investigating novel strategies for modulating the tumor microenvironment in order to prevent ovarian cancer cells from evading immune attack. "When tumor-specific T cells are starved of the essential amino acid tryptophan, they are unable to proliferate and survive. Therefore, targeting the enzyme known as IDO concomitantly with administering a cancer vaccine represents a compelling strategy for overcoming the ability of ovarian cancer to escape from immune attack," adds Dr. Odunsi.
Roswell Park researchers will continue to develop and test novel immunotherapeutic approaches with a goal to improve survival and reduce the impact of this disease. You can learn more about the Roswell Park Center for Immunotherapy at RoswellPark.org/immunotherapy.