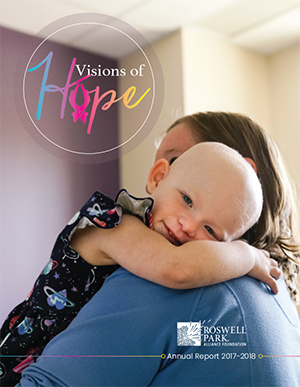 A few years ago, it may have been difficult to imagine that a patient's own cells could be engineered to fight their cancer. Or we might have wondered at a bunch of guys playing hockey for 11 days in an attempt to raise $1 million for Roswell Park. But through vision and commitment, these ideas and more came to fruition this past year.
And it is only because of the incredible support the Alliance Foundation has received. The collective generosity of our donors is what gives fuel to Roswell Park's fight against cancer, enabling new research and discoveries that are saving lives today.
Our 2017-2018 Annual Report features our most prominent accomplishments, as well as many of the supporters who have made them possible. Thank you to everyone who supports Roswell Park and its patients in the fight for a future without cancer.