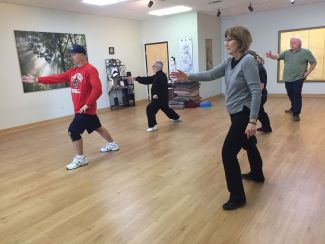 Join Us for Qi Gong and Guided Meditation in March
If you're a Roswell Park patient or caregiver — or anyone whose life has been affected by cancer — you're invited to take part in qi gong and guided meditation classes during the month of March. They're among several free programs sponsored by the Rehabilitation Therapy and Wellness Services Department and funded by donations to the Roswell Park Alliance Foundation. (Special thanks to supporters of the 11-Day Power Play Community Shift for their generosity!)
Check the patient calendar for information about other wellness programs, including yoga, reiki, chair massage and reflexology.
Here's what it's all about.
Qi Gong
Qi gong (pronounced "chee gong") is an ancient Chinese practice involving "very slow, gentle movements," explains Fred Popeski, who will lead the qi gong classes at Roswell Park. Founder of The Village of Healing & Wellness of Erie, PA, Popeski says the practice is suitable for people of any age, even if they're in a wheelchair or lying down. (One woman took part in a class with her IV pole by her side!)
An analysis of 22 studies of qi gong and the related practice of tai chi concluded that both were found to significantly reduce fatigue, relieve depression and improve quality of sleep, and "showed promise in addressing cancer-related symptoms and quality of life in cancer survivors." Previous studies reported improved bone density and lower blood pressure in people who practiced qi gong.
Popeski says it's important for patients "to participate in their healing journey. Yes, we need our doctors, our massage therapists and respiratory therapists, but in order for us to get better, we have to be part of the process. That's what qi gong does."
Join us for qi gong:
March 4, March 11, March 19, March 25 (Continues for four weeks in April; drop-ins welcome.)
1-2 p.m.
Eighth floor of the main hospital
Guided Meditation
If stress and anxiety are taking a toll on you, stop in this month for one of our popular meditation programs led by attorney Joseph DiNardo, who has practiced meditation for many years. The class will introduce you to the basic principles of meditation and help you get started.
"Research suggests that meditation can help patients and caregivers with coping," says Elizabeth Gage-Bouchard, PhD, of Roswell Park's Department of Cancer Prevention and Control. "Studies have shown that it reduces psychological distress."
Gage-Bouchard adds that the class is "a community of people with various levels of experience. All of them have been impacted by cancer.
"This is one of the new supportive care programs at Roswell Park that we're really excited about."
Join us for guided meditation:
March 7, March 14, March 21, March 28 (Check the patient calendar for future dates.)
11:45 a.m.-12:15 p.m.
Third floor of the Scott Bieler Clinical Sciences Center, Room 354
For more information about these and other wellness programs, please contact Ashley Lanning at 845-1664 or Ashley.Lanning@roswellpark.org.