Last October, at age 19, I was diagnosed with cancer. I had recently graduated from high school and begun working. And then I started not feeling well – I was tired and under the weather all the time.
My mom thought I was just being a lazy teenager, but it got to the point where I could barely walk up the stairs. I went to my doctor, and fortunately, she knows her patients well. She looked at me and knew something was wrong and sent me for blood work. The next morning, I found out I had leukemia.
It all moved really quickly after that. I spent 32 days on the Hematology/Oncology floor at Roswell. For me, there were no tears in those early days. I didn't really acknowledge or process my diagnosis until months later. It was only after I left the hospital that I realized my life wasn't going to be normal anymore. Walking into my home for the first time after being in the hospital for so long was a weird feeling. Everything changed, and I had a new life.
My friends were so supportive and would check in with me all the time. But some friendships changed, because I questioned people's motives and why they were contacting me out of the blue all of a sudden.
I think families who haven't been affected by cancer don't really understand this: My diagnosis has affected my 11-year-old brother a lot. He's very emotional, so things like this don't go over really well. He actually blamed himself for what happened, because the day before my diagnosis, he said something mean to me. And then he didn't get to see me for almost two weeks when I was in the hospital. I tell him all the time it isn't his fault at all. I try to keep him doing his schoolwork, and I try to be the best big brother I can.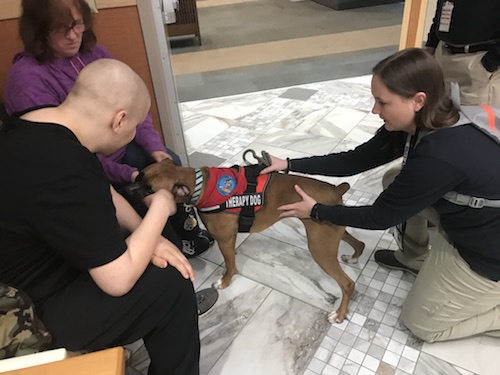 I'm now trying to branch out and start doing things I used to enjoy. I've been exploring and riding my bike more. I just want my normal life back. I am still in treatment and will probably have to undergo chemo for a couple of years. I also really want to get a dog – I just want someone to hang out with at the house when it gets lonely and I'm home all day. I love when I'm on the Roswell Park campus and get to see the therapy dogs.
Right now I am taking this day by day and trying to live in the moment. I would tell someone else going through this to just think positive, and not think bad thoughts. I know it sounds cheesy, but you just have to stay positive. And when you're feeling down, try to talk to people like your nurse or mom. Sometimes when you watch TV or things like that, you stay trapped in your own head. Just go talk to someone.
Roswell Park offers support services and programming specifically for young adults affected by cancer. Young adult patients and survivors are also encouraged to sign up for Chapter 2: A Cancer Survivor's Workshop For Living Your Best Life on September 15, 2018. 
Editor's Note: Cancer patient outcomes and experiences may vary, even for those with the same type of cancer. An individual patient's story should not be used as a prediction of how another patient will respond to treatment. Roswell Park is transparent about the survival rates of our patients as compared to national standards, and provides this information, when available, within the cancer type sections of this website.