Raising Awareness of a Rare Cancer
February 14, known to many as Valentine's Day, is also World Cholangiocarcinoma Day, an international effort to raise awareness about a very rare but aggressive type of cancer.
What is cholangiocarcinoma?
Cholangiocarcinoma is a type of cancer that develops in the bile ducts, small tubes that carry digestive fluids in and around the liver, including the gallbladder. About 11,000 cases of cholangiocarcinoma are diagnosed each year in the United States, making it a rare type of cancer, but it is more common in other parts of the world, such as Thailand.
Unfortunately, most cases of bile duct cancer are diagnosed at a late stage, when treatment options are somewhat limited and surgery is often not possible. When found at an advanced stage, the five-year survival rate less than 20%.
Why is cholangiocarcinoma difficult to diagnose?
Currently, no specific screening tests can detect cholangiocarcinoma, and patients with this disease often have no symptoms at all. In fact, bile duct tumors are usually found during tests or procedures for another condition, like gallstones.
Some warning signs do occur. A healthy liver is essential for digestion and detoxification. When tumors form in the bile ducts, the liver cannot function properly, resulting in symptoms like jaundice (a yellowing of the skin and eyes), weight loss, abdominal pain and fatigue.
Why is cholangiocarcinoma difficult to treat?
Unfortunately, cholangiocarcinoma is not often found early when surgery can be an effective treatment option. Radiation, chemotherapy and targeted therapy are used, but are not curative. In order for these therapies to work, a healthy digestive system is needed. If a bile duct is obstructed or infected, then cancer-fighting medications cannot be safely given.
If surgery is not an option, stents can be placed to open bile ducts and clear blockages. Unfortunately, patients with bile duct cancer can experience complications related to these stents, resulting in frequent trips to the emergency room.
The nursing advisory board of the Cholangiocarcinoma Foundation is working to develop a consensus among all cancer centers, including Roswell Park, on managing biliary tubes and stents. Currently, the instructions given to patients with stent infections can vary widely, and this can be a source of great stress.
Cholangiocarcinoma patients should get a biliary emergency card, which contains important information that guides treatment during emergency situations. This helps patients and medical providers better deal with complications related to stent infection and management so cancer treatment can continue successfully.
Never miss another Cancer Talk blog!
Sign up to receive our monthly Cancer Talk e-newsletter.
Sign up!
What advances have been made in cholangiocarcinoma research and treatment?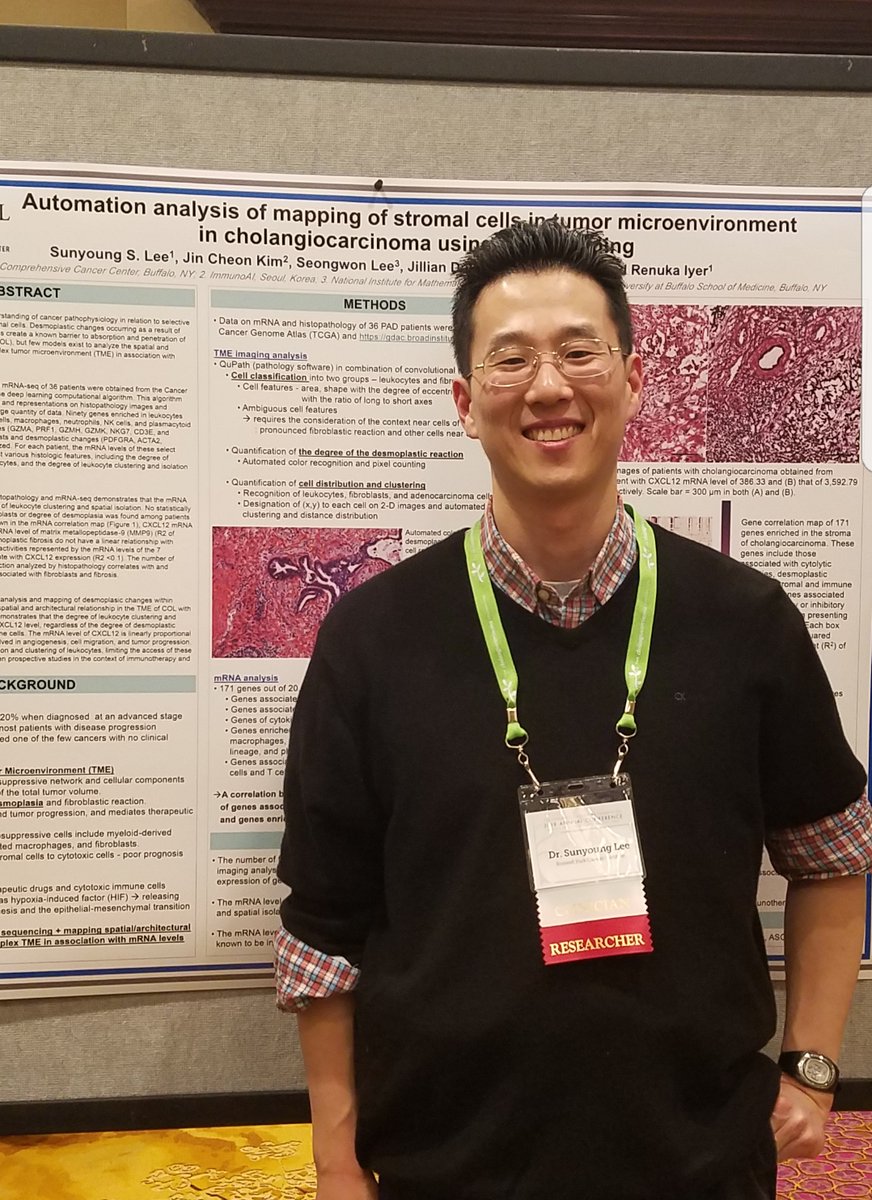 One rapidly growing and exciting field that is now helping patients with cholangiocarcinoma is personalized medicine. This is an advance that occurred in the last 5 years that has now reached patients through clinical trials.
Several clinical trials for cholangiocarcinoma are ongoing or soon to open at Roswell Park. One trial will use a targeted therapy drug that has been specifically designed to block the growth and spread of bile duct tumors, by targeting a pathway that drives growth.
For some patients, these targeted therapies are a good option, and for others, immunotherapy might be more effective. Unfortunately, for some patients, neither of these approaches work, so researchers are trying to understand how other factors, like the tumor environment, can be used to predict outcome and tailor therapy.
Researchers at Roswell Park are looking in many different directions to understand and treat this rare disease. Sunyoung Lee, MD, PhD, Medical Oncology Fellow in the Department of Medicine, recently developed a computer model that can be used to predict how a cholangiocarcinoma patient will respond to therapy, which will help guide treatment decisions.
Much work is being done to better understand and treat cholangiocarcinoma, and there is reason for hope. Through the support of the Cholangiocarcinoma Foundation and the work of investigators and clinicians, research in this field is gaining momentum. Several clinical trials are opening or underway, and recruitment is higher than ever before. For more information about cholangiocarcinoma and upcoming studies, visit our clinical trials page or call 1-800-ROSWELL (1-800-767-9355).