The story behind the statue of Monty, Roswell Park's first therapy dog
For nearly four years, a statue bearing the likeness of a beloved Roswell Park volunteer has welcomed visitors to our Kaminski Park and Gardens, located outside the main hospital. This longtime volunteer, who spent countless hours walking the halls, spreading joy to patients and families, was truly the first of his kind at Roswell Park Comprehensive Cancer Center.
Monty, Roswell Park's first-ever therapy dog, serves as a reminder of the compassionate power of animals, now memorialized in the form of a custom statue, meticulously crafted by Utah-based sculptor, Lena Toritch.
"When the idea of a dog statue was becoming a reality, my fiancé searched for an artist who could create a life-sized Monty," said Nicole Gerber, also known as "Monty's Mom," during the statue's unveiling ceremony in July 2012. "He discovered Lena's Toritch's beautiful and realistic statues and knew he had found the perfect person for this special project."
Gerber, now in Roswell Park's Department of Occupational and Environmental Safety, joined the Roswell Park Alliance Foundation in 2000. That same year, her English Setter, Monty, received his therapy dog certification and the two became regular volunteers at Western New York nursing and group homes, and hospice centers.
Watching Monty at work, bringing happiness to those who needed it most, Gerber recognized the potential impact he could have at Roswell Park. In 2006, the Roswell Park therapy dog program was born and Monty began his weekly rounds, visiting with patients and caregivers, each and every Tuesday.
"It was amazing to see such positive responses," Gerber said. "He received hugs and kisses, and sometimes tears too, as patients and families found solace in his presence and manner."
Monty, who passed away in 2011 at the age of 13, continues to stand watch at Roswell Park in the form of Toritch's work. "As a dog lover, I felt blessed to learn this heartwarming story of a special dog, whose power to comfort lives on in a statue," she said.
Toritch, the Vice President of Young Fine Art Studio in Salt Lake City, used a small clay model to shape the real version, communicating with Gerber throughout the process, ensuring that every detail was captured correctly.
"Nicole was a pleasure to work with," said Toritch. "Her warm and enthusiastic nature made me feel excited about the statue project and her correspondence was full of anticipation about the unveiling."
"Lena did an absolutely amazing job in capturing the caring and gentle presence that Monty had, and that all therapy dogs exhibit," said Gerber. "We were so happy to have discovered her talents and to have her artwork here at Roswell Park... to provide a lasting tribute to what our therapy dogs mean to our hospital."
The statue was specifically designed by Toritch to be touched, and Roswell Park's visitors are appreciative of Monty's presence. "Children love to hug him," said Gerber. "One family member told me she pets him for luck."
"Nicole suggested Monty's pose — she wanted him to be standing calmly, waiting for patients to approach and pet him," said Toritch. "She loved the idea that the statue would be interactive."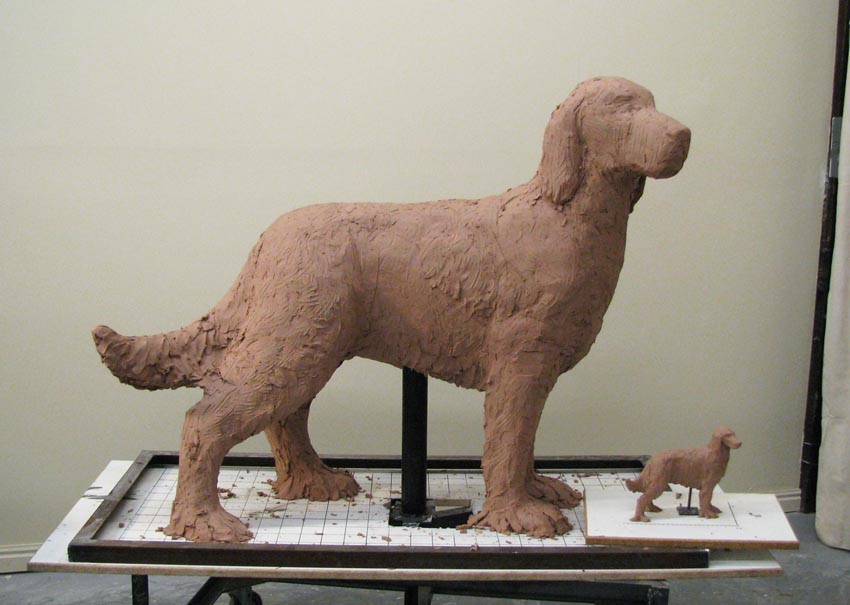 The statue's planning and creation brought out the best of the Roswell Park community. A number of generous donors contributed to the statue's fundraising campaign with gifts of support, while also providing heartfelt cards and letters. Patients and family members sent notes of gratitude, thanking Monty for making a difference in their lives and also for his role in starting the therapy dog program.
Monty's legacy at Roswell Park lives on as the therapy dog program flourishes. Ten dogs currently belong to the program, providing regular canine compassion to patients, families and staff.
"Nicole wanted the statue to commemorate Monty and, in some way, continue his work, offering comfort and a welcome distraction," said Toritch.
Next time you visit Kaminski Park, be sure to pet Monty, or better yet, give him a hug — he would have loved it.