Sabres, Roswell Park Partner to Offer Free Prostate Screening Thursday at First Niagara Center
Val James, other Sabres alumni to be on hand for One Team, One Goal screening event in Lexus Club
BUFFALO, N.Y. — Roswell Park Comprehensive Cancer Center and the Buffalo Sabres are partnering to offer free prostate cancer screening for eligible men. The March 24 screening event, the first to be held as part of the One Team, One Goal: Together to Beat Cancer campaign, is part of a broader effort to reduce cancer's impact among the team's fans.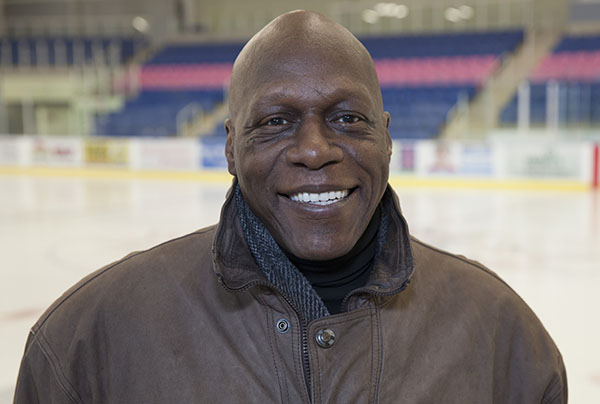 Attendees will get a chance to tour the team's locker room and to meet Sabres alumni including Val James, the first American-born black man to play in the National Hockey League. James, the author of "Black Ice: The Val James Story," played five seasons for the Rochester Americans and suited up for the Sabres for 10 games in 1981-82. Fellow Sabres alumni Marty Biron, Craig Rivet and Rob Ray are also expected at the event.
Roswell Park follows the guidelines of the National Comprehensive Cancer Network (NCCN), which recommends baseline PSA screening for all men at age 50 for men at normal risk of developing the disease, and earlier for those at high risk. By the time they reach 50 about half of American men will have cancerous prostate cells in their prostate, but the vast majority of those cancers can safely go untreated. PSA testing is currently the only proven method of monitoring prostate cancers to identify those tumors that are life-threatening — and those cancers that will not require treatment.
"This screening event is geared toward men who have never had a prostate exam or PSA test and those at high risk because they are African-American or have close male relatives who've had prostate cancer," says James Mohler, MD, Chair of the Department of Urology and Professor of Oncology at Roswell Park Comprehensive Cancer Center, and also Chair of the NCCN's Prostate Cancer Guidelines Committee. "There's been a lot of confusion about PSA testing, but the facts boil down to this: Not all prostate cancers need to be treated, but we need to find those that could be life-threatening. So it's important that men get screened so that any aggressive prostate cancers can be detected early and treated."
Eligible men — those age 50 and over or others who are at least 40 and are at higher risk because of their race and/or family history of prostate cancer — will have the opportunity to get tested for prostate cancer by Roswell Park physicians. Screening only takes a few minutes, and attendees will also have the opportunity to learn about cancer risk and early detection from Roswell Park experts. Also participating in the event will be two educational partners, Men Allied for the Need to Understand Prostate Cancer (MAN UP) and the "Us Too" Prostate Cancer Support Group.
Event details:
Thursday, March 24, 2016, 4–6:30 p.m.
Lexus Club, First Niagara Center
1 Seymour H. Knox III Plaza, Buffalo, NY
Free parking is available at the First Niagara Center ramp.
Preregistration is requested. Register online at roswellpark.org/onegoal or call 1-800-ROSWELL (1-800-767-9355).
###
The mission of Roswell Park Comprehensive Cancer Center is to understand, prevent and cure cancer. Founded in 1898, Roswell Park is one of the first cancer centers in the country to be named a National Cancer Institute-designated comprehensive cancer center and remains the only facility with this designation in Upstate New York. The Institute is a member of the prestigious National Comprehensive Cancer Network, an alliance of the nation's leading cancer centers; maintains affiliate sites; and is a partner in national and international collaborative programs. For more information, visit www.roswellpark.org, call 1-800-ROSWELL (1-800-767-9355) or email AskRoswell@Roswellpark.org. Follow Roswell Park on Facebook and Twitter.