Prostate Cancer Early Detection Event
Roswell Park and the Buffalo Sabres are teaming up for a free prostate cancer early detection event.
Meet Sabres alumni, enjoy refreshments, get a behind-the-scenes tour of KeyBank Center and more!
Tuesday, November 14, 2017 | 4–7 p.m.
Lexus Club, KeyBank Center
1 Seymour H. Knox III Plaza, Buffalo, NY
Free parking available at the KeyBank Center ramp.
Eligible men will have the opportunity to get tested for prostate cancer (both a PSA test and a DRE) by Roswell Park physicians.
To be eligible, you must meet one of the following criteria:
Men 50-75 who have not been tested for prostate cancer in the past year
Men 40-49 who have never had a PSA test
or call 1-877-ASK-RPCI (1-877-275-7724)
IF YOU'RE A PROSTATE CANCER PATIENT OR SURVIVOR…
Join us at this event from 3-4 p.m. for an educational panel and Q&A session hosted by the Roswell Park experts. Learn about the latest treatment advances, survivorship support options and more. 
Roswell Park Cancer Institute and the Buffalo Sabres partner to expand our efforts in reducing cancer risk among the team's fans.
Through this relationship with the Buffalo Sabres, our goal is to increase public awareness so people can act to reduce their risk of cancer, among other diseases.
No One Fights Cancer Alone
Over 250 men took control of their health at the Buffalo Sabres prostate cancer screening event on Thursday, March 24, 2016. In addition to the screening, visitors took locker room tours and met Sabres alumni including Val James, the first black American in the NHL and the author of "Black Ice: The Val James Story." 
Player visits always bring smiles to the hospital and brighten our patients' days. Ryan O'Reilly, Evander Kane and Jack Eichel are among the Sabres who have made special, unannounced visits to RPCI to spend time with patients.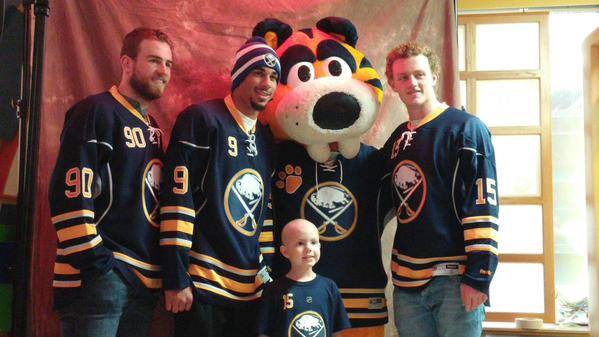 ---
Through the Hockey Fights Cancer™ initiative, the National Hockey League's U.S. and Canadian charitable foundations and NHL supporters and fans have donated more than $15 million to support national and local cancer research institutions, children's hospitals, player charities and local cancer organizations.
Roswell Park Cancer Institute is the Sabres' chosen partner for this year's Hockey Fights Cancer™ fundraising and awareness campaign that will take place during their home game on Saturday, November 18, 2017.
During the October 27, 2016 Hockey Fights Cancer™ game, the Buffalo Sabres and Roswell Park Cancer Institute honored all lives touched by the disease. (Courtesy: Buffalo Sabres)
The cameras were flashing for a pre-game surprise as young patients were invited to get dolled up for a professional photo shoot. (Courtesy: Buffalo Sabres)
Hockey Fights Cancer™ night was extra special for one cancer survivor who took center ice to ring the Victory Bell for the very first time and drop the puck to start the game. (Courtesy: Buffalo Sabres)