One team. One goal: beating cancer.
Celebrate the Buffalo Sabres' Return to Royal blue by purchasing a bobblehead of the "Original Sabre." For a $5 donation to support cancer patients at Roswell Park, Gilbert Perreault can liven up your workspace or home décor. These are priced to sell, come in a special package and are moving fast. With all the proceeds going to cancer research and patient care, you can plan ahead for upcoming birthdays, stocking stuffers and other little gift needs for the Sabres fans in your life. 
Hockey Fights Cancer™ 2019
Fifty cancer patients & survivors were on the ice for the emotional ceremony. The youngest and the oldest, 4-year-old Andre and 92-year-old Ed, helped drop the puck to start the game.
Sabres at Roswell Park
Carter Hutton and Linus Ullmark visited Roswell Park to meet with patients and show off their Hockey Fights Cancer masks.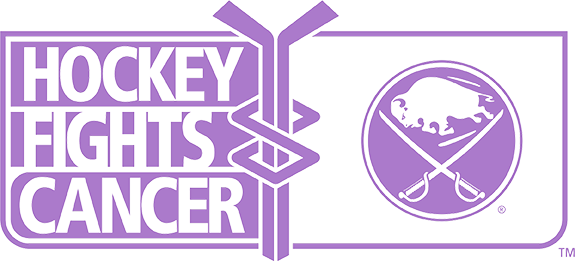 "I just wanted to take a minute to say thank you so much for asking me to be part of last night's program. Although exciting it was also very emotional. I was humbled to be a part of it. Thank you again."
-Sarah

"2x Cancer survivor here. Just this year I went through my treatment for throat cancer. This was a very emotional night for me. It put tears in my eyes as I stood with others. Thank your Roswell park and the Sabres for all you do."
–Michael

"Thank you so VERY much for your role in planning and executing this awesome event! It was FIRST CLASS in every way. I didn't know what to expect, so as things played out, I was swept up in the excitement and JOY of it! The refreshments were so tasty, and getting that shirt was so very generous of those involved with you. When I stepped out on the ice with the other Roswell patients, my heart was filled with GRATITUDE to God for giving me this special moment. I felt so very much LOVED! When I looked up and saw all of those people turn their cellphone lights on, well, that just warmed my heart. Then I realized that every seat in that arena was carefully draped with one of those special scarves! Oh, my goodness! To think that someone had to design a scarf for the event, have them made and then to have to put ONE on EVERY seat, well, that just blew my mind!!"
-Delphine

"It was wonderful seeing a 92 yr old cancer warrior and a 4yr old, coming out on the ice fighting together. It made me cry. I'm so thankful for you Roswell."
–Lacey
Hockey Fights Cancer™ 2019
A recap of this past year's unforgettable Hockey Fights Cancer event!
Sabres Holiday Visit 2018
The Buffalo Sabres made their annual visit to Roswell Park and joined our pediatric patients and Courage of Carly kids in a festive dance party.