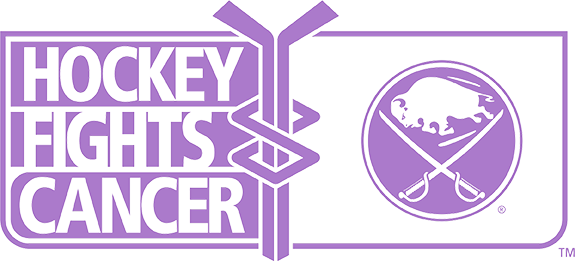 Hockey Fights Cancer™ Night
Tuesday, November 27, 2018
Buffalo Sabres vs. San Jose Sharks
7 p.m. KeyBank Center, Buffalo, NY
Purchase your discounted tickets today at the link below using the promo code: ROSWELL.
One night. One passionate hockey community. One goal: beating cancer.
Hockey Fights Cancer is a powerful night when hockey fans rally together to recognize all the lives impacted by cancer. From moving videos and an emotional puck drop, to basket raffles and exclusive giveaways, this is an event you don't want to miss.

300-level tickets are available for $23 and 100-level tickets for $65, with $3 from each ticket purchase being donated back to Roswell Park. All fans in attendance will also receive a commemorative scarf that night.
Why is the fight against cancer important to you?
Share your message on Facebook or Twitter using #RoswellStrong and #HockeyFightsCancer for a chance to win a Zamboni ride at this game.
Roswell Park Comprehensive Cancer Center and the Buffalo Sabres partner to expand our efforts in reducing cancer risk among the team's fans.
Through this relationship with the Buffalo Sabres, our goal is to increase public awareness so people can act to reduce their risk of cancer, among other diseases.
During the October 27, 2016 Hockey Fights Cancer™ game, the Buffalo Sabres and Roswell Park Cancer Institute honored all lives touched by the disease. (Courtesy: Buffalo Sabres)
The cameras were flashing for a pre-game surprise as young patients were invited to get dolled up for a professional photo shoot. (Courtesy: Buffalo Sabres)
Hockey Fights Cancer™ night was extra special for one cancer survivor who took center ice to ring the Victory Bell for the very first time and drop the puck to start the game. (Courtesy: Buffalo Sabres)
No One Fights Cancer Alone
Over 250 men took control of their health at the Buffalo Sabres prostate cancer screening event on Thursday, March 24, 2016. In addition to the screening, visitors took locker room tours and met Sabres alumni including Val James, the first black American in the NHL and the author of "Black Ice: The Val James Story." 
Player visits always bring smiles to the hospital and brighten our patients' days. Ryan O'Reilly, Evander Kane and Jack Eichel are among the Sabres who have made special, unannounced visits to Roswell Park to spend time with patients.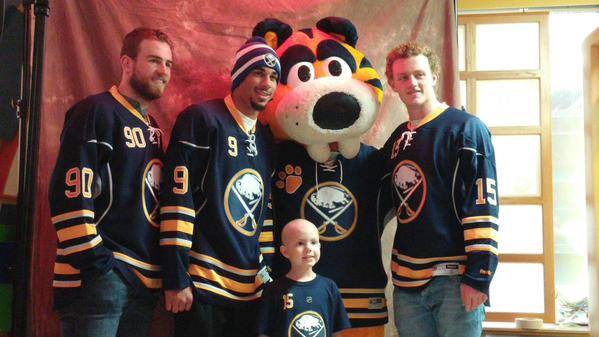 The entire Buffalo Sabres team spread holiday cheer during a visit to Roswell Park on December 8, 2016. The players stopped by each floor, going room-to-room for one-on-one chats with patients and their families, culminating with an ice cream social for our pediatric patients.
Skin Cancer Tip Sheet Download