Free Skin Cancer Screening
Registration for this event is now closed.
Thursday, June 27, 2019
11 a.m. - 2 p.m. and 3 p.m. - 6 p.m.
KeyBank Center, Buffalo, NY
What to Expect:
Free parking is available in the KeyBank Center ramp.
Plan to arrive at the check-in time you chose during registration. However, your check-in time is not an appointment time and you may experience a wait.
During your wait, you can enjoy music, visit wellness vendors, meet Sabres alumni and get a behind-the-scenes tour of KeyBank Center!
Your actual appointment should only take a few minutes. If needed, you will be able to schedule a follow-up appointment before you leave. 
Who is Eligible?
Must be at least 18 years old
Cannot be a current Roswell Park Dermatology patient
Did You Know?
If you've ever used indoor tanning beds, worked outdoors, or had blistering sunburns, you are at an increased risk for developing skin cancer. If you have a suspicious mole or spot, this is the perfect opportunity to get it checked out. Early detection is key. This event could save your life. 
If you have any questions, please call 1-800-ROSWELL.
Roswell Park Comprehensive Cancer Center and the Buffalo Sabres partner to expand our efforts in reducing cancer risk among the team's fans.
Through this relationship with the Buffalo Sabres, our goal is to increase public awareness so people can act to reduce their risk of cancer, among other diseases.
During the October 27, 2016 Hockey Fights Cancer™ game, the Buffalo Sabres and Roswell Park Cancer Institute honored all lives touched by the disease. (Courtesy: Buffalo Sabres)
The cameras were flashing for a pre-game surprise as young patients were invited to get dolled up for a professional photo shoot. (Courtesy: Buffalo Sabres)
Hockey Fights Cancer™ night was extra special for one cancer survivor who took center ice to ring the Victory Bell for the very first time and drop the puck to start the game. (Courtesy: Buffalo Sabres)
No One Fights Cancer Alone
Over 250 men took control of their health at the Buffalo Sabres prostate cancer screening event on Thursday, March 24, 2016. In addition to the screening, visitors took locker room tours and met Sabres alumni including Val James, the first black American in the NHL and the author of "Black Ice: The Val James Story." 
Player visits always bring smiles to the hospital and brighten our patients' days. Ryan O'Reilly, Evander Kane and Jack Eichel are among the Sabres who have made special, unannounced visits to Roswell Park to spend time with patients.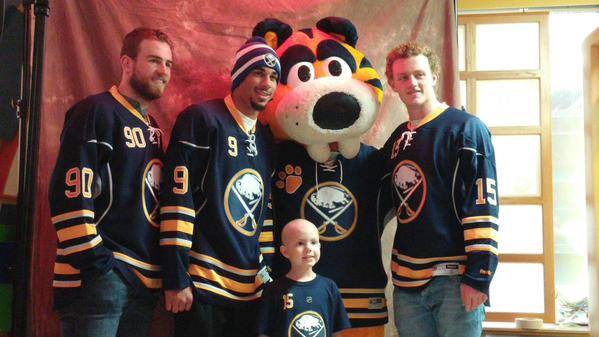 The entire Buffalo Sabres team spread holiday cheer during a visit to Roswell Park on December 8, 2016. The players stopped by each floor, going room-to-room for one-on-one chats with patients and their families, culminating with an ice cream social for our pediatric patients.
Skin Cancer Tip Sheet Download