How to get Through Valentine's Day During Treatment
There wasn't chocolate, champagne, or rose petals, there was just his hand holding mine and never letting go. His presence and unwavering support meant more to me than a silly, store-bought gift. He spent nights in the hospital, shaved his head to match mine, and told me every day how pretty I was. This is how my boyfriend Michael and I got through Valentine's Day during treatment.
Never miss another Cancer Talk blog!
Sign up to receive our monthly Cancer Talk e-newsletter.
Sign up!
There's no doubt that cancer puts a relationship through the ringer – especially on holidays. But treatment is temporary - your love and respect for each other isn't. As you navigate Valentine's Day this year, forget the "C" word and focus on reconnecting with your partner. Here are some ways to show how much you care:
Talk to One Another
When I was diagnosed with breast cancer, Michael and I had several long discussions about the future. We talked about how my treatment, side effects and physical changes would impact our relationship. But we also talked about our hopes and dreams and plans for our life together. It was during these conversations that I realized how much Michael truly loved and supported me. So ditch the cancer talk – at least for now – and focus on what's important to you as a couple.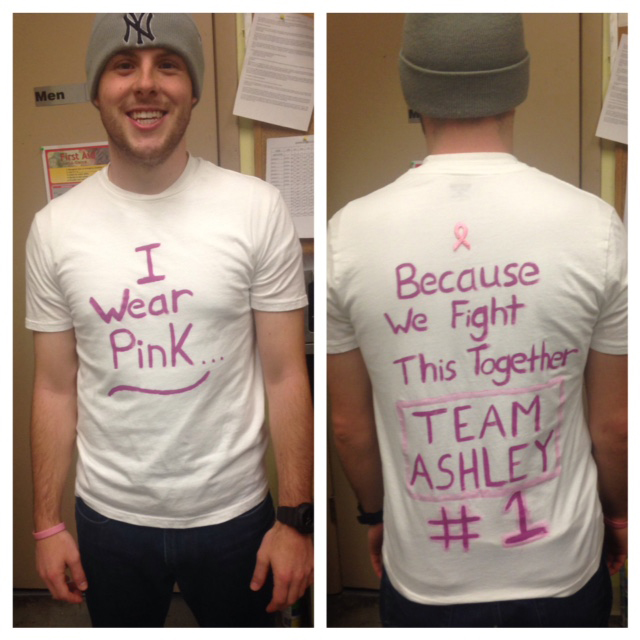 Think Outside the Box
Extravagant gifts are unnecessary for a successful Valentine's Day. Opt for homemade items instead. Write a poem to each other, make a playlist of songs that remind you of each other, or plan a night in with your favorite movies or activities. Last Valentine's Day, Michael made "Team Ashley" t-shirts to show his love and support. It's the simple, heartfelt gestures that make the biggest impact.
Drop Expectations
Typical Valentine's Day traditions come with pressure to have a fancy night out with flowers and oversized stuffed animals. But Valentine's Day is a time to focus on what's most meaningful to you as a couple. Start new traditions and have an intimate party for two - cancer is not invited!
Editor's Note: Cancer patient outcomes and experiences may vary, even for those with the same type of cancer. An individual patient's story should not be used as a prediction of how another patient will respond to treatment. Roswell Park is transparent about the survival rates of our patients as compared to national standards, and provides this information, when available, within the cancer type sections of this website.