"Mason, you seem pretty smart, strong and funny."
"I am," he replies with a mischievous smile.
As the playful nine-year-old jumps around and "flosses" (a dance move made popular by the Fortnite video game), you would never guess that he had intensive chemo and a spinal tap less than 24 hours ago, or that in just a few minutes he would be heading into another grueling round of chemo. Maybe it's the Timbits and lemonade (his favorite), but for now, Mason seems to be getting in the holiday spirit and gearing up to be Roswell Park's 2018 Tree of Hope tree lighter.
This year, the holiday season is extra important for Mason's whole family. Last December, just eight days before Christmas, their entire world was turned upside down.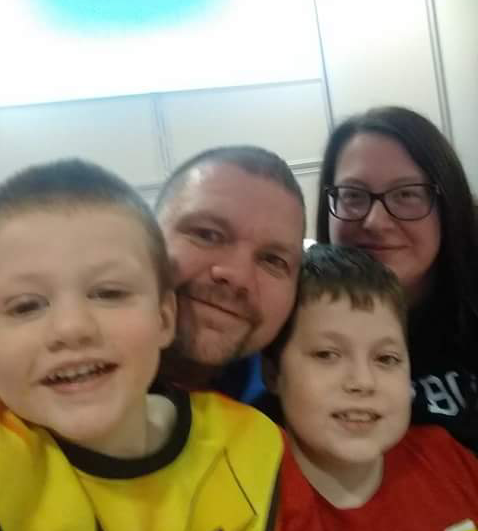 "Mason hadn't felt well for a while," explains his dad, Dominic. "He was coughing a lot and his face looked swollen. His mom, Ashley, brought him to the doctor, who told us it was just an ear infection and that antibiotics would do the trick."
But Mason wasn't getting better. On December 17, Dominic brought his son to the ER, where they did a chest x-ray to find out the cause of his coughing.
The cause? A massive, football-sized tumor on Mason's chest that was blocking off the main artery from his head to his heart.
"We live in Dunkirk, so they immediately put us in an ambulance to Buffalo. My wife was out of town," Dominic says holding back tears. "I can't even imagine how hard that was for her, getting a call from your husband saying your child was diagnosed with cancer, and you have to get on a bus back from New York City."
Never miss another Cancer Talk blog!
Sign up to receive our monthly Cancer Talk e-newsletter.
The Schrantz family soon found out that Mason had stage IV lymphoma and probably wouldn't have survived more than a few days without medical intervention. He was hospitalized until February, which meant spending the whole holiday season on the 12th floor of Oshei Children's Hospital.
"The support we received, from our community in Dunkirk to strangers we didn't know, was amazing," says Dominic. "On Christmas Eve, a Just Pizza delivery man came into Mason's room, mistakenly assuming we were having a baby. When I explained to him why we were actually there, he felt horrible. On Christmas Day, he showed up again. He had spent hours driving around trying to find a store that was open. He brought Mason a spy kit and a set of boxing gloves to remind him he is a fighter."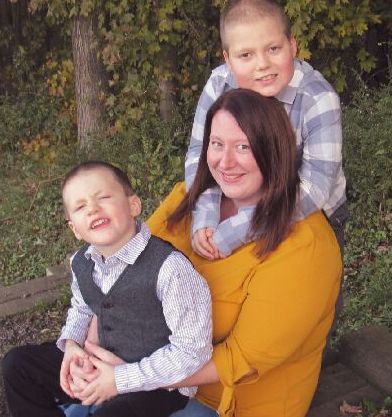 This year the Schrantz' plan to pay that random act of kindness forward. They want to arrange to have a few sheet pizzas delivered on Christmas to that same 12th floor pediatric hematology/oncology unit.
"We want to give the pizzas in Carly's name. The Courage of Carly Fund has done so much for Mason: Bills tickets, Sabres tickets – you name it."
It's been a nightmare, but the future is looking good. In just a few months, Mason should be able to switch to a pill form of chemo and get back to some of his favorite activities.
"Well, I'm still bowling and making pizzas! And I get to go back to school in January. I also love swimming and can't wait to go back to that. Also baseball. And soccer! That was my favorite sport so far. I've pretty much done everything," Mason says with a giggle.
A giggle that all 9-year-olds should have. A giggle that will surely bring joy to so many people when Mason rings in the Tree of Hope festivities on December 14th.
Editor's Note: Cancer patient outcomes and experiences may vary, even for those with the same type of cancer. An individual patient's story should not be used as a prediction of how another patient will respond to treatment. Roswell Park is transparent about the survival rates of our patients as compared to national standards, and provides this information, when available, within the cancer type sections of this website.