It was 2005, and 47-year-old Rick Crowley had a lump growing in his neck. The first biopsy indicated that it was benign, but his doctors in Olean, New York, were not convinced. A good thing, too: The second biopsy found cancer.
With something as scary as this, Rick wanted a hospital whose only business was cancer. "I didn't want to mess around," he says.
Here at Roswell Park, doctors diagnosed Rick with stage 4 base-of-tongue cancer. His treatment included surgery, radiation and chemotherapy. Ten years later, he was considered cancer-free. But in early 2017, blood work from a physical showed a frighteningly high PSA number — almost 10, while normal for his age is about 3.5. Further testing confirmed that Rick, now 58, had prostate cancer.
Once again, he came straight to Roswell Park for treatment. Rick is now considered free of prostate cancer — but he still is as careful as he can be, and comes to the cancer center to have suspicious moles removed. Some have been cancerous, but all were caught before the cancer could spread.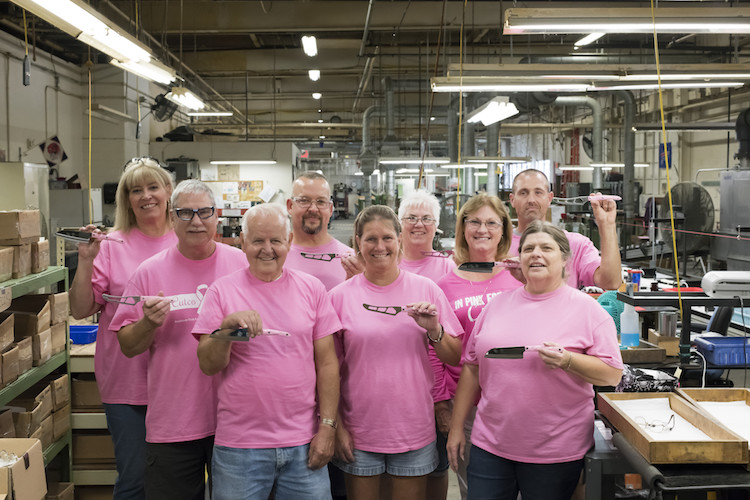 "My experience with Roswell has been lifesaving," he says. "They're lifesaving. We went to Roswell because we knew they were a cancer hospital with the most updated techniques and procedures. I could very easily have been dead 10 years ago. Every day I wake up saying, 'I've got another day.' I'm a few years from retirement, so hopefully I can grow old and see my grandkids growing up.
"I tell everyone that if you've got something going on, go to Roswell Park. We're really blessed to have it in the area."
Rick has worked at Cutco Cutlery for 18 years in various jobs. Currently he inspects knives before they are shipped to customers. When Cutco's Positively Pink promotion to benefit Roswell Park comes around, "I have to buy all my relatives the pink. There's nothing better than having a set of Cutco in your house, but with a cancer emblem on it, everyone who walks into your house knows it's for cancer research."
Cutco's Positively Pink Promotion
10% of every Positively Pink item purchased through October 31 will benefit breast cancer research at Roswell Park, with a minimum guaranteed donation of $50,000.
Learn More
Located in Olean, Cutco is a manufacturer of kitchen knives and accessories, and Rick is one of many employees there who have been affected by cancer. To help spread awareness and advance research, this October Cutco has partnered with Roswell Park once again to offer specially engraved Positively Pink products. Purchase of these products will directly support a Roswell Park research study on triple-negative breast cancer, led by Yuesheng Zhang, MD, PhD, and Boyko Atanassov, PhD.
Editor's Note: Cancer patient outcomes and experiences may vary, even for those with the same type of cancer. An individual patient's story should not be used as a prediction of how another patient will respond to treatment. Roswell Park is transparent about the survival rates of our patients as compared to national standards, and provides this information, when available, within the cancer type sections of this website.