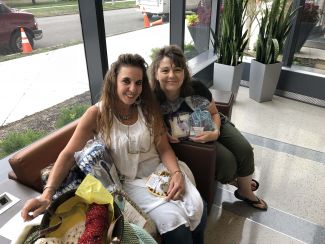 Hand-Made Shawls Hook Comfort for Both Maker and Patients
Chain, loop and post craft a language of compassion
Once a month, Kathy Halliday of Snyder, N.Y. comes to Roswell Park Comprehensive Cancer Center laden with armfuls of donations, items she made with her own two hands, to be given to patients in need of warmth or spiritual comfort.
Halliday crochets prayer shawls, lovingly-made blankets that can be draped around the shoulders or used as a lap blanket, to offer a hand-made hug to patients undergoing treatment.
The term prayer shawl, sometimes called a comfort shawl, is meant to convey that the maker prays or wishes for blessings to the receiver as the item is made. In some religious denominations, the shawls are prayed over or blessed.
Halliday has been making the shawls since 2015, but her connection with Roswell Park began several years earlier when her mother was diagnosed with uterine cancer.
Never miss another Cancer Talk blog!
Sign up to receive our monthly Cancer Talk e-newsletter.
Sign up!
"I remember walking in the building for the first time, and feeling, 'I can't believe I'm walking in Roswell Park,'" says Halliday. "And the ironic part is when I left, I left with the feeling of I can't believe all the love and compassion that fills this building for the family as well as the patient."
Halliday accompanied her mother to Roswell Park throughout her treatment, a hysterectomy, chemotherapy and radiation, and always noted the baskets filled with supplies for people to crochet squares to be turned into lapghan blankets for patients.
"One day, my mom was cold while she was getting her chemotherapy and the activity cart came around. They gave her a blanket and it kept my mother warm through her entire treatment," says Halliday.
"I've been doing crochet since I was seven, and I thought, 'How many people took part in doing that?' There are 16 squares so it could be 16, it could be 32, or even 64."
After losing her mom in 2013, Halliday felt the need to pass on the comfort she received at Roswell Park. Last year alone, she crocheted more than 200 shawls using various colors and designs. All are lightweight, but warm. Patients can place them on their lap or wrap themselves in it.
Since then, Halliday's prayer shawl ministry (she also creates the shawls for Meals on Wheels) has expanded into quite the enterprise, enlisting her sister-in-law, Amy Halliday of Amherst, N.Y. to crochet and donate, too.
"Just like that, the thread became not just one shawl, but a huge tapestry, affecting so many people," she says. "It's people helping people and it gives me a sense of purpose." Although she suffers from osteoarthritis and says her hands hurt quite often, she claims she never feels any pain when she creates her prayer shawls. "It comes down to making each person feel special and important," Halliday says. "It's been very good for me, too, to be able to come here and do this. It's nothing but a joy for me."
Her sister-in-law agrees, "I always leave here happier than I was," Amy Halliday says. "When we give to others, we're doing for ourselves."
Halliday also makes pressure point bands for patients to use during chemotherapy to help relieve nausea. Like the shawls, each item includes a card, a charm, and a button that reads, "Handmade with Love."
Editor's Note: Cancer patient outcomes and experiences may vary, even for those with the same type of cancer. An individual patient's story should not be used as a prediction of how another patient will respond to treatment. Roswell Park is transparent about the survival rates of our patients as compared to national standards, and provides this information, when available, within the cancer type sections of this website.