Most would not count cancer as a blessing, but 61-year-old Mike Paradowski considers his diagnosis of head and neck cancer as one of the best things that has ever happened to him.
Mike's cancer symptoms began abruptly when he threw up blood in February 2013. His doctor sent him for a CT scan.
"I saw him at 8 a.m., and at 4 p.m. I got the diagnosis," he says.
The prognosis was serious. A tumor was wrapped around Mike's carotid artery on the right side of his neck, and his doctor sent him to Roswell Park. After discussing options with his doctors, Mike pursued an intense seven-week treatment regimen—radiation every weekday along with weekly chemotherapy infusions.
Never miss another Cancer Talk blog!
Sign up to receive our monthly Cancer Talk e-newsletter.
Sign up!
"I was 265 pounds when I started treatment, and by the end I was 155," he said.
After nearly two months of almost daily treatment sessions, Mike's scans showed incredible progress.
"The first PET scan came back and the doctor said, 'This can't be right; we don't see anything,'" he said. "So they did another scan and confirmed it."
Now five years post diagnosis, Mike credits his family for helping him to survive cancer. He moved into his mother's home during treatment, and his siblings stayed with him a lot during that time. Shortly after his last chemo and radiation, his brother suggested they go for a ride.
"We left at 6 a.m. and drove to Detroit to see Jimmy Buffett in concert," he said. "He introduced me to Jimmy Buffett in 1977, and we're Parrotheads. I came to life again that day."
With his health recovered, he developed a newfound zest for life and decided to participate in The Ride For Roswell.
"I hadn't been on a bike in over 40 years," he said. "I bought a bike off of Craigslist and started riding. Everyone said, 'Mike, you're crazy.'"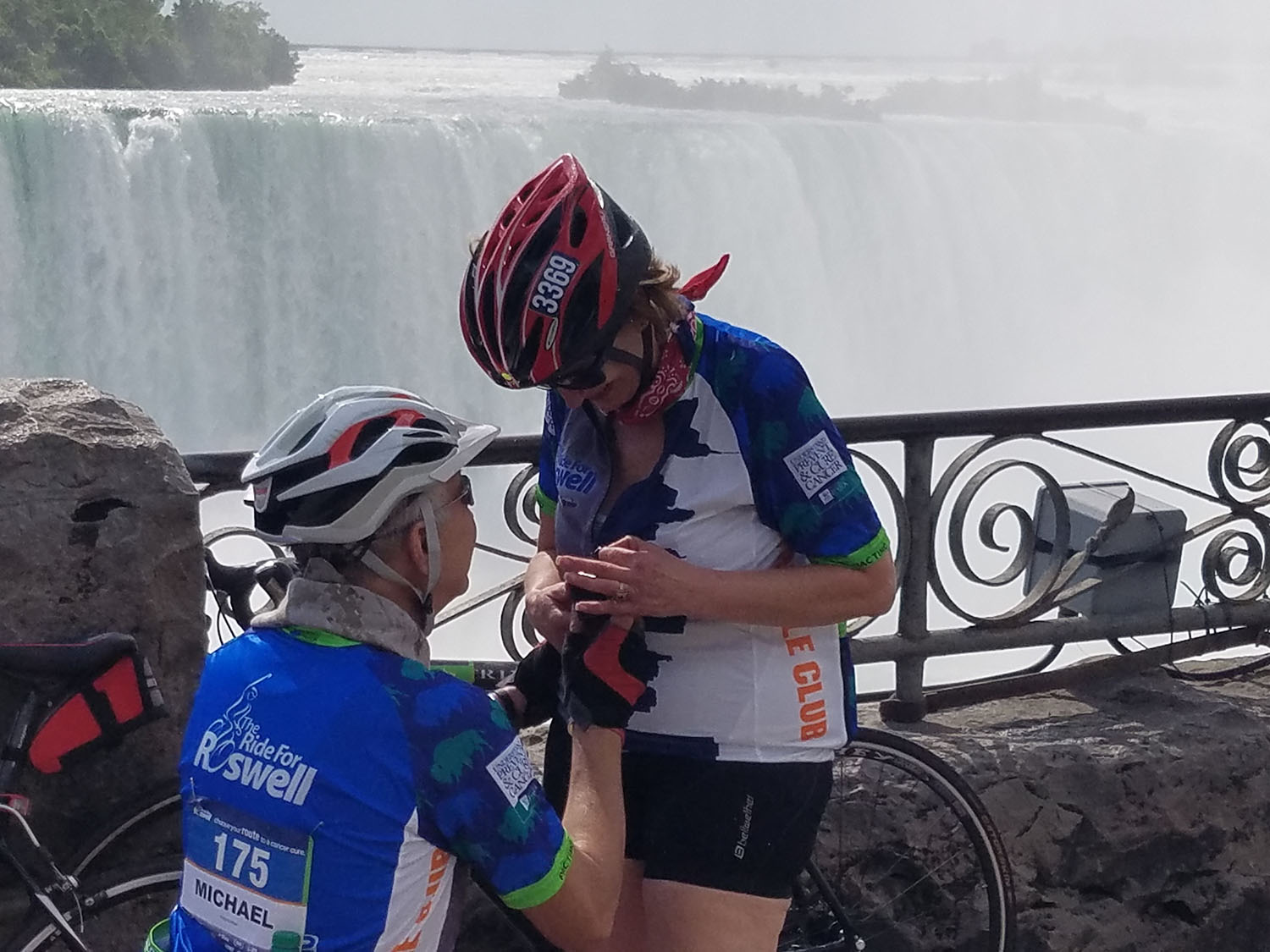 He completed the 20-mile route in his first Ride For Roswell, and made a lot of new friends, including his now-fiancée Kim. Mike proposed to Kim at the 2017 Ride For Roswell at the Canadian side of Niagara Falls.
"I got down on one knee, and she was like, 'Are you okay? Get up!'" Mike recalls with a laugh. "Her reaction was priceless."
The Ride For Roswell has become a big part of Mike's life. He's raised several thousand dollars through the charity bike ride, now one of the nation's largest cycling events, with help from his coworkers at Northtown Automotive, where he's a mechanic.
"When I had the cancer, they told me I'd never work again," he said. "I was off work for 13 months, but Northtown has been so supportive."
Since his diagnosis, treatment and subsequently beating cancer, he says his life has become better than ever. Between his fiancée, new friends, and his new tradition of giving back through The Ride For Roswell and the Empire State Ride, a 500+ mile cycling adventure from New York City to Niagara Falls, he is living a "dream" life.
"Now I live a life most people can only dream about," he says. "Cancer is the best thing that ever happened to me. For something that was very scary at first, the people at Roswell Park made it a very positive experience. It changed my life immensely. I've been able to do things I never thought I'd do. It changed my attitude about everything."
Editor's Note: Cancer patient outcomes and experiences may vary, even for those with the same type of cancer. An individual patient's story should not be used as a prediction of how another patient will respond to treatment. Roswell Park is transparent about the survival rates of our patients as compared to national standards, and provides this information, when available, within the cancer type sections of this website.