Kevin Hays, who spoke openly about his colon cancer diagnosis, passed away in October 2021. He was the Executive Director of the Buffalo Colon Corps. To learn more about their advocacy, visit: https://bflocoloncorps.com. 
I remember it like it was yesterday. I left work to go to my doctor's appointment and planned on being back to the office in time for a meeting. Little did I know my entire life would flip upside down that afternoon. I can still hear the doctor say those infamous three words, "you have cancer." After that, it turned into a Peanuts cartoon when the adults are talking. Wahh, wahh, wahh…
I drove home in numb shock. I walked through the door of the house where I lived with my wife and baby daughter. My wife was surprised to see me. "Aren't you supposed to be at work?" What I had to tell her next was harder than hearing the words myself. This news was devastating, and there was no way around it. As the love of my life broke down, I got the motivation I needed to pull myself together. I had to be strong for her. For our family. I put on my analytical hat and focused on the next steps needed to beat this disease.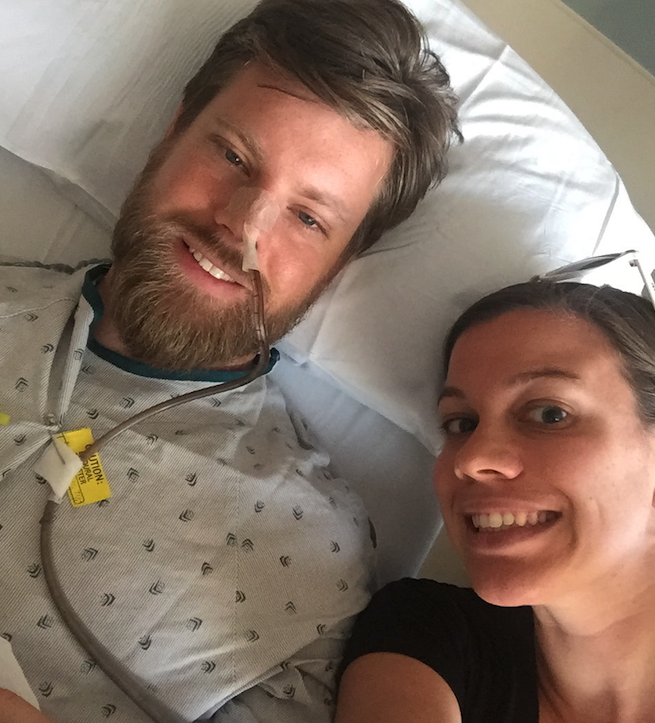 When you find out you have cancer, your first thought is "Am I going to die?" But the uncertainty doesn't stop there. How can this be happening? Will I see my daughter grow up? Can I have more children? How can I have colon cancer when I'm only 28? Isn't colorectal cancer an older person's disease? How did I not know I had cancer? This flood of questions that filled my mind in those early days led me to develop a passion for spreading advocacy and awareness for colorectal cancer, with a particular emphasis on early onset and at-risk groups.
In hindsight, I did have symptoms like stomach pain, fatigue and blood in my stool. But I didn't realize that the rates of colorectal cancer in young adults are rising and that these symptoms should be taken seriously. I only even got the colonoscopy that led to my diagnosis due to a history of polyps.
My treatment path has not been easy, and it's certainly been filled with ups and downs. After my initial diagnosis in April of 2014, I had a hemicolectomy, but because I was Stage 2c, I was on the border of whether or not they would offer chemotherapy. I then met with Dr. Patrick Boland (formally of Roswell Park) who recommended adjuvant "mop-up" chemo. It was at this point my wife and I decided to try for another baby, as we didn't know exactly how the treatment would affect our fertility. We wanted to continue to grow our family and share all the love we had to offer.
After chemotherapy, and with a new baby on the way, I was thrilled to hear that my scans were clear during my one year post-diagnosis appointment. Six months later, though, I had another check-up CT scan. That one was not clear. There was a sizeable tumor.
My physician's assistant was heartbroken when she had to tell me the news. A second diagnosis of cancer is always a game changer. This time it was Stage 4, and it had spread. But, once again, I put on my analytical hat and looked on the bright side – between my original diagnosis and advocacy work, I knew a lot about this disease. It was time to fight yet again.
I've heard people tell me "wow, you're too young for this" more often than you can imagine. My Buffalo-based nonprofit, Buffalo Colon Corps, started The Blue Hope Hard Hat Initiative and aims to break down resistance to screening and encourage young people to pay attention to their bodies and take symptoms seriously.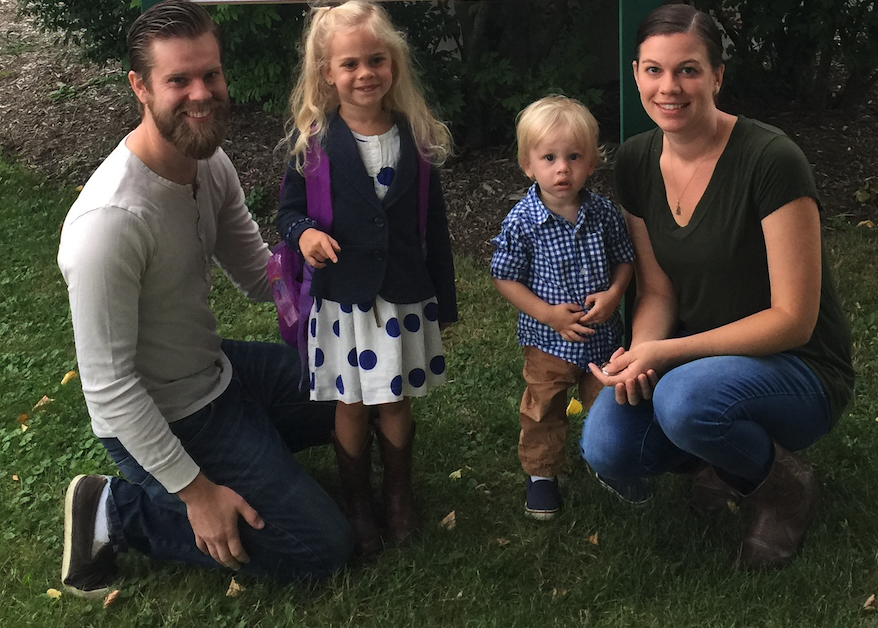 I'm excited to say I only have two rounds of chemo left now. I already have HIPEC under my belt, and I'm looking forward to the future. With two kids and a wife, I can't wait to get back to feeling like me. Every other week, during my rounds of chemo, I feel completely wiped, like a zombie. I'm still working though and am very lucky at how accommodating my employer has been.
My advice for anyone with cancer? Look for and talk to people who have been through what you are going through. Don't hesitate to get multiple opinions for your treatment; it's important to be educated and informed. A million people will have advice for you, but this is YOUR journey. Being a member of Roswell Park's Young Adult program has helped connect me with other people my age. Talking about my situation with people who have been through something similar has been critical to my mental and physical healing. I encourage all cancer patients to seek out a support group, spread awareness and, above all else, keep fighting.
Editor's Note: Cancer patient outcomes and experiences may vary, even for those with the same type of cancer. An individual patient's story should not be used as a prediction of how another patient will respond to treatment. Roswell Park is transparent about the survival rates of our patients as compared to national standards, and provides this information, when available, within the cancer type sections of this website.