Caring for Caregivers in the ICU
"When you reach the point where you put yourself in the families' shoes, it helps you interact with them on a completely different level."
At Roswell Park, our entire nursing staff receives frequent, well-deserved recognition for providing compassionate care to our patients. However, during my nine months working in the Roswell Park Intensive Care Unit (ICU), I've learned that families and caregivers are also very much in need of empathy and support.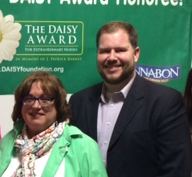 Kevin Mickle with Maureen Kelly, former Roswell Park Executive Director of Clinical Projects
Care for families can come in the form of a warm conversation, being available to answer questions, or providing a shoulder to lean on. Comforting families during their time of need has been a truly rewarding experience for me.
I began my nursing career in 2004, working in an emergency room. In that type of setting, diagnosis and urgent medical care come first and foremost. Understandably, there usually wasn't time to connect with the patient or their caregivers. In the ICU, a greater opportunity exists to develop therapeutic relationships with patients and family members.
I have had the great pleasure of getting to know some very special families during my brief time at Roswell Park. Imagine my surprise and gratitude upon learning that three of those families had nominated me for the DAISY Award.
All three families were present at the award ceremony — a remarkable event that was unlike anything I've ever experienced in my life. In 11 years of nursing, I have never been honored in such a way and in such an official capacity as the DAISY award. The outpouring of gratitude and support from each set of families was incredible and brought tears to my eyes.
Winning the DAISY Award means so much to me. It's allowed me to step back, take inventory of my practice and philosophy, and realize that the people we take care of are actually people. They are not numbers or diagnoses.
I want to emphasize that there are so many nurses at Roswell Park who are also deserving of this great honor. You can see it in their day-to-day interactions with those who are in need of care. In fact, I hear it from patients and families all the time — something special is happening at Roswell Park, and I'm very happy to be a part of it.