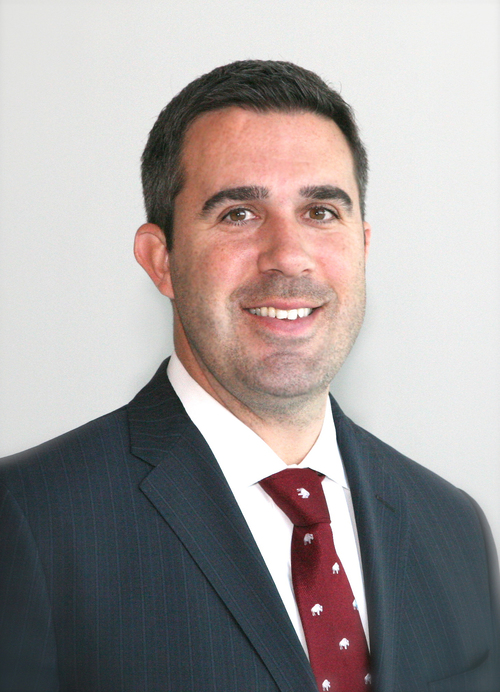 Andrew J. Fabiano, MD, FAANS
Roswell Park Cancer Institute
Associate Professor of Neurosurgery and Oncology
School of Medicine and Biomedical Sciences, State University of New York at Buffalo
Clinical Assistant Professor of Neurosurgery
Andrew J. Fabiano, M.D., is an Assistant Professor of Neurosurgery at Roswell Park Cancer Institute (RPCI) and a Clinical Assistant Professor of Neurosurgery at SUNY at Buffalo. His practice is based at RPCI and focuses on the treatment of tumors of the brain and spine. He is Board Certified by the American Board of Neurological Surgery (ABNS).
Dr. Fabiano has a special interest in minimally invasive techniques for the treatment of brain tumors including Gamma Knife Radiosurgery, Laser Interstitial Thermal Therapy, Endoscopic Skull Base Surgery, and Intracranial Endoscopy. He leads the Spine Team at RPCI and specializes in spinal tumor removal and complex spinal reconstruction.
Dr. Fabiano is the Principal Investigator for several research protocols. His areas of research interest include novel therapies for cerebral edema and radiation necrosis and innovations in spinal surgery. He has authored several peer-reviewed journal articles and is on the Editorial Board for BMC Cancer. Additionally, Dr. Fabiano is a member of RPCI's Surgical Services Executive Committee.
Dr. Fabiano is a native of Buffalo, NY. He graduated from the University of Illinois at Chicago in five semesters with Highest Departmental Distinction and from SUNY at Buffalo School of Medicine and Biomedical Sciences with Thesis Honors. He completed a neurosurgical training program with the SUNY at Buffalo Department of Neurosurgery. Dr. Fabiano was awarded an Alpha Omega Alpha Research Fellowship for his work on the effect of multiple sclerosis on the grey matter in the brain. He was also awarded a Thomas F. Frawley Research Award for a project on minimally invasive techniques for intracranial endoscopy. He won a general interest award for his presentation at the American Association of Neurological Surgeons annual meeting entitled, "Vascular presentations in the stoma with endoscopic third ventriculostomy."
Dr. Fabiano is a member of the American Association of Neurological Surgeons, Congress of Neurological Surgeons, Society of Neuro-Oncology, and the North American Skull Base Society.
Areas of Expertise:
Brain Tumors
Spinal Tumors
Meningiomas
Hydrocephalus
Endoscopic Skull Base Surgery
Chiari Malformations
Gamma Knife Radiosurgery
Special Interests:
Spinal Metastatic Disease
Cerebral Edema
Laser Interstitial Thermal Therapy
Intracranial Endoscopy
Board Certification:
Neurological Surgery, American Board of Neurological Surgery
Residency:
SUNY at Buffalo Department of Neurosurgery, Buffalo, NY
Education and Training:
B.S. – University of Illinois at Chicago, Chicago, IL
M.D. – SUNY at Buffalo School of Medicine and Biomedical Sciences, Buffalo, NY